Do you want to start summer 2021 with an epic and legendary backyard pizza party?
Or – maybe you want to get together with a few loved ones and treat them to delicious homemade pizza worth remembering?
If so, then read our brand new Ooni Karu 16 review!
Ooni's brand new homemade pizza oven that looks sleek and cooks aromatic homemade pizza that you'll swear came from Naples, Italy.
But – is the Ooni Karu 16 pizza oven the best for you? Or, would we recommend another pizza oven?
Continue reading our epic review to find out!
Ooni Karu 16 Review – Our First Impression

Karu 16 Multi-Fuel Pizza Oven
The first thing you'll notice about the Ooni Karu 16 is that the oven has a wide opening – and a massive interior – making it elegant to bake your first 16-inch homemade pie without crimping.
The Karu 16 pizza oven also looks like a dream and gleams with a powder-coated finish and a smooth, modern design.
After reading the Ooni Karu 16 essentials guide – you also learn that cooking fresh homemade pizzas is now a piece of cake – or pie.
Easy Comparison
Find Your Perfect Ooni Pizza Oven!
Easily figure out which Ooni pizza oven is best for you, with comparisons of price, pizza size, fuel type, weight, fuel consumption, gas consumption, and much more.
Compare!
We may earn a commission if you make a purchase, at no additional cost to you.
Authentic Neapolitan-style pizzas are only 60 seconds away after a quick and painless 15-minute preheating.
You'll notice that some of the Ooni Karu 16's benefits and features are obvious – and others require a glimpse under the chimney – and behind the oven glass.
So, let's take a closer look at my favorite Ooni Karu 16 features and benefits.
Ready? Let's begin!
Ooni Karu 16 Benefits and Features

Karu 16 Multi-Fuel Pizza Oven
It doesn't matter if your backyard sports a rustic flair or if you have the most contemporary backyard in your neighborhood – the Karu 16 fits in almost anywhere.
That's because of the Ooni Karu 16's stylish presentation and looks.
The Karu 16 pizza oven sports a chic (yet classic) appearance that will complement nearly any side yard patio, backyard porch – or garden.
But – the impressive design and aesthetics of the Karu 16 isn't the best feature that the new homemade pizza oven boasts.
The real value is how the Ooni Karu 16 cooks – not looks!
I also value the versatility of the Ooni Karu 16 – perfect if you love to switch cooking styles from one pizza to the next.
Here's what I mean!
Cooking Flexibility and Heating Options
Our Pick
Ooni Karu 16
The first and only pizza oven to be 'Recommended for Domestic Use' by the Associazione Verace Pizza Napoletana. Cook with wood or charcoal out of the box, or use gas with the Ooni Karu 16 Gas Burner (sold separately). Reaches 950°F (500°C) in just 15 minutes. Restaurant quality 16" pizza in your own backyard!
Buy Now
We may earn a commission if you make a purchase, at no additional cost to you.
Woodfire vs. charcoal vs. gas. Which one wins? It's a matter of taste.
With the Ooni Karu 16 – you can effortlessly bake using wood or charcoal right out of the box.
Ooni Karu 16 Cooks Using:
Charcoal (Classic bread and pizza crust.)
Wood (My favorite! Crunchy wood-fired pizza!)
Gas (Clean cooking. Addon required.)
You can also cook your homemade pie using the optional gas extension (which I'll talk more about later), but I prefer wood-fired pizza crust above all others.
What about you? Do you like the classic flavor of fresh, wood-fired mozzarella and garden tomatoes with zesty peppers on your pizza?
Even if you prefer charcoal or gas – that's the beauty of the Ooni Karu 16. You get the ultimate flexibility, so you can cook your pizza the way you want.
For me? Nothing makes my mouth water like the fresh scent of garden-fresh veggies baking over an open fire – especially if those veggies ride atop a thin (and crispy) homemade pizza crust.
Either way – the Karu 16 helps you cook in style using the fuel choice you want.
Bundle Up and Save $
Ooni Pizza Oven Bundles Are Back!
Yep! Bundles are back! Get in quick before they disappear (again). Read our review before you buy - not all bundles are worth it and some may have changed what's included.
These starter bundles make it super easy to start cooking restaurant-grade pizzas in your own backyard!
Get More Info
Our Review
We may earn a commission if you make a purchase, at no additional cost to you.
Built-in Digital Thermometer

Karu 16 Multi-Fuel Pizza Oven
Once you start using your Ooni Karu 16's built-in thermometer – you'll wonder how you ever survived without one in the past.
The Ooni Karu 16's digital thermometer puts you in control of your bake.
I love the massive, easy-to-read font so you can quickly check the status of your Ooni oven at a glance – without needing to take your eyes off the prize! – (The prize is delicious homemade pizza – of course.)
You can also quickly switch between Fahrenheit and Celcius, so you don't have to do any mental gymnastics or confusing conversions when making the perfect homemade pie.
(I have friends who cook using Celcius, and converting to Fahrenheit is the worst!)
Loads of Pizza-Cooking Real Estate
Have you ever yearned for more space when cooking homemade pizza in a smaller pizza oven?
Here's what I mean.
Whenever I cook delicious homemade pizza topped with shredded Havarti, mozzarella, feta, and roasted eggplant – I'm always hungry for more.
Sometimes, the small, 8-inch and, 12-inch pizzas aren't adequate if you're starving – especially when you're hosting a backyard dinner party.
Can you relate?
If so, then the Ooni Karu 16 lets your homemade pies, seared meats, and veggies stretch, sizzle, and roast on a lavishly large 16-inch cooking area.
Compared to other, smaller pizza ovens, 16-inches seems luxurious – especially if you want a step up from small, 12-inch homemade pizzas.
The Karu 16 offers ample real estate and a wide opening so you can roast or bake burgers, seafood, fresh homemade bread, pepperoni-and-cheese-stuffed calzones, flame-cooked steaks – plus more.
With room to spare!
Insulation, Internal Airflow, Weather Resistance
Here's where the genius of Ooni pizza oven engineering comes to light.
If your homemade pizza oven doesn't have good insulation – your pizzas are never going to cook on time.
You'll also waste fuel!
Even if the oven heats up to 1,000 degrees Fahrenheit – what happens if the pizza oven can't hold heat?
You'll wait around anxiously for your cheese to bubble – and for your pizza crust to rise – even when cooking the smallest of homemade pizzas.
Worst yet – your dinner guests will impatiently brood and hungrily chomp at the bit waiting for their pizzas to cook!
But, you don't have to keep your dinner guests waiting.
Ooni oven retains heat, so you don't waste energy.
The Karu 16 also features weather resistance – so you don't need to panic about the elements tarnishing your pizza oven overnight.
See-Through ViewFlame Technology

Karu 16 Multi-Fuel Pizza Oven
The Ooni Karu 16's ViewFlame technology is one of my favorite features!
Nearly the entire front side of the Ooni Karu 16 is clear glass.
That way – you can peer inside of the pizza oven as it's cooking your latest culinary masterpiece.
Now you get to watch as your pizza crust rises and bubbles – and as the fresh cheddar and mozzarella melt and darken to your liking.
No more second-guessing when you're pizza is cooked to your satisfaction – and no more looking through a tiny window!
Ooni Karu 16 – Here's What You Get in the Box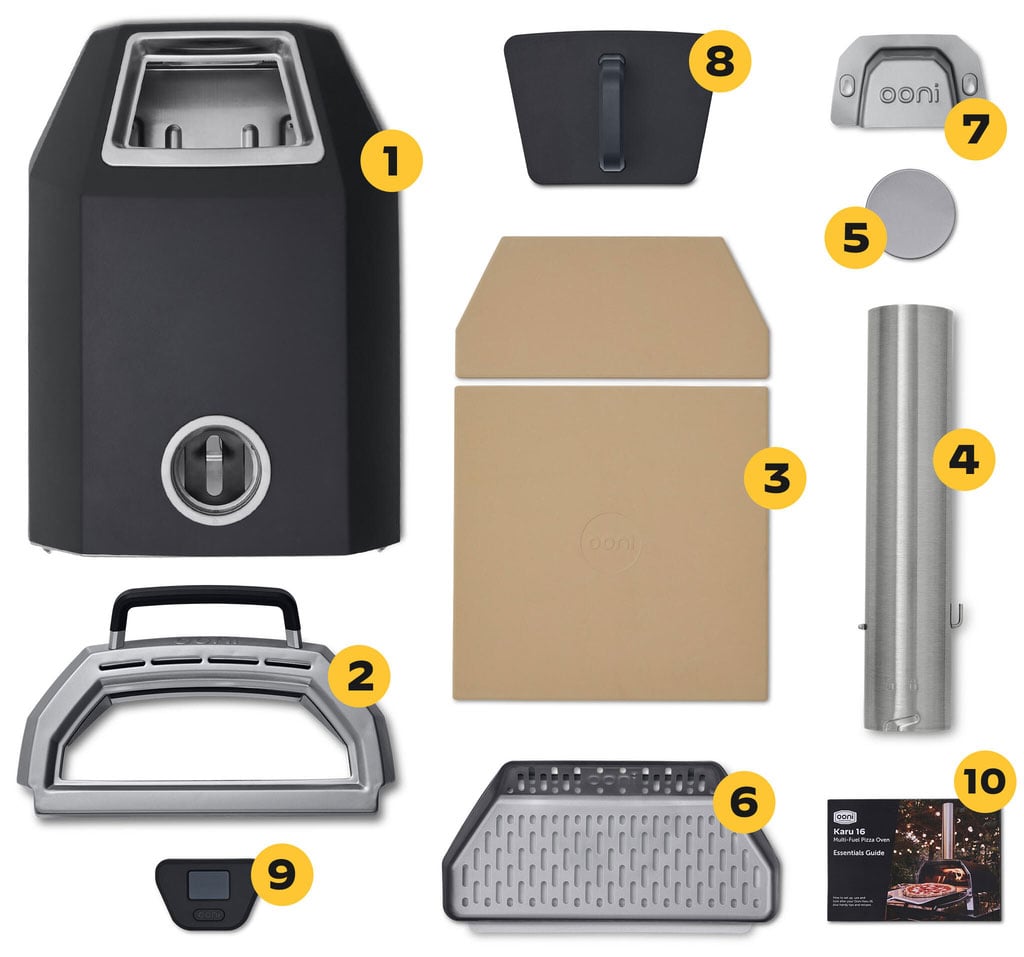 Karu 16 Multi-Fuel Pizza Oven
Here's what you can expect when you receive your Ooni Karu 16 box in the mail.
The Ooni Karu 16 is easy to set up and use. After a brief, 30-minute seasoning – you can begin preparing your first homemade pizza for baking.
Refer to the Ooni 16 essentials guide for delicious-looking recipes, quickstart instructions, and everything you need to fire your first homemade pizza the right way!
(Check out the Detroit-style pizza recipe from the essentials guide if you're looking for a praiseworthy snack and a great way to kick off your backyard pizza festivities.)
Ooni Karu 16 Review Size, Weight, and Specs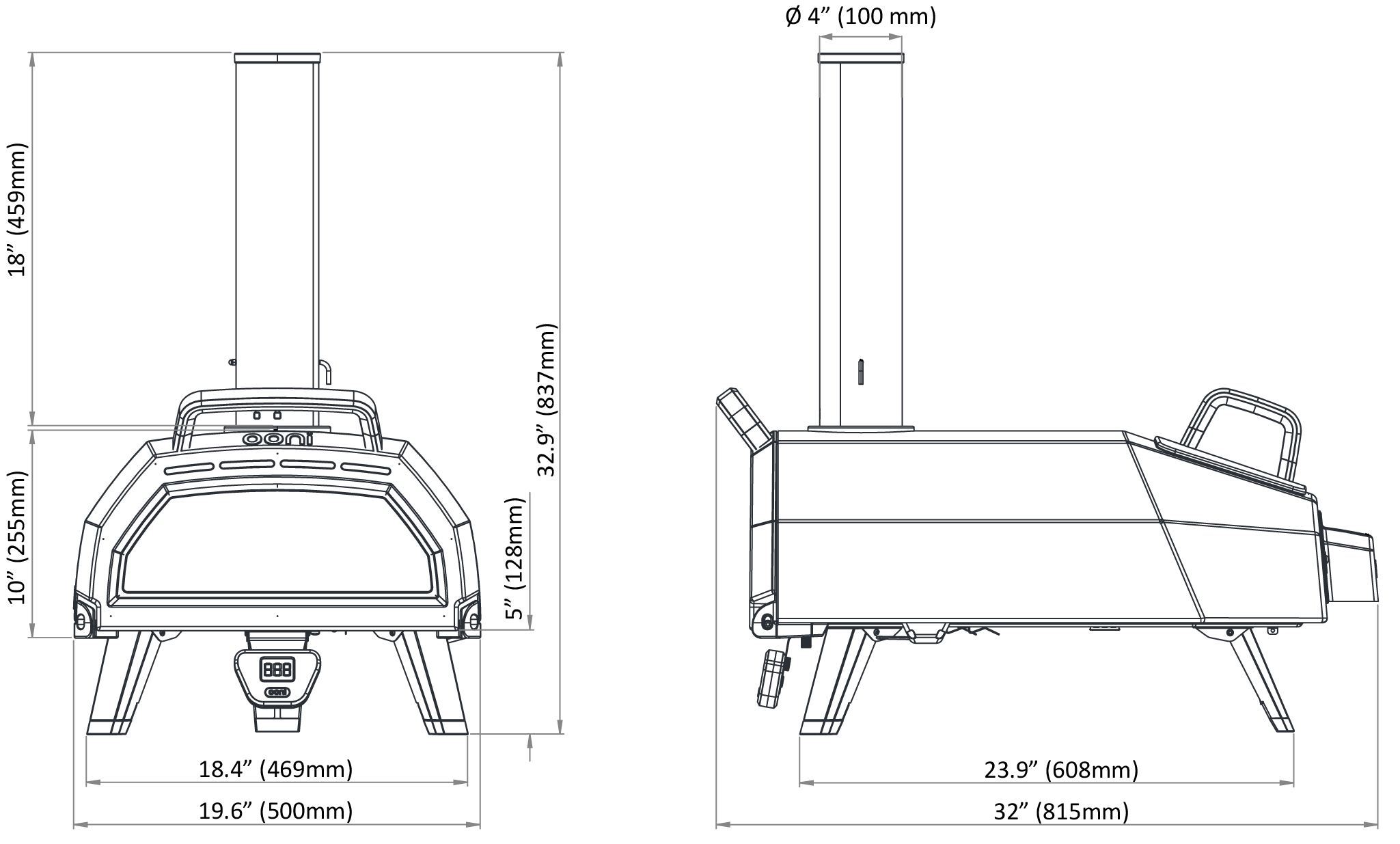 Karu 16 Multi-Fuel Pizza Oven
I've been studying the Ooni Karu 16 literature to help you organize the most critical information at a glance.
Here are the most vital specs you need to know.
Let's take a look!
Fuel: Charcoal, wood, gas
Heat up time: 15 minutes
Max temperature: 950 degrees Fahrenheit (500 Celcius)
Pizza cooking time: 60 seconds
Pizza stone surface: 16.7-inches x 16.7-inches
Pizza stone thickness: .6-inches
Oven body material: Carbon steel (powder coated), stainless steel
Dimensions – unboxed: 33-inches x 32-inches x 20-inches
Dimensions – boxed: 37.4-inches x 24-inches x 15.75-inches
Weight – unboxed: 62.6 pounds (28.4 kg)
Weight – boxed: 86.6 pounds (39.3 kg)
The Ooni Karu 16 is larger and heavier than the original Ooni Karu 12.
If you're curious to see how the new Ooni Karu 16 stacks up against the original Ooni Karu – then we wrote an epic Ooni Karu 12 vs. Ooni Karu 16 comparison that you should read!
But, I'll also offer a quick summary of how the two ovens compare:
If you want the latest and greatest – a large pizza oven capable of churning out 16-inch pizzas quickly and easily, then the Ooni Karu 16 won't disappoint.
If you want something smaller and lighter? Then read more about the Ooni Karu 12.
Ooni Karu 16 Availability and Shipping
I've got good news for backyard pizza lovers!
You get free shipping to mainland USA on orders exceeding $35 when you buy from Ooni's official website. The Ooni Karu 16 qualifies for free shipping!
The only bad news is that the Ooni Karu 16 is brand new and selling ludicrously well – so the shipping is backed up, according to the official Ooni Karu 16 webpage.
So – if you want to get an Ooni Karu 16, please consider checking the availability using this link so you can reserve your pizza oven.
Ooni Karu 16 Availability Update:
I also have more bad news!
It seems like the Ooni Karu 16 is now significantly backed up for at least a few weeks.
If you're interested in buying, visit Ooni's website for the best deal and availability status.
Or, check back here for updates!
Ooni Karu 16 Warranty – and Guarantee

Karu 16 Multi-Fuel Pizza Oven
The length of your Ooni Karu 16 warranty depends upon how you buy your pizza oven.
If you purchase your Ooni Karu 16 oven from a third-party retailer – you get a one-year warranty by default.
But – if you buy your pizza oven from Ooni's official website, Ooni gives you a free two-year warranty extension – so you get a three-year warranty.
I think the two-year warranty extension is reason enough to purchase your Ooni Karu from Ooni's homepage!
Ooni Karu 16 makes – or you get your money back. You have 60 days to experiment with the oven – risk-free.
Ooni Karu 16 Accessories
If you're a pizza fanatic like I am, then there's a good chance you're going to spend countless evenings on your backyard patio with your new Ooni oven!
That's why I'm sharing some of the best (and most convenient) Ooni accessories to help transform you into an epic pizza chef.
Here are some of my favorite Ooni essentials.
Ooni Karu 16 Gas Burner

Karu 16 Gas Burner
I'm a proponent of authentic wood-fired and charcoal-cooked pizza!
But some of my friends swear that cooking Neapolitan pizza with gas is more convenient – and cleaner.
If you're the same way, and if you want to cook mouthwatering homemade pizza with steady temperatures, I recommend the Ooni Karu 16 gas burner with flying colors.
Unfortunately, the Ooni Karu 16 is brand new – and as a result, the accessories are flying off the shelves.
I wrote about the Ooni Karu 16 last week – and during that time, the Ooni Karu 16 gas burner was out of stock.
A week later, the Ooni Karu 16 gas burner extension is still out of stock.
However, don't despair!
You can sign up for notifications on Ooni's website – and they'll email you when the gas burner accessory is available for purchase.
Ooni Karu 16 Cover

Karu 16 Cover
I admit that I'm a neat freak who stresses out about taking care of my backyard gear. Especially cooking gear!
Are you the same way?
If you want to keep your Ooni Karu 16 (more) safe from the elements, consider snagging the Ooni Karu 16 cover.
The Ooni Karu 16 cover protects your Karu 16 oven body with a custom fit and snug, elastic edge.
There's also an adjustable snap so you can toss the cover over your Ooni oven without needing superman-like dexterity.
The cover also sports 100% waterproof protection – so you don't need to lose sleep when your Ooni's getting drenched in the summer rain.
Ooni Karu 16 Pizza Peel

16″ Pizza Peel
Nothing beats a fresh homemade pizza with classic pizza toppers!
(Diced tomatoes, peppers, olives, and sausage, anyone?)
You can also get creative and add your favorite homemade ingredients!
But – when your favorite pie has an inch-tall-layer of fresh ingredients, it's more crucial than ever to handle and adjust your pizza carefully – while avoiding spillage.
That's why you might want to get an Ooni pizza peel with your oven.
The Ooni pizza peel is lightweight, 16-inches, and slides underneath your pizza with minimal friction – like a hot knife through butter.
It also makes inserting the homemade pizza into your oven a breeze – and you can also use your peel to adjust, turn, and retrieve your pizza.
Ooni Cast Iron Skillet

Cast Iron Skillet Pan
Do you want to toss a handful of fresh-chopped peppers, onions, and diced chicken breasts into your pizza oven to make a savory dinner in record time?
Or maybe you want to roast an epic banquet feast as a surprise for your family?
If so – then you need the perfect skillet!
With the Ooni skillet's 9-inch cooking surface, you can prepare an epic stirfry, cook fresh seafood – or bake a legendary homemade country breakfast to help start your day.
Who else wants potatoes, eggs, and bacon to start the day? Yes, please!
The skillet also handles open fires or your stovetop wonderfully – so it gets plenty of use when not helping roast delectables in your outdoor Ooni oven.
Ooni Modular Pizza Table

Modular Table – Large
One of the most frustrating things for homesteaders everywhere is when you don't have a clear surface area to work!
That's why I loved the looks of the Ooni modular pizza table.
The table holds 132 pounds – so it easily accommodates your Ooni Karu 16 pizza oven.
Underneath the table's carbon-steel surface, you'll find two height-adjustable shelves so you can organize your Ooni and pizza oven gear to your liking.
If you decide to get the Ooni gas attachment – you can use the shelves to hold your propane.
You also get two hooks to hang your favorite pizza-cooking gear, so you're never hunting down your missing accessories.
The table even features lockable casters, so your pizza table doesn't wobble when you're baking your next culinary gem.
Ooni Karu 16 Pizza Oven Right for You?
The Ooni Karu 16 might be the best homemade pizza oven for you.
Here's why.
When your fresh homemade pizza's cooked with a 950-degree flame, your pie will tantalize until the last bite.
And when you invite your family and friends over for backyard pizza – you don't want to disappoint them with a long wait.
That's why I recommend the Ooni Karu 16.
You get Neapolitan-style pizza, roasted meats that fall off the bone, and bragging rights that make your backyard the hottest place on the block.
You can't lose, especially if you enjoy relaxing late at night with nothing but the sound of crackling firewood and the heavenly fragrance of fresh mozzarella and ripe, handpicked tomatoes baking to perfection.
More Outdoor Pizza Oven Reviews!