This article contains my four top picks for the best whole house generator for those sudden power cuts or going off-grid. Below, I'll talk about the things you should look for in a generator, as well as diving into each best generator's specifications, pros, and cons.
We have a generator that powers the whole house. We've got it set up so you can easily switch from mains power to the generator. It's been a great generator, but she's getting old and it's time for an upgrade. We get lots of power cuts and being able to switch the whole house over to generator is awesome.
Best Whole House Generator Top 4
If you want to skip straight to the best whole house generator, here's our top 4:
We've also reviewed the best dual fuel generator. If you don't need a whole house generator, check that article out!
One thing worth mentioning here is that the Kohler 20RESCL-200SELS and Generac 7043 Guardian Series generators came in a very close first and second place. When you look at the customer reviews on a website like Amazon,the former machine received an average of 4/5 stars from 37 reviews, while the latter scored 4.5/5 stars from 30 reviews.
Features of the Best Whole House Generator
So, why do you need a whole house generator? To power your whole house! You may be looking for a generator to run continuously in an off-grid setting, or as a backup during power cuts. Don't know about you, but we seem to be having a stormy year this year. I'd rather be prepared than caught out. Last year we were hit by a cyclone, leaving power out for weeks and the year before that we got flooded out.
There's also the question of fridges without power, leading to spoiled food. During the flood, my husband wasn't home and I lost a freezer load of meat because I couldn't get the generator going. My husband, Dan, moved heaven and earth to get home, going so far as to walk over the railway tracks to cross flooded roads! But, it was too late for the freezer food.
Now that we have not 1 but 3 freezers full of food (we like to be prepared!), it would be a disaster A lack of internet or communications if you can't charge your mobile devices – what if you live remotely and need help? Although, saying that, during the floods I described above, all communications were down either way. These are all valid reasons to have a backup power supply, which is exactly what a whole-house generator gives you in the event of an emergency.
So, below, we're going to take a brief look at some important information you should have before you decide to buy yourself a whole house generator.
Whole House vs Standby Generators
If you've been browsing around, you've probably seen both of these types of generators come up. You could opt for a standby generator, but they're generally less powerful. Here's a quick breakdown of the advantages that a whole-house generator has over standby units:
Higher quality engines

.

You'll typically be looking at something more akin to a vehicular engine on a whole-house generator. For a standby generator, it's more like sticking a lawnmower engine on the side of your house. Less power!

Liquid cooling

. This one

isn't

a given. Some of the models here are air-cooled, but you've also got liquid-cooled options. This can cool the generator more quickly in the event of overloading outages.

Less maintenance

. You'll typically enjoy longer periods of uninterrupted operation with the best whole house generators, needing less maintenance.

Whole-house backup. They don't call it that for no reason. With a whole house generator, it's like nothing ever happened. With a standby generator, you'll be choosing which valuable circuits you want to keep operational and which ones can be lost to the dark until the power's back.
Fuel efficiency and noise.

Whole house generators have lower RPMs and are therefore usually quieter. They're also more fuel-efficient and so cheaper to run — not much more to say about this one.
On average, your standby generator will run a smaller home within a wattage range of around 9,000 to 20,000 watts. They'll save your refrigerated food, keep the air conditioner running, and give you some light. However, they can't run everything at once or for a long period.
Your average whole-house generator, however, will range from about 20,000 watts to 50,000 watts, meaning you can keep the house running as it was before, until the power comes back. You can't put a price on that kind of peace of mind in an emergency.
What to Look for in a Whole House Generator
Fuel type
You can't always come by fuel as easily as you might think. In more remote areas, having an abundant source of fuel can be tricky. Moreover, you need to work out what type is best; gas, LPG (liquid propane gas) or natural gas.
Generator size
This is where you'll need some working knowledge of electrical circuitry, as well as the load of all appliances within your home.
You can usually find this within manufacturer documentation. This will often be printed in amperage, so if you need to work out your home's power requirements in watts, then you can use this basic formula: (Starting Amps x Volts = Watts).
However, don't buy a 20,000 watt capacity generator if your home's demand at peak is 19,000 watts (for example). Why run the risk of running your generator at max capacity? Leave some leeway for additional appliances and for the sake of avoiding unexpected overloads.
Choose a transfer switch
You'll see some mention of "transfer switches" in the below comparisons. These let your generator jump into the ring if your power fails, and it does so by continuously monitoring for the flow of power through your utilities.
Without a switch, your generator might as well be a bench out in the yard. Have a look at your home's electrical service panel and check the amperage on your main breaker. You'll need a switch that matches this value.
Safety Switches
What do we need in the way of safety switches? This information was kindly contributed by Rebecca and her husband, an electrical contractor who installs generators. Rebecca runs Restyled Homes, a wonderful blog where she shares simple and attainable home decor ideas.
"For a whole-house generator, you can install a manual transfer switch (MTS) or an automatic transfer switch (ATS). The description speaks for itself.
On an MTS, you will have manually operate a switch to generator power.
An ATS will sense a loss in power and automatically transfer the switch for you.
For portable generators, you can install a "generator inlet box" on the outside of your house, which will allow you to plug in your generator. You will, however, need to install a device in your electrical panel that will prevent you from leaving both the generator breaker and the Main Breaker on at the same time."
Best Brands for Whole House Generators
Rebecca and her husband mention:
"Generac and Kohler are excellent brands for the whole house.
There are so many choices for portable generators out there. Generac is one of them, but it doesn't mean it is the best.
You will have to decide how much you want to spend, how many appliances and how many rooms you want to run off your generator, and go from there. You will also have to decide if you want gasoline, propane, or dual fuel.
Oh… you can also get an electric start if you're going to be fancy."
Whole House Generator Tips
Some further tips from Rebecca regarding using your whole house generator.
"If you want a whole house generator, my advice is… call Generac, and they will hook you up with a local certified Generac installer in your area.
For portable generators that are wired to the electrical panel, my advice is to speak with the electrician who installed your generator inlet box, and they will instruct you on what breakers to switch and where to plug it in.
If you use a portable unit outside and simply run extension cords to it… my advice would be to adhere closely to the owner's manual for start-up and go from there. My only caution would be this; please use gasoline stabilized in your gas tank if you plan on storing the unit with gas in the tank!!"
Best Whole House Generator Reviews
This was a close call with the number 2 on the list, the Kohler whole house generator. It's slightly more powerful than the Kohler. My main reason for having the Generac generator as the winner is that Generac generators and engines are engineered and built in the USA. That's pretty awesome.
As for power, propane will give you 22,000 watts of power, whereas natural gas will give you 19,500 watts. It's also capable of load balancing, supporting both high-power items — like stoves, air conditioning, and electric dryers — and lower power items — like phone chargers — simultaneously.
There's a remote monitoring feature built into the generator, which means you can check that everything's working efficiently from the comfort of your still-lit home. You can do this via an app on your smartphone, tablet, or computer, so there's no need to get off the couch.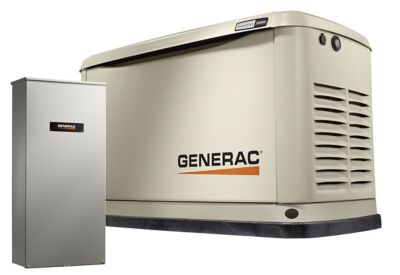 Generac 7043 – Guardian Series 22kW/19.5kW Air Cooled Home Standby Generator w/ Whole H… [More]
If you do need to check up on things using the built-in LCD, it's a multilingual interface that'll give you a detailed breakdown. This includes battery levels, as well as a countdown to the next maintenance interval so that you can make sure there's no downtime between servicing, keeping your home protected.
Pros
5-year limited warranty;

Rust and corrosion-resistant, powder-coated exterior housing;

Built-in "self-test" mode to ensure everything's working in case of an emergency. Nothing worse than losing power only to discover your generator is bust, too!

High-tech LCD control panels support multiple languages and a range of remote monitoring systems.
Cons
Accessing the terminal for the machine is a little tricky, plus there's limited space inside for wiring;

Generac has gained a sort of reputation among customers and other online sources for needing frequent maintenance, more so than some other brands.
This generator was a favorite on a lot of the lists I looked at, as well as getting strong customer ratings across the board. It's powered by a super-reliable Kohler Command Pro engine, which has been custom-designed for commercial use. However, that doesn't mean you can't use it at home — it just makes it robust and reliable as a backup power supply.
You can use either liquid propane gas, getting up to 20,000 watts of power, or natural gas, which will afford you 18,000 watts. You can also jump between the two by simply pressing a button. In layman's terms, that's enough to juice your washing machine, air-con, dishwasher, TV, and other electricals throughout your house, all at once.
If we dig into the circuitry, this generator has hydraulic valve lifters, removing the need for interval stops during operation. In other words, you'll get longer periods of continuous use out of the generator, just in case the power doesn't come back on for a while.
Pros
Restores power to your home quickly — within 10 seconds of a blackout;

Machine housing is not only stylish but also corrosion-resistant;

Built-in "PowerBoost" technology helps to power sudden large demands on the machine, without dropping smaller loads that are already sucking power.
Cons
Ongoing maintenance costs are quite high, as are the costs for replacement parts;

If you want to avoid costly installation bills, you'll need to contact an official Kohler dealer. They also custom-mount the machine on their own concrete pads, reducing install cost and time.
This whole house generator is quite nice to look at. In fact, you could be forgiven for mistaking it for an outdoor storage unit. It'll safely operate at extremes in temperature, giving you power in case of a blackout.
Under the hood is a 754-cc OHV engine that can be powered with either natural gas or propane. And it's reasonably quiet when in operation; not the quietest, but not loud enough to be disturbing. If you want to get into specifics, it's around the 63.5 decibel range. This is partly thanks to a low-tone muffler and sound-muffling lining.
If you choose to power this machine with liquid propane, you can expect around 14,000 watts of continuous power output. On natural gas, you'll get a power output of 12,500 watts.
Pros
10-year warranty;

The unique gull-swing design makes it easy to access the internal control panel;

Robust, durable materials that are built to be outdoors, yet can easily be removed and maintained;

A built-in 24-volt starting system can function in sub-zero temperatures of minus 22° F, right up to 104° F.
Cons
Bulky and heavy — yet getting someone else to install this machine is pretty pricey;

Not the quietest generator around, but more reasonable than some others. Middle-of-the-road where noise is concerned!
Coming in last on the list, the Generac 7033 has an output that's nearly half of the other machines listed about. But I've picked this one because it had some stellar reviews across the board, in addition to, of course, being cheaper due to the lower output. Let's face it; not everybody is going to need as much as 18-20,000 watts in the event of a blackout.
Under the hood, you've got Generac's True Power Technology, which promises "best-in-class" power quality, with less than 5% THD. Was that as confusing to you as it was to me originally? THD means 'Total Harmonic Distortion' — the amount of THD stated will influence your generator's performance. The lower the number, the better. Above 6%, you can start to see some issues with your electricals.
This whole house generator has some pretty useful quirks. For example, aside from the remote monitoring features, it also has LED indicators built into the Evolution Controller. These lights will tell you the generator status, utility power presence, as well as whether the generator needs maintenance.
Pros
The sturdy aluminum body is resistant to harsh weather conditions;

Link Remote Monitoring lets you check on the generator's status and service intervals remotely from your device;

Depending on the appliances you're running, the generator's variable speed will auto-adjust the power output.
Cons
Generac battery is not included! You'll need a Generac battery 5819 for this whole house generator.

Additional costs for installation — it's a little too tricky to get this up and running yourself;

I've read some reports of warranties not being honored by the manufacturer, but honestly, you'll need to take that with a pinch of salt.
Best Whole House Generator Winner
Choosing a winner was a little tricky, owing to the neck-to-neck race between the two in the top spots. So, I'll finish with this: if you need a little more power to account for all your appliances, plus that all-important buffer you should keep beyond that total, opt for the Generac 7043 Guardian 22KW. It's also made in the USA which gives it a definite UP for me. Otherwise, if the Kohler 20RESCL-200SELS exceeds your power needs, it's an equally good choice.
Amazon product
11+ Things You Need to Know About Whole House Generators
Whole house generators can really save your bacon (literally!) during a storm or power cut. I've told you our story of the three lost freezers of food before – a whole house generator, especially one with an automatic transfer system, would have saved those freezers of food storage.
We'll run through some things you need to know about whole house generators, including automatic transfer switches, safety, maintenance, and how much power you're going to need.
Do You Need a Whole House Generator?
Diane Vukovic is the lead writer at Primal Survivor and author of Disaster Preparedness for Women. In her book, she teaches people how to calculate their food, water, lighting, and other needs. The book helps you be ready for small-scale and large-scale disasters, giving you the peace of mind that comes with feeling prepared.
She frequently talks about generators on PrimalSurvivor. Diane recommends thinking about whether you need a whole house generator, or whether a portable generator is enough for your needs. She says:
"During many emergencies such as winter power outages, it actually makes more sense to power just one or two rooms of your home. In this case, a portable generator is usually sufficient."
Calculate Your Power Needs
Diane recommends that you first calculate how much power you need for the appliances that need to be kept running at all times. These appliances include your refrigerator, heater, medical devices, and basic lighting.
Once you know how much they use, think about your "occasional appliances". These might include your stove, dishwasher, and washing machine. Chances are, you won't need to use all these appliances at the same time.
Then, consider the power needs of "occasional" appliances, like your stove, dishwasher, and washing machine. Chances are you won't need to use all of these appliances at the same time. You can get by with a smaller generator by cycling through the appliances, such as only cooking when you've finished a load of laundry.
Diane says:
"Add together the energy needs for appliances which must be kept running plus the largest occasional appliance; this is the absolute lowest size generator you want to get. To play it safe, add extra 10% power capability on top of that number."
Keith Pinkerton is the owner of Mr. Electric of Huntsville, a Neighborly company. Mr. Electric specializes in electrical installations in your home or business, including lighting services and electrical safety. Keith says:
There isn't a one-size-fits-all. It depends on your needs. Load-shedding modules allow you to hook certain items like your water heater and your ac unit on an automatic system, so if you are going to full capacity, the generator will shed those items.
Keith also recommends that you go with a whole-house automatic generator. He says manual generator systems, especially portable, require a lot of owner involvement and can be dangerous.
"You must have a cord to ensure it is at least 30 feet from the residence and in the open air to eliminate the possibility of carbon monoxide poisoning. You will also have to switch breakers on and off, depending on what you are running. If you forget this, it can overload the generator system."
Generator Safety
We've mentioned a few things to look our for in this article when you're using generators. Here's a recap:
Make sure your generator is at least 30 feet from your home, in the open air, to eliminate the possibility of carbon monoxide poisoning.
Switch breakers on and off to avoid overloading the generator system.
When you turn your generator on, you need to disconnect your house from the utility grid system.
Don't make a cord and hook it into the dryer plug. This is illegal and could end up electrocuting someone.
Whole House Generator Transfer Switches
Keith says:
A generator is a separate driven power source. Because of that, when you turn a generator on, you need a way to turn off your house. You need to disconnect your house from the utility grid system and put it onto the generator power source. This must be done mechanically.
This is done either manually or automatically. Manually switching it over is done by pushing a lever on a manual transfer switch. Switching automatically is done with an automatic transfer switch. You are switching power from one grid to another.
There are people who will make a cord and hook it into the dryer plug, telling the homeowner to turn the main breaker off when they plug in the generator. This is illegal and not within the National Electrical Code.

This could end up electrocuting (and resulting in possible death) a utility worker as they are restoring power to their electrical grid system."
All generator systems must have a transfer switch or some type of mechanical device taking the home off of the utility grid and putting it onto the generator system.
Keith recommends an automatic transfer switch system over a manual one. He says you won't have to go out in bad weather, hooking up and starting a portable generator when power is lost.
Also, when you're not at home, the automatic system will turn the generator on and power your home, so you don't lost any food in your fridges, freezers, etc.
How Much Does a Whole House Generator Cost?
Keith Pinkerton says we'll be out of pocket at least $8,500+.
"When you have a whole-house automatic generator with a complete install that meets code, the cost should start around $8,500 and go up from there, depending on the size of the system.

You also have to remember that with a whole-house automatic generator, you'll need to have piping run for the natural gas or LP.
Read on! More about whole house generators, our three lost freezers of food, and our top 5 best whole house generators.
Does a Whole House Generator Add Value to Your Home?
Whole house generators are expensive to install. They're incredibly useful during a power outage, but does a whole house generator add value to your home when it comes time to sell?
I've spoken to several real estate and generator experts to get their opinions. It turns out that the answer to our question is more personal than you might expect, and it very much depends on the location of the property and whether your buyers appreciate the value and convenience of a whole house generator.
For buyers that have experienced prolonged power outages (like us during our two-week flood), a whole house generator adds huge value to a home.
However…
It appears that in most areas, a whole house generator is more of a bonus. It'll set your house apart from another house and may make it easier to sell. When a buyer considers two houses with similar merit, yours may tip the balance because of your generator. Other than that, you'll find it won't add a lot of monetary value.
It May Help Your House Sell Easier
Simply put:
A whole house generator helps your home sell easier but not necessarily for more money.
Whole House Generator Value Depends on Your Location
This is something that came up a few times. If you are in an area prone to tornadoes, storms, or power outages, a whole house generator can add value to your home.
On the other hand, in "safer" areas, your buyers may not see the value of a whole house generator.
Suzanne Pope is a licensed real estate agent and COO of Whiterock Locators, an online apartment location service. She sold a home with a whole house generator in Texas. She says:
Because of the location and the areas' susceptibility to tornadoes and strong storms that will knock out power on occasion, some potential buyers did see the value in it, but I do not think it was a major feature/selling point of the home.

For most homes in suburban areas, a generator is not going to add any value. It may, however, make more sense in certain areas of the country that are prone to severe seasonal weather that will knock out power.
Bill Samuel, a full-time real estate broker in the Chicagoland area, agrees. Bill says that, in his opinion, a whole house generator does not add value to a home in the Chicagoland area. He adds:
Our grid is fairly reliable so the need for a generator is very minimal.

In other areas where the grid is less reliable, this may be different. Of course, having this additional feature on your house is certainly appreciated by any buyer.

Generally speaking, additional bonus features like a whole house generator will help your house sell faster but not necessarily for more money.
Shaun Taylor offers an interesting perspective. Shaun runs Moriti Safaris, based in South Africa. He agrees that whole house generators add value.
This reiterates the fact that it very much depends on your location. The recent buyers of 2 safari lodges were ecstatic about having a fully integrated whole house generator system included in the sale. Shaun adds:
I use whole house generators at the lodges that I run safaris from. They are absolute essential items as far as I am concerned because today, we have to have electricity.

It adds value from the point of view that you do not have to worry about outages and it also starts the thinking process of living off the grid and how we can look after ourselves, which gives a feeling of comfort in this day and age. I can say from experience that it adds value.
Shaun personally guides safaris all over Greater Kruger Park. The beauty of a whole house generator is that you can offer your guests the opportunity to go way out bush – removed from stress and expectation – and come back to the convenience and comfort of electricity, wherever their accommodation may be.
A Whole House Generator Helps Your Home Sell
A whole house generator may not add value to the sales price of your home, but it can certainly help it sell quicker and easier. When buyers are looking at multiple homes to buy, yours could come out on top because of the generator.
Susan Bozinovic, realtor with Century 21 Town & Country in Michigan, agrees. She says:
I've sold homes with built-in generators, however, the value of the home did not substantially rise against the alternative.

Sellers were, of course, pleased that they are passing on a home that is ready for emergencies, however, most buyers saw the feature as just an additional reason why they should pick that home over someone else's.

As a result, sellers, in general, recoup very little money on their generator investment.
Connie Heintz, president of DIYoffer, has represented sellers who have sold homes with a whole house generator.
She says that, in most cases, they only recouped 30-50% of the generator's purchase price at the time of sale. Connie agrees that, unless your home is in an area that regularly goes off the grid, many buyers are not willing to pay extra for the generator. She adds:
For most buyers, this is just a nice-to-have appliance but it isn't a feature that would compel them to put in an offer real fast.

For sellers, I would say – don't realistically expect a large boost in the value of the house unless you can convince buyers that your area is prone to prolonged power outages.
To Add Value, a Whole House Generator Should Be Installed Properly
We've established that a whole house generator can potentially add value to remote properties, or homes in areas that regularly experience power outages.
However, to add value, your whole house generator should be installed properly. Installing whole house generator is best done by a licensed professional, as we discussed in a previous article on whole house generators.
Ashley Baskin, licensed real estate agent and member of the advisory board for Home Life Digest, says that, just like any other upgrade, the value that the generator adds depends on the quality of the generator and the installation.
She agrees that a whole house generator can add value to your home – but only if done correctly. A poor job can actually cause a decline in your home's value, especially if buyers see the generator as a nuisance instead of an upgrade!
Installing a whole house generator is not a DIY project and you should engage an appropriate contractor to install it properly. Keep all receipts associated with the installation so that you have a record to show buyers.
Ashley adds:
If installed properly, your home will see an increased value of about 3% (on average).

However, the value of the generator is not always known to the buyer, and in some cases, the buyer must be educated. This can be one of the most challenging aspects of selling a home at an increased value, and can sometimes deter uneducated buyers.
Only Quality Generators Add Value to Your Home
Our last consideration today as to whether a whole house generator adds value to your home is the type of generator.
A smaller generator that you need to turn on yourself during a power outage likely won't add any value at all. However, a high-quality automatic switch-over whole house generator system of a reputable brand like Kohler or Generac can add value.
Ashley Baskin agrees that we need to consider the type of generator we install. She agrees that a standby generator will be the one that adds the most value vs a portable generator.
She also recommends considering the size of the generator, how loud it is, where it is installed, and whether it is fuel-efficient.
So, Does a Generator Add Value to Your Home?
The answer is not a simple "yes" or "no".
If your home is in a remote area, prone to power outage, a whole house generator can add value to your home.
If your home is in an urban area, not likely to go off the grid, a whole house generator won't add value to your home.
A generator may make your home easier to sell, if it is a high-quality generator and it is properly installed.
Buyers may need be aware of the value of a whole house generator – you may need to educate them but it doesn't necessarily mean they'll pay more.
Have you sold a home with a whole house generator? Did your buyers appreciate the convenience of it and did they pay more? I'd love to hear your comments.
Tell us about your generator setup! Do you have a portable generator or a whole house generator? Do you switch over manually or do you have an automatic transfer system?
Do you have a backup whole house generator or do you solely run on a generator? Let us know which is your best whole house generator and your experience with it. Has it served you well?