There's something about a white porch swing. I've seen people upcycle benches with chains to hang them on the porch or patio, they're such a good idea. I'm looking at adding a white porch swing to my veranda so I've rounded up some amazing ideas for white porch swing that'll look amazing in your yard! Let's dive right in.
White Porch Swing Ideas
1. Fanback Swingbed White Porch Swing
An absolutely gorgeous white porch swing which doubles as a swingbed. It has an oversized seat, so you can snuggle up and read a book, or have a nap on the porch. It's made of sturdy treated pine so it'll last for years. Click on the image for more details.
2. Polywood® Vineyard 60″ White Porch Swing
Do your bit for the environment with this gorgeous Polywood porch swing, made from a proprietary blend of plastics, which includes recycled milk jugs and detergent bottles! It's also made in the USA and doesn't need painting, staining, waterproofing, or other maintenance like that.
It doesn't splinter, peel or crack, and is easy to clean with simple soap and water. This is a super durable, gorgeous porch swing!
3. Trex Yacht Club Porch Swing
This white porch swing is made of poly-wood and comes in a range of colors, not just white. The advantage of poly-wood is that it is incredibly weather-resistant, it doesn't promote bacterial growth or mildew. It's UV stabilizes so it won't fade in a hurry as is pretty much maintenance-free. A beautiful porch swing to add to your home.
4. Ash Greensboro Porch Swing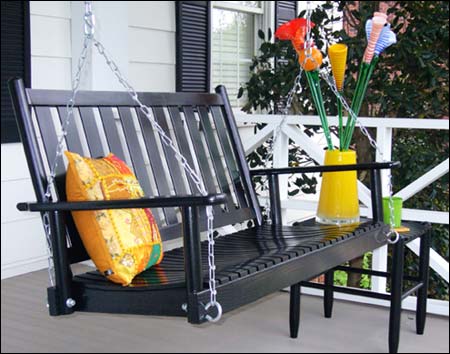 Yes, the picture shows a black porch swing, but you can, in fact, get this porch swing in about 10 different colors, including white. I had to include it because it is gorgeous and durable, made from beautiful ash with interlocking joint construction. A stunning addition to your porch, and you can simply click on the image to change your color to white.
5. Best Choice Curved Back Hanging Porch Swing
Gorgeous outdoor white porch swing, made from wood with a pair of 4-foot metal chains. It's big enough for 3 so you can socialize and relax at the same time. It has a simple slat curved back for comfort and is made from weather-resistant acacia wood.
6.
Serendipity Farm 4′ Recycled Plastic Mission Swing
I couldn't pass up a white porch swing with the name "Serendipity Farm"! Made in the US from HDPE recycled plastic poly lumber. Hanging chains are included, and this swing can be left outside in all weather, it's virtually maintenance-free. It also comes with a 5-year residential warranty, you can't go wrong with this porch swing!
7. Better Homes and Gardens Colebrook White Porch Swing
This 2-person porch swing is made of white wicker, I love wicker! It adds a really romantic touch to your porch. This swing has a sturdy metal frame which is super durable – add a cushion or two for ultimate comfort!
8. Montana Woodworks Lawn Swing
This may not be exactly a "porch swing" but it is so divine and it's freestanding, so you don't need to hang it from the roof – place it anywhere!
Not just that, it's a real pride to own a Montana Woodworks piece of furniture. Montana Woodworks specializes in rustic furniture and each item is carefully crafted with high-quality wood. They use a method called round mortise and tenon joinery, which has been proven over 100s of years to be simple, but super strong.
Each piece of furniture is hand-signed by the artisan who made it, which I absolutely love. Oh, and this one may not be white, but you can get them unfinished so you can paint them whatever color you prefer. A bit of extra work, but certainly worth it.
Check out other pieces by Montana Woodworks
9. White Cedar Unstained Love Seat Swing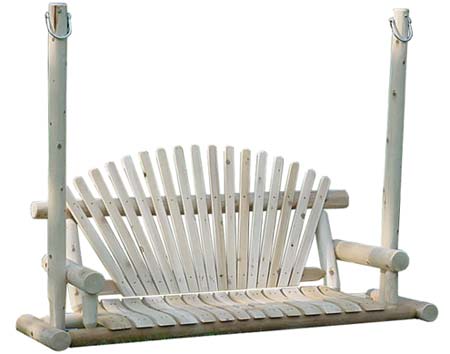 An authentic white cedar love swing, absolutely stunning! You can leave it as-is or coat it with a stain of your choice. It has a natural resistance to insects an decay so you'll get years of lovin' out of this porch swing. Truly gorgeous.
10. Vinyl and Poly-Lumber Gable Gazebo Swing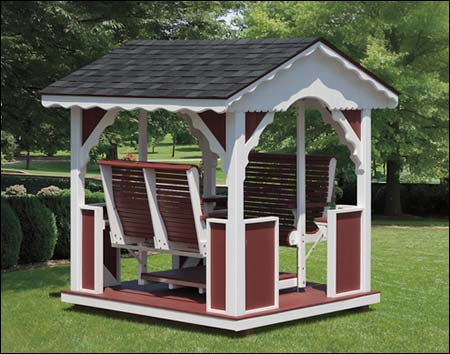 Possible more of an in-front-of-the-porch-swing but how beautiful is this! This porch swing has its own house so you can put it anywhere and still be dry and out of the sun. You can choose different colors for the shingle too.
11. Classic Porch Swing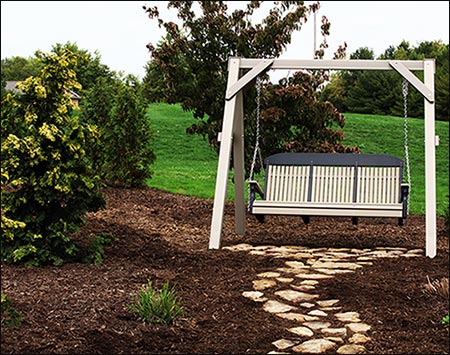 Beautiful classic white porch swing made in the USA from poly-lumber. It holds 600lbs and hangs from stainless steel chains, which are included with the swing. Poly-lumber is virtually maintenance-free, and this swing is guaranteed not to crack, chip, peel, or rust.
12. Poly Lumber Imperial White Porch Swing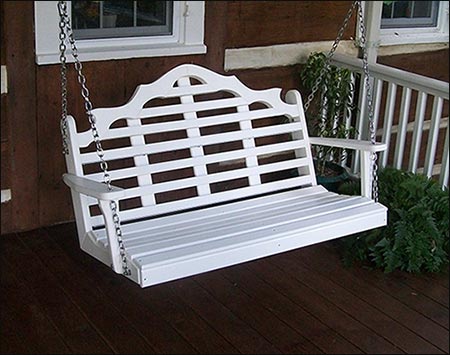 The Imperial porch swing comes in a variety of colors, including white. It's made of poly lumber, which is super durable and guaranteed not to crack, chip, peel, rot, rust, or become infested by bugs. Termites don't touch it either. This is a high-quality porch swing, made in the USA!
13. Gable Roof Gazebo Swings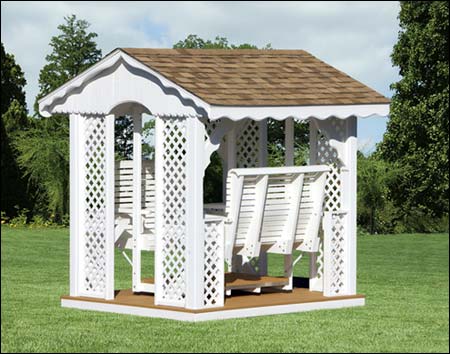 How absolutely gorgeous is this structure? This is a gazebo swing, you can put this anywhere. The one in the image is 8′ x 8′, but you can get this gazebo swing in different sizes and colors, and you can get screens for the sides as well to keep the bugs out. Shown here with earthtone composite deck and rustic cedar shingles.
14. LuxCraft Rollback 4ft Recycled Plastic Porch Swing
Eco-friendly recycled plastic porch swing that seats 2 people comfortably, especially if you add a cushion or 2. LuxCraft Ply is resistant to insects, splintering, warping, and moisture. It's UV stabilized and proudly made in the USA. It's virtually maintenance-free and comes with a limited lifetime warranty on residential use!
15. Cypress Mission Sofa Rope Swingbed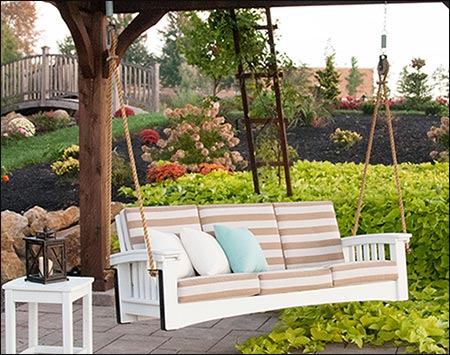 An absolutely gorgeous white porch swing that comes complete with cushions. You can hang it on the porch or buy the frame to make it a freestanding swing. Matching chairs are available for a complete porch set. It comes in a variety of colors, holds up to 700 lbs, and is proudly made in the USA.
16. Poly Lumber Kids Porch Swing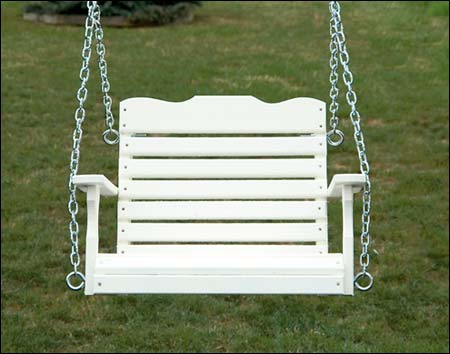 The kids won't be left out with this white porch swing for kids! They'll love their own swinging porch chair and it's just the perfect size for them! It's made of poly lumber, which, as above, is guaranteed not to crack, chip, peel, etc. – incredibly durable! This porch swing for kids comes in a variety of colors to choose from too. It doesn't come with hanging hooks, so don't forget to add some!
17. Poly Lumber Adirondack Swing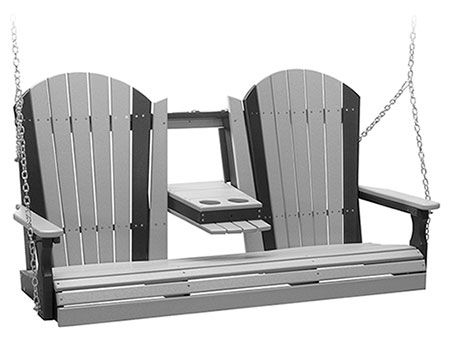 Prefer some space between you when you're relaxing on your porch swing? This Adirondack swing is the one for you! Two separate backrests in the iconic Adirondack style, with cup holders and table in the middle. It doesn't just come in white, you can choose chestnut brown, dove grey, black, green, weatherwood, and many other colors!
18. Treated Pine Starback Porch Swing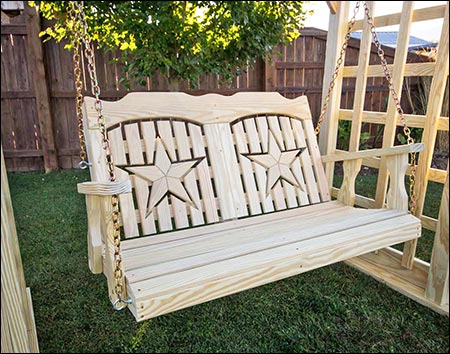 This is a very stylish porch swing! The stars in the seat backing are a really nice touch and it comes in a variety of washes, included white wash. Hang it on the porch with chains, or buy the frame separately and put it anywhere in the yard. It has a great matching frame, have a look: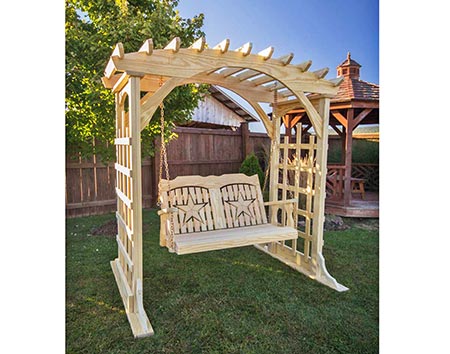 Grow a gorgeous climbing plant over the arbor, preferably a fragrant one so you'll feel like you're truly in heaven!
19. Vinyl Outdoor Swing Arbor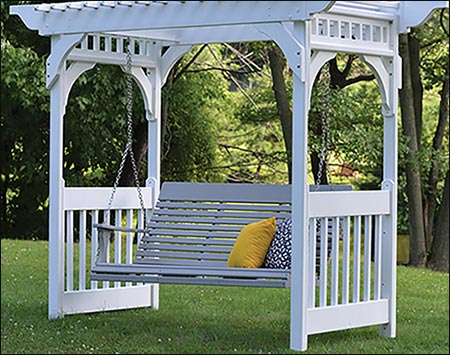 Oh my! How delightful, I adore this swing! This is a high-quality swing that holds up to 500 lbs. You can get the arbor with ground or concrete anchors to secure it firmly, and grow a gorgeous plant over the top. It's another swing that's virtually maintenance-free, just a clean with soapy water now and then. Made in the USA.
20. Enclave Wicker Rattan Lounge Bed Swing
A beautiful white porch swing made in rattan/wicker. It comes with a lime padded cushion and aluminum stand. It only weighs 71 lbs so you can move it around, more easily than some of our other porch swings, anyway. This is a great swing set for a corner of the porch, pergola, or even indoors. It's suitable for all weather.
21. White Porch Swing Hammock Chair
This list wouldn't be complete without a hammock chair porch swing, and they don't come much better than this. Hammock chairs are super easy to hang, they fit anywhere, and they're a very comfy seating option.
There's a real bohemian vibe to this swing chair and kids love them too, they're like a cocoon to snuggle up in. You can use it indoors and outdoors. It holds 265 lbs too!
What did you think of our white porch swings? Any particular swing set take your fancy? Love to see some pictures! ????