WE Knife Company has released its new folding knife, the Banter. This is my 2020 review of the EDC Banter Knife, including its features, warranty, the WE Knife Company itself, and more.
WE Knife Company Banter Knife Review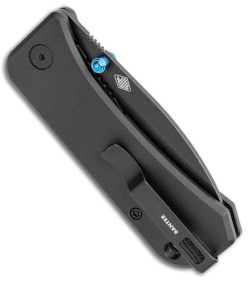 The first thing you'll notice is that the WE Banter Knife is one of the cheaper knives in We Knife Co's assortment. Despite being manufactured in China, the prices for their knives range from around $100 for the Banter right up to $680 for the We Knife Isham Arrakis.
I have to admit that my first thought when I first came across WE Knife knives was that they're not worth the money. They're made in China which doesn't put them up in my books, and their prices seem high. However, I've since changed my opinion on this and the video below has a lot to do with that.
A lot of thought has gone into the design of each knife. Most knives are designed by a certain designer, like Ben Petersen, who designed the Banter Knife. Ben's well-known from the Knife Banter videos. Each knife is kind of like a work of art and they all have features you want in an EDC knife.
Ben Peterson wrote a blog post about designing the Banter knife, see it here: "
I designed a pocket knife
". He even stuck the design on a mouse pad!
The Banter comes in black and blue. They're lightweight, small enough to fit into your pocket, they're easy to use with one hand, and they have a good pocket clip.
What's Good About the Banter Knife
Small and lightweight (2.8 oz) to fit in your pocket
Pocket clip
Lifetime warranty
Blade is made from tough and durable CPM-S35VN
Handle is ultra-tough G10 high-pressure fiberglass laminate
Good overall length of 6.5″
What's Not so Good About the Banter Knife
Read more in our "best bushcraft knifes under $200" article.
About the WE Knife Company
The WE Knife Company has been around for 20 years now, being founded in 2000. They manufacture a huge range of knives under the WE Knife brand as well as Civivi. One of the Civivi knives, the Anthropos, was voted "best new value folder 2019" by KnifeNews.
The WE Knife Company is in Guangdong province, China. They employ around 140 employees. They don't just make EDC knives, they manufacture fixed blade knives, kitchen knives, and sheaths as well.
Their mission:
Building the highest quality knives and tools, and giving you plenty of choices in our products
WE Knife Co Warranty
This is a great thing about WE Knife Co knives: they come with a warranty as long as the owner's lifetime. They guarantee your knife is free from defects and will either replace your knife with an exact same one, or replace it with a similar model if yours in no longer produced.
The only thing is…
If you repair or modify your knife, you void your warranty. You also don't get warranty if you "abuse" the knife. This, in WE Knife's words, "includes, but is not limited to, prying, digging, throwing, etc."
If you're a bit rough on your knives as I am (I use my EDC for everything from fixing fences to digging a hole), you may find yourself out of luck here.
Nonetheless, if you use the knife as a knife, this is a great warranty. Make sure you check the warranty page for full details. I've interpreted it to my best ability but doesn't hurt to check for yourself, or in case they change anything.
Here are their contact details too:
WE Knife Co Banter Knife Series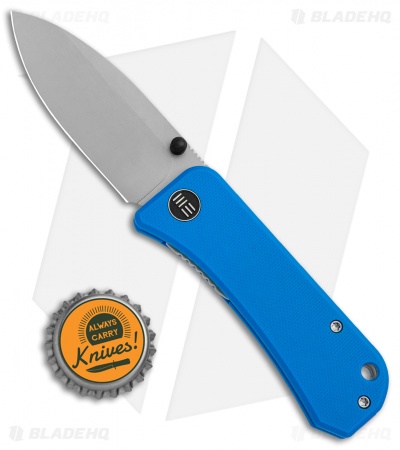 So, let's talk about the Banter knife. I already mentioned it comes in black and blue, but let's review some more features.
The Banter is 6.5″ long
The blade is 2.875″ long and 0.10″ thick.
The material is CPM-S35VN. I'll talk about this below.
It's spear-point with flat blade grind
Finished with bead blast and stonewash.
What Material is the Banter Made Of?
Banter Knife's Blade
The Banter's blade is made from CPM-S35VN. That doesn't tell me a thing, so I've looked into what CPM-S35VN is.
CPM S35VN is a martensitic stainless steel designed to offer improved toughness over CPM S30V. It is also easier to machine and polish than CPM S30V. Its chemistry has been rebalanced so that it forms some niobium carbides along with vanadium and chromium carbides.–Crucible Industries
Then I didn't know what "martensitic" meant, so:
Martensite is a very hard form of steel crystalline structure. It is named after the German metallurgist Adolf Martens (1850–1914). By analogy the term can also refer to any crystal structure that is formed by diffusionless transformation. —Wikipedia
And
Martensitic stainless steels are used when corrosion resistance and/or oxidation resistance are required in combination with either high strength at low temperatures or creep resistance at elevated temperatures. Reference Module, Science & Materials, 2017
What does this mean in simple terms?
It's hard, tough and durable
It's corrosion-resistant
It resists oxidation
It stays sharp
Banter Knife's Handle
The Banter knife's handle is made from G-10. G-10 or G10 handles are made from high-pressure fiberglass laminate. That's not particularly descriptive, but this video is. It shows you how hard G10 handles really are!
Will You Buy a WE Banter Knife?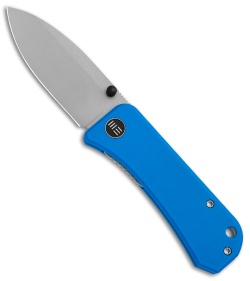 You know what… I'm considering it. The Banter knife is the perfect size for every day carry, it's tough, durable, holds its edge, and the blue color means that if I drop it, I can find it again. What do you think of the Banter?
Before you go, here's some more interesting reading: