Are you thinking of buying a CountyLine log splitter? Here's all the info you need to know before jumping in. CountyLine Log Splitters are exclusive to Tractor Supply.
CountyLine doesn't just do log splitters, they also offer things like post-hole diggers, cattle panels, gates, stock troughs, box blades, and rotary tillers.
When browsing the Tractor Supply website, you'll notice exceptional reviews for every piece of CountyLine equipment, except for their animal traps. Nobody likes their animal traps. Well, some people do. But most don't.
Who Makes the CountyLine Log Splitter?
I've searched high and low to figure out who makes TractorSupply's CountyLine Splitters. I finally found out that they're a product of YTL International.
If you look closely at the product description for the CountyLine-25 SH265, you'll notice that the product numbers all begin with "YTL." If you read the owner's manual here, you'll see that YTL is indeed the vendor.
Have you used a YTL log splitter before? The durability is pretty good. They're also straightforward to start and use. If you don't like to break your back when preparing your cordwood, then you'll love using YTL log splitters.
YTL Works With Other Big Brands
YTL doesn't just make CountyLine log splitters. They also work with some of the biggest brands throughout North America and the world, like:
Tractor Supply

Lowe's

The Home Depot

Sutherlands

True Value

Menards
What Is the Best Log Splitter?
1. CountyLine 25 Ton Splitter
I'm a big fan of the CountyLine 25 ton log splitter from Tractor Supply. The splitter has a hefty 265 SH Kohler 6.5 HP engine capable of 25 tons of splitting force and 3,800 PSI. The cycle time is 11.5 seconds. You can get through your entire cord in a reasonable time with that cycle time.
The splitter only weighs roughly 490 pounds, so it's fairly lighter than its heavier counterparts.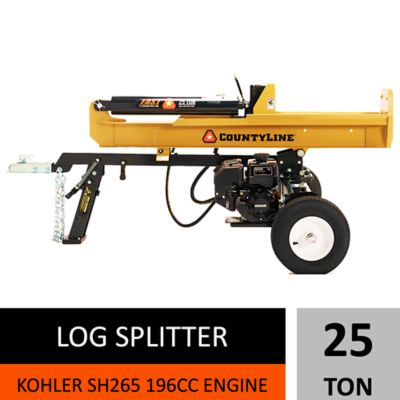 CountyLine CountyLine-25 Ton Log Splitter with Kohler SH265 6.5HP Engine [More] Price: $1,549.99 – Buy Now
The 25-ton splitter will cut through pine, poplar, oak, alder, or cedar without making the machine tremble. Even if your wood is heavy and damp, give this splitter a try. It's strong.
2. CountyLine 40 Ton Log Splitter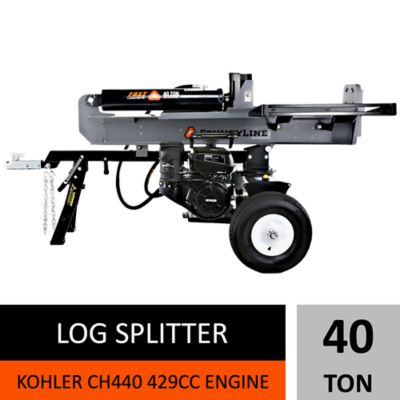 CountyLine CountyLine-40 Ton Log Splitter, Kohler Command Pro 14HP Engine [More] – Price: $2,799.99 – Buy Now
If you want more splitting force plus a faster cycle time, you could consider snagging the 14 HP Kohler engine CountyLine 40-ton log splitter.
This model has a 9.5 second cycle time, so if you split a lot of wood, then the time you save adds up for sure. The 40-ton model is bigger at 781 pounds, which is 291 pounds heavier than the CountyLine 25 ton splitter.
Both CountyLine log splitters are easy to start and maintain. The machines are easy to turnover with a double ball-bearing crankshaft. The air filter and spark plug are easy to access and clean.
Either model you choose offers a 5-year warranty on materials, plus a 3-year warranty on hydraulic parts. The 40-ton splitter also has a 3-year warranty on the Kohler engine. The 25-ton only offers a 2-year engine warranty.
What Size Log Splitter Do I Need?
I always recommend a wood splitter in the 25-ton range. The 25-ton range is excellent for most home users. Let me tell you why.
1. Not All Wood Is Equal
The first thing to remember about choosing the best-sized log splitter is that not all wood is equal. Some of the wood you get is properly seasoned, dry, and is relatively easy to split, like a hot knife through butter.
Some of the wood you get isn't going to be as easy!
Some wood is tough. Some cords you order from firewood vendors will also contain oversized, damp, knotty, or stringy logs. Nightmare oaks! Yikes!
That's one of the best advantages of choosing a larger log splitter. A proper log splitter with ample splitting force and a short cycle time makes the splitting process much simpler. Save yourself the stress and consider going big.
2. Aim For More Splitting Force
It's better to have slightly more splitting force than too little, especially if you don't want to spend your weekend unjamming the half-split wood from your wood splitter's edge. (I'm getting exhausted just thinking about it.)
The 25-ton log splitter should be enough for you in most cases. However, if you're a wood-splitting machine and split many cords per season, then maybe consider a heftier, 40-ton splitter.
3. Dense Wood Needs More Power
Also, consider the types of wood that you split? If you prefer lots of dense wood, like maple, oak, walnut, locust, or birch, then you might benefit from the increased splitting force of the 40-ton.
The main downsides to the larger capacity log splitters are that they have higher fuel requirements, they're more expensive, and they're heavier. They do save you stress and frustration if you split lots of wood though – which is worth a few bucks more in my book.
How Do You Start a CountyLine Log Splitter?
Starting your CountyLine log splitter is a piece of cake. I found an excellent video above to help visualize the concept.
You can also view the official 25-ton CountyLine instruction manual here or read a recap of the instructions below.
Starting a CountyLine Log Splitter In 7 Easy Steps:
Put your log splitter on a level area and secure the wheels.

Ensure that the log splitter switch is in the "ON" position.

Move your throttle to the "FAST" position.

Move your choke lever to the "CHOKE" position.

Get a firm grip on your rope handle. Pull the rope slowly until you feel resistance. Then pull quickly and start the engine.

Let the engine warm-up. Slowly move the choke to the "RUN" position over several seconds in warm weather. In cold weather, slowly move the choke to "RUN" gradually over several minutes.

When finished, turn the engine switch to the "OFF" position.
Tips On Towing Your CountyLine Log Splitter
CountyLine log splitters have couplers to attach to your trailer hitch ball, thick pneumatic tires, and safety chains. Please be careful when towing your Log Splitter! Read through the towing safety guidelines in the official 25-Ton CountyLine Log Splitter manual and also consider the following steps below.
Turn the fuel shut valve to the "OFF" position. Don't skip this step, or you may flood your log splitter's engine.

Make sure your log splitter is empty when securing to your vehicle and when towing!

Attach safety chains to your vehicle's bumper or hitch.

Before you start your vehicle, double-check your log splitter to ensure that it's securely chained to your vehicle.

Never exceed 45 MPH when towing your log splitter.

When driving, pay special attention to avoid hilly terrain, sharp turns, and steep angles.

Recheck your log splitter's towing connection and coupler every 50 miles of driving.

When driving, parking, or crossing intersections, compensate for the added size of your log splitter.

Please read and study the full instruction manual and towing safety guidelines in the official user manual for your exact log splitter model.
If you're curious to learn more about towing safety precautions, here's a great resource on towing safety tips with a trailer from the U.S. Department of Transportation. Please follow your local, state, and federal laws and drive safely!
Handy CountyLine Log Splitter Accessories
CountyLine log splitters contain everything you need to start splitting all kinds of logs without stress. But, there are three accessories I recommend if you want to make the log splitting ventures much easier.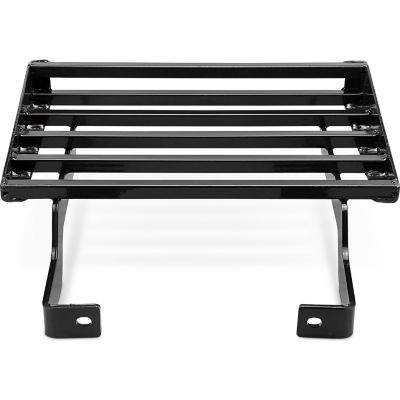 CountyLine Log Catcher, YTL-008-122 [More] Price: $74.99 – Buy Now
Splitting logs requires more effort than most people think! Try bending down after every split and neatly collecting then stacking your newly split logs. The process is exerting.
That's why you might love this log catcher that can save you from straining your back. You'll also save yourself a ton of time. Mandatory if you split and stack many cords during cold winter months.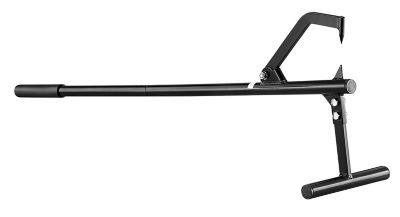 CountyLine Log Jack, UH11-LT [More] – Price: $36.99 – Buy Now
Lots of people love to use this log jack as an extension so they can easily pick up logs. Others use it to help secure their firewood during splitting to prevent kickbacks. We say that both uses can make your life easier and less stressful when splitting this year's (or next year's) firewood.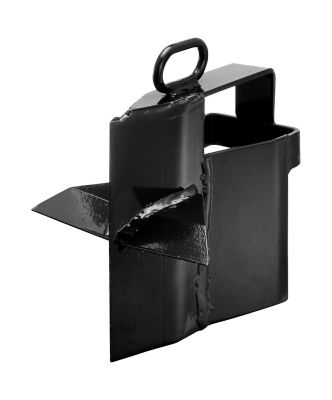 CountyLine 4-Way Wedge for 25T Log Splitter, YTL-008-900 [More] – Price: $74.99 – Buy Now
If you like to split your logs in quarters, and if you want to get the CountyLine 25-ton splitter, then try the 4-way wedge.
The 4-way wedge from CountyLine is steel, weighs a solid 8.59 pounds, and can save you a lot of time when splitting your wood. Please note that this 4-way wedge design is for the CountyLine 25-ton only and might not work well for larger log splitters!
Need A Bigger Wedge? Check Out Our Favorite 40-Ton, 4-Way Wedge on Tractor Supply!
CountyLine Log Splitters
CountyLine Log Splitters are Tractor Supply's preferred log splitter brand. I love CountyLine log splitters! Made by YTL, the CountyLine log splitters are affordable, reliable, and they're perfect for everyday users who need to store or split firewood for the winter season.
I also love the versatility of the CountyLine log splitters. You can use their splitters vertically or horizontally. If you have a lot of large logs to split, then you might want to experiment with the vertical splitting position.
CountyLine doesn't just make log splitters!
CountyLine is Tractor Supply's exclusive brand of agricultural tools and farming equipment that offers everything that homesteaders and ranchers could ever need. If you visit a Tractor Supply location and look closely at their inventory, you'll notice that CountyLine promotes the full spectrum of agricultural supplies and homesteading goodies.
CountyLine offers everything under the sun like rotary tillers, sump pumps, tractor attachments, stock tanks, landscape rakes, corral panels, and, of course, log splitters.
Let's look closer at three of my favorite log splitters that I recommend to anyone who wants to buy their first or next log splitter.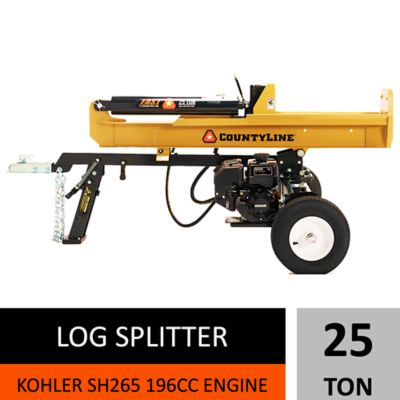 Are you looking for a log splitter for average everyday use? Then you'll be hard-pressed to beat this deal from CountyLine. The quality of this log splitter is excellent and, the price is right.
With a 6.5 HP Kohler SH265 engine, 3,800 PSI, and the ability to handle logs with a 36-inch diameter, the Countyline 25 ton log splitter is tough to beat in this price category.
The 25-ton log splitter is the lightest option on this list. It also offers an 11.5 second cycle time, which you'll love if you're used to chopping your firewood with an ax. Like all 3 log splitters in this list, the log splitter has a vertical and horizontal mode.
The durability of the 25-ton log splitter is great, and the warranty on all of the CountyLine log splitters is excellent considering the low price.
Specs of the 25-Ton CountyLine Log Splitter
90.6 inches long

39.4 inches tall

25-ton splitting force

36-inch max log diameter

196 cc engine displacement

490 pounds

4-gallon hydraulic capacity

Vertical and horizontal use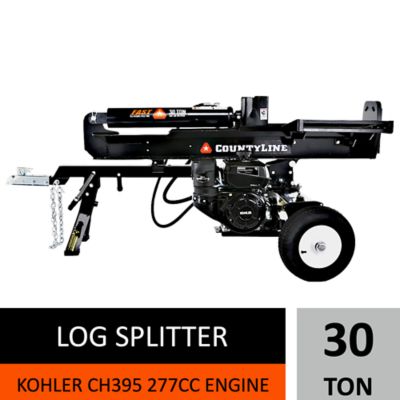 Do you want more power than the 25-ton CountyLine without upgrading to the massive 40-ton log splitter? Then the CountyLine 30-ton is your best choice.
One thing you might not like about the CountyLine 40-ton log splitter is that the unit weighs a whopping 781 pounds.
The CountyLine 30 ton log splitter is only 595 pounds, which is considerably smaller. With 9.5 HP and 30-tons of splitting force, this log splitter is a beast and can handle most jobs you'll throw her way. Give her your best shot.
Another benefit of this log splitting monstrosity is that the cycle time is just 10.5 seconds. If you split lots of wood, then this machine can save you some time and effort.
Specs of the 30-Ton CountyLine Log Splitter
90.6 inches long

39.4 inches tall

30-ton splitting force

36-inch max log diameter

277 cc engine displacement

595 pounds

22.8-quart hydraulic capacity

Vertical and horizontal use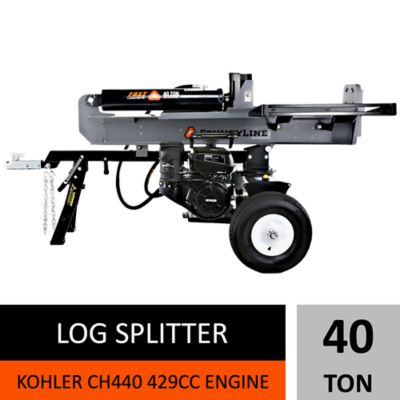 If you split more wood than Paul Bunyan, and if you love to make quick work of your firewood cord hauls each season, then look no further than the CountyLine 40 ton log splitter. This log splitter makes you feel the power as you split wood.
I love how this 14 HP beast has a cycle time of only 9.5 seconds. Whether you want to split oak, mesquite, maple, hickory, or ironwood, I bet you a steak (or veggie) dinner that this log splitter makes short work of your toughest jobs.
This unit is considerably larger in height, length, and weight when compared to the two smaller CountyLine log splitter models. If you want a powerful log splitting option and if you burn lots of firewood, then you can't go wrong with this choice.
Specs of the 40-Ton CountyLine Log Splitter
94.9 inches long

47.2 inches tall

40-ton splitting force

36-inch max log diameter

429 cc engine displacement

781 pounds

39.2-quart hydraulic capacity

Vertical and horizontal use
Any Questions About a CountyLine Log Splitter?
I think that CountyLine log splitters are perfect for most home users. What's your experience with CountyLine log splitters? Please let me know your thoughts! I'd also love to know if you have questions about CountyLine or log splitters in general. I'm happy to answer your questions and comments below!