Choosing the best Buck knife for everyday carry can get overwhelming really fast. Buck knives come in different models, materials, blade shapes, additional features… It's a knife jungle!
That's why I decided to give you a clear-cut no-nonsense roadmap that will lead you to your perfect blade – your best Buck knife.
Our Best Buck Knife Top 9
Buck 722 Spitfire
Buck 110 Folding Hunter
Buck 112 Ranger
Buck 119 Special
Buck Bantam BBW 284
Buck Woodsman 102
Buck Selkirk 863
Buck 105 Pathfinder
Buck 830 Marksman
Best Buck Knives Review
Best Buck Everyday Carry Knife: 722 Spitfire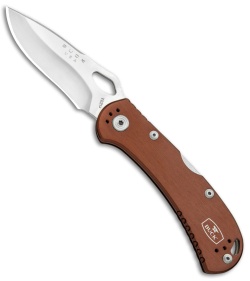 722 Spitfire from: Blade HQ
Outdoor Happens is reader-supported. When you buy through links on our site, we may earn an affiliate commission. Click to learn more
The 722 Spitfire is a little dynamo of a folding knife that packs one hell of a punch! This Buck knife is one of the best pocket knives for everyday carry, but it can do so much more.
With just 3.2 oz in heft, this is one of the lightest all-purpose Buck knives out there. If you've ever been in a survival situation, you know that every oz counts. Buck really "trimmed down the fat" on this knife, which makes it much easier to carry and conceal.
The length of the blade is 3¼" with a hollow grind. But don't let the size fool you. Buck Spitfire is viciously sharp and ready for some serious cutting. It also holds its edge like there's no tomorrow and it's extremely easy to re-sharpen.
I know what you're thinking. Hollow grind makes for a poor cutter. That primary bevel makes no sense. I had similar concerns back when I got my first Spitfire. After years of abusing it, however, I have nothing but praise for this little monster. Buck knives are NOT fragile razor blades and they'll take a ton of punishment before losing their edge.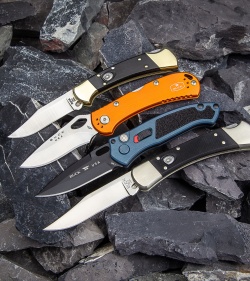 Like many Buck knives, Spitfire uses 420HC blade steel, packed into a comfortable and grippy anodized aluminum handle. Add an aggressive drop point, and Spitfire doesn't look so friendly anymore.
Optional serrations allow you to saw your way through tougher materials in a pinch. The overall fit and finish are top-quality, without the blade rubbing on the liner or similar issues reserved for low-quality folding knives. The blade locks safely in place, without any wiggle room.
722 Spitfire is a sleek and aggressive folding knife that offers the biggest bang for your buck. Hands down! Given its overall quality, durability, versatile design, and low price tag, you'd have a tough time finding a better Buck knife among its peers.
Knife Pros
Extremely compact folding knife
No-hassle one-handed open
Aggressive drop point blade
Durable super-sharp edge
Comfortable anodized aluminum handle
420 steel blade
Rugged construction
Sleek & attractive design
Knife Cons
Not the best knife for larger, more demanding tasks
Buck 110 Folding Hunter – Best Auto Lockback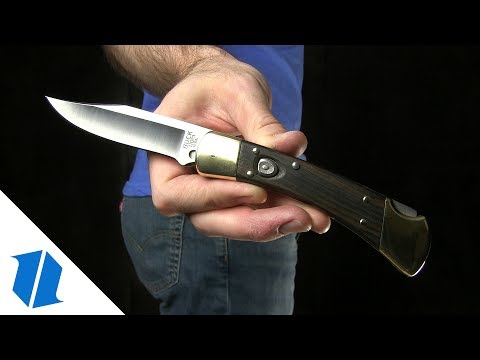 Buck 110 Automatic Knife from: Blade HQ
The Buck 110 family is also known as "Folding Hunters", and it's basically where the Buck knives story began. It single-handedly revolutionized the knife industry with its innovative folding knife locking system.
After all these years, the Buck 110 folding knife is officially available as an automatic! You can forget about 3rd party conversions. This bad boy comes with a built-in auto action straight from the production line.
The best Buck knife 110 Auto is an ideal companion for the great outdoors. I've used it for anything from cutting canvas for a makeshift tent to skinning an elk. Weighing 7.1 oz, it's much easier to pack and carry than your regular fixed hunting blade. More versatile too.
With a blade length of 3¾", the Buck 110 is made of 420HC steel with the standard Paul Bos heat treat. It comes with a sleek satin finish and cryogenic treatment for superior edge retention.
The crescent tip provides a sharper point and a thinner blade. It's perfect for finer cutting in tight places and intentional punctures. Punching a new hole in your leather belt comes to mind… However, the point is not as strong as with skinners or drop points. That's just one of the reasons why I like the Spitfire better as best Buck knife.
The eye-catching handle of the Buck 110 is made of ethically sourced Crelicam ebony with brass bolsters. A conveniently placed push button allows instant auto-deployment and easier one-handed operation.
The friction fit leather sheath comes with a safety mechanism that prevents deployment when you remove the knife.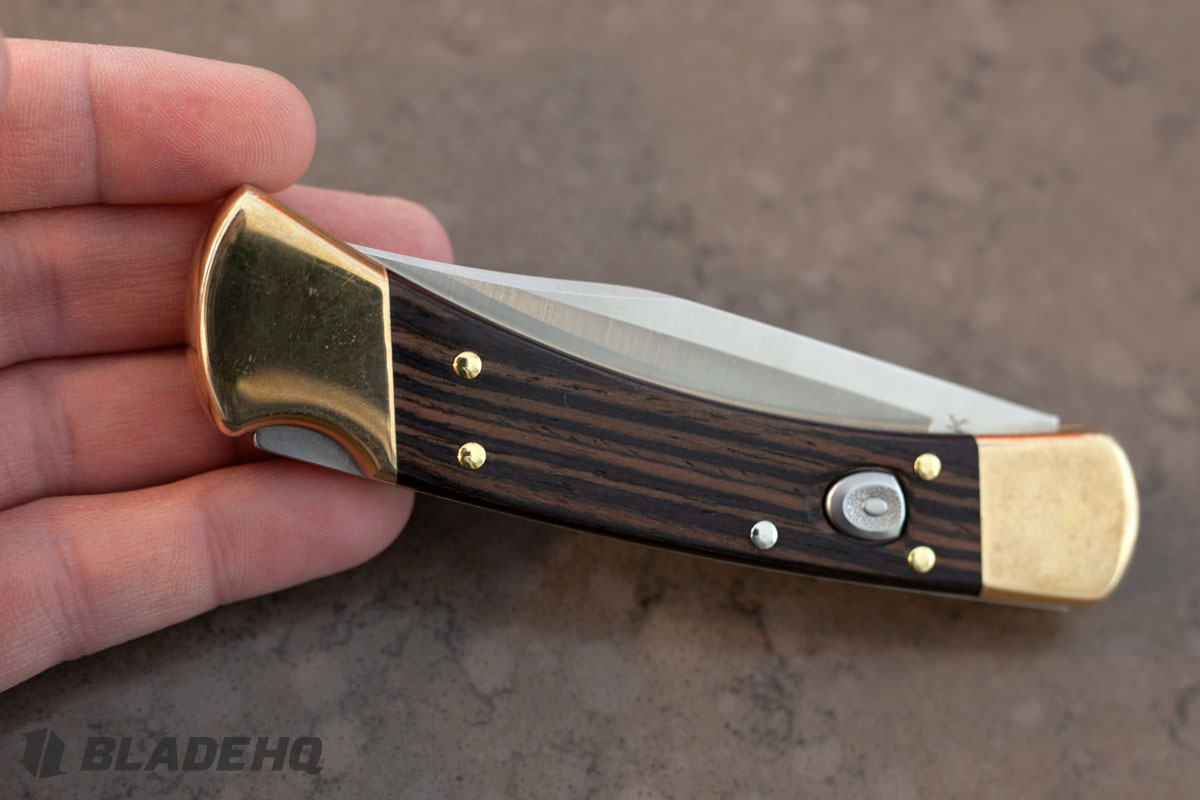 The Buck 110 Auto Lockback walks a thin line between a fine subtle blade and a rugged hunting piece. It excels in both roles, making it a seriously unique blade. Often imitated, never replicated!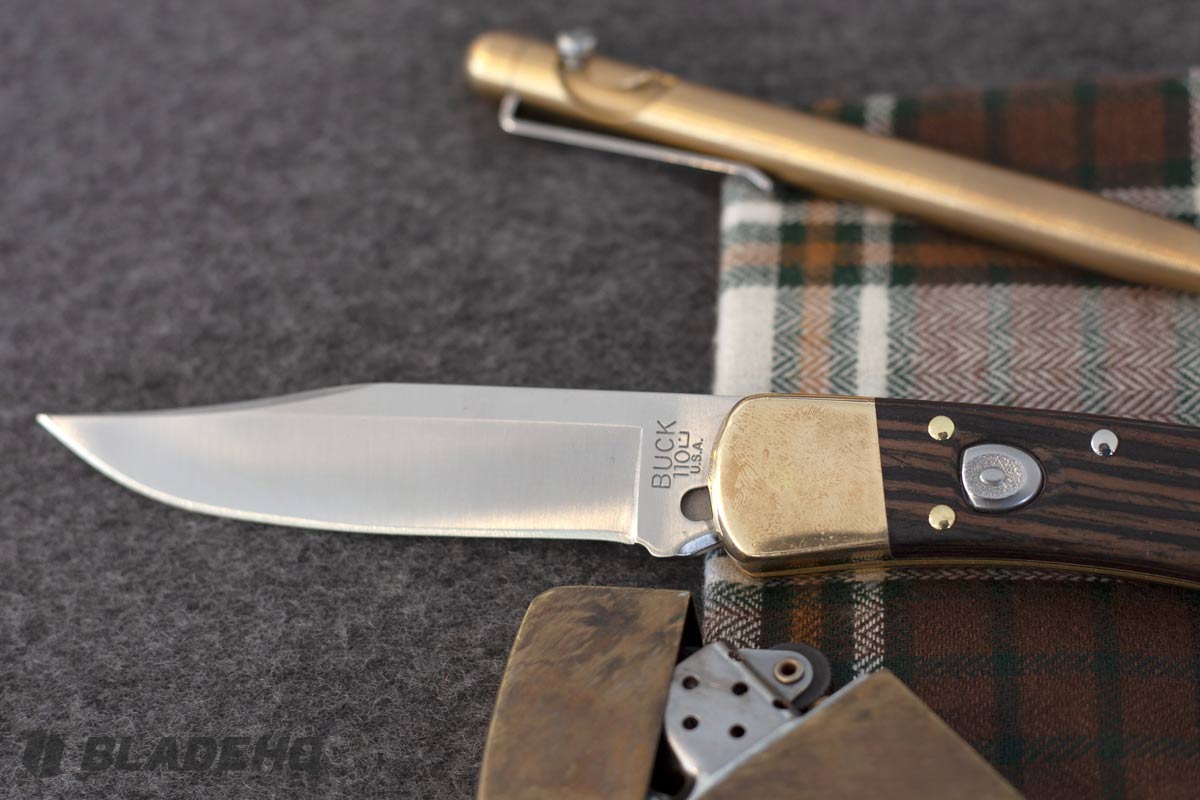 Knife Pros
Fully automatic action
No-hassle one-handed operation
Extremely sharp blade with a satin finish
Cryogenic treatment for better edge retention
Ebony handle with brass bolsters
Crescent tip for optimal detail cutting & puncturing
Solid lockback
Leather sheath with an additional safety mechanism
Knife Cons
The tip on this Buck knife is not as strong as with skinning knives and drop points
112 Ranger – Best Compact Auto Lockback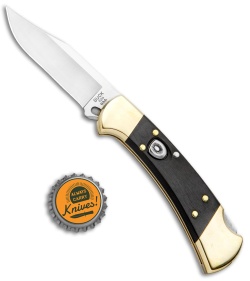 Buck 112 Ranger | Automatic Lockback Knife from Blade HQ
If the Buck 110 series is not compact enough for you, the Buck 112 family is exactly what you're looking for in the best Buck knives. The Buck 112 Ranger is just a smaller version of the famous Buck "Folding Hunter".
It literally comes with all the same features, including the automatic operation. A fine-tip 420HC blade, ebony handle with brass bolsters, cryogenic treatment, friction fit leather sheath… You know the drill.
The only difference lies in its size and weight. 112 Ranger Auto weighs 5.9 oz and the length of the blade is 3".
The smaller frame makes it easier to pack and carry, but it does have its downsides. When I first started using it, I really felt the lack of range that the 110 gave me. Especially during finicky work like cutting wire in a tight space.
When it comes to larger outdoor tasks like prepping firewood, opening cans, cutting cord, or making a shelter, both models perform equally well.
Knife Pros
Fully automatic action
No-hassle one-handed operation
Extremely sharp blade with a satin finish
More compact than the 110 family
Cryogenic treatment for better edge retention
Ebony handle with brass bolsters
Crescent tip for optimal detail cutting & puncturing
Solid lockback
Leather sheath with an additional safety mechanism
Knife Cons
Shorter reach than 110 models
Fine tip not suited for rugged tasks
119 Special: Best Buck Knife for Hunting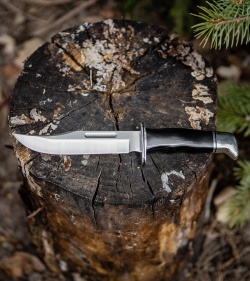 Buck Special 119BKS Hunting Knife Fixed Blade (6″ Satin) from: Blade HQ
The Buck 119 Special is the grandfather of all hunting knives! It's a large real-deal piece for people who live to hunt (and hunt to live).
The 6" fixed clip blade is made of 420HC steel and comes with a recognizable satin finish. It features hollow ground bevels with a plain edge. The weight is 7.5 oz for phenolic and 10.5 for cocobolo models.
I've seen many 119 Special reviews mentioning "phenolic blades". "Phenolic" is the term used for handles. It means they're made of plastic to a certain degree. It can NEVER be used to describe the actual blade!
Speaking of handles, the 119 Special comes with a phenolic grip with an aluminum pommel and guard polished to perfection.
It features the same crescent tip as the 110 family. I've already talked about the trade-offs of the finer point, so I won't repeat myself here.
Finally, it comes with a genuine leather sheath.
I've never been much of a pro hunter, so I never used the 119 Special that much. When I did use it, however, it felt like I could do anything with it.
As for as Buck knives go, this is a serious piece of equipment made for serious hunters. If you don't want to trade sheer power for compact dimensions, this is the blade for you.
Knife Pros
One of the best dedicated hunting knives
Sturdy, long-lasting full tang construction
Extremely sharp and easy to re-sharpen
Ergonomic phenolic handle
Paul Bos heat treat
Genuine leather sheath
Knife Cons
Not as compact as the folding models
Fine tip not suited for rugged tasks
Bantam BBW 284: Best Budget Knife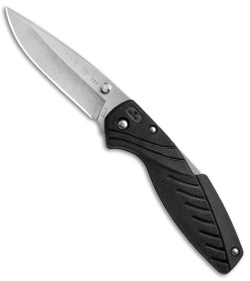 Buck Bantam BBW Lockback Knife Black (2.75″ Satin) from: Blade HQ
The Buck Bantam BBW is a small & affordable EDC folder ideal for your everyday needs. It's a Jack-of-all-trades in the Buck family of knives.
The 2¾" blade is made of 420HC steel and features an aggressive drop point like the Spitfire. The strong tip makes it perfect for puncturing tasks, but this little guy is also as sharp as they come. And it weighs only 1.5 oz.

You'll find a thumb stud on both sides for easier operation. Bantam BBW has a secure mid-lockback mechanism for smoother closing.
The handle is glass-reinforced nylon with a textured surface for a more secure grip. It also features a lanyard hole for keychain carry.
Knife Pros
Budget-friendly
Compact dimensions
Knives with an aggressive drop point
Glass-reinforced nylon handle
Textured handle for a superior grip
Mid-lockback mechanism
Lanyard hole
Knife CONs:
The handle on these knives is not top-quality
No pocket clip
Woodsman 102: Best Classic Fixed Blade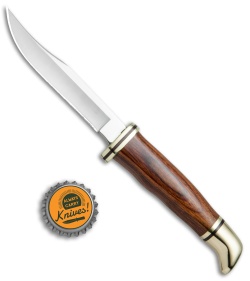 Buck Woodsman Cocobolo Fixed Blade Knife (4.00″ Satin) from: Blade HQ
The 102 Woodsman is a part of the Buck's "classic fixed blade" knives family. It's very similar to the 119 Special, but with a thinner blade and a HUGE size difference.
The Woodsman comes with a 4" 420HC blade and weighs 3.6 oz (2.5 for phenolic). A super-sharp edge with a fine clip point is ideal for prepping smaller game and fish. If you're going for something larger, you'll have a better time with the 119 Special.
Similarly to 119 Special, these knives features a full tang construction with a finger guard on the handle. The eye-catching cocobolo handle features a polished brass pommel and guard.
The carry option comes in the form of a genuine leather sheath for extra comfort and convenience.
Knife Pros
High-quality fixed blade
Supreme edge/easy to sharpen
These knives are perfect for prepping small game & fish
Fine crescent point for detail work
Woodman 102 knives feature full tang construction
Rugged & durable knives
Beautiful cocobolo handle
Knife Cons
These knives are not ideal for larger game
Fine tip not suited for rugged tasks
Selkirk 863: Best Mid-Size Fixed Blade Knives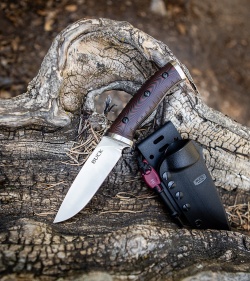 Buck Selkirk Fixed Blade Knife Micarta (4.625″ Satin) from: Blade HQ
If you're looking for a fixed mid-size outdoor blade in your knives, look no further than this best Buck knife, the Selkirk. It offers the best of the two worlds – the light weight of the folder paired with the sturdiness of fixed hunter knives.
The 4⅝" blade is made of 420HC steel and comes with a vicious drop point. The overall weight of these knives is 7.6 oz.
Selkirk 863 comes with a stylish brown/black CNC-contoured Micarta handle. The injection-molded polypropylene sheath lends itself to both vertical and horizontal carry. The
Don't be fooled by the size of these knives, Selkirk is a dedicated hunting knife. It can even skin an animal in a pinch. When I was first learning how to skin an elk in the field, I used this exact model. The drop point definitely helped avoid accidental puncturing.
Knife Pros
Compact dimensions
Lightweight
Sturdy, durable construction
Comfortable Micarta handle
Knives come with a polypropylene tactical sheath
Rugger drop point
Knife Cons
These knives are not as powerful as larger hunting knives
105 Pathfinder: Best Buck Knife for Survival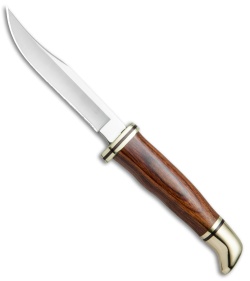 Buck Pathfinder Fixed Blade Knife Dymondwood (5″ Satin) from: Blade HQ
The 105 Pathfinder is yet another member of Buck's "classic fixed blades" knives family. Unlike the 119 Special or Woodsman, this is a classic all-purpose fixed blade.
Its heavy-duty full tang construction can take tons of abuse, which made this knife my favorite survival tool.
The modified clip blade is made of 420HC steel and has a blade length of 5". These knives are a serious piece of equipment. The overall weight is 5.8 oz. In my experience, the blade can take a serious beating before it loses its edge, but re-sharpening it was a breeze.
Similarly to our previous knives, the Pathfinder sports a beautiful cocobolo handle with brass pommel and guard.
The carry option is a genuine leather sheath that holds the knives tightly for superior comfort.
If you're looking for well-rounded knives that can perform all tasks equally well, 105 Pathfinder is the piece for you!
Knife Pros
Heavy-duty construction
Extremely sharp blade/easy to re-sharpen
105 knives feature the Paul Bos heat treat
Sturdy and durable
Stylish cocobolo handle
Genuine leather sheath
Knife Cons
These knives are not ideal for passionate hunters. You'll find a better hunting knife above.
9. Honorable Mention: Buck 830 Marksman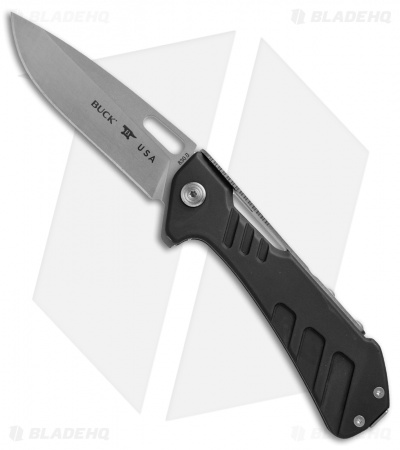 Buck 830 Marksman Folding Knife (3.5″ Satin) from: Blade HQ
The 830 Marksman is an extreme quality knife. It has the Grant & Gavin Hawk lock, which is called the SLS (Strong Lock System). It'd be hard to find a stronger lock than this one! This is a super strong tactical knife with anodized aluminum frame and a blade made of 154-CM steel.
This reviewer sums it up nicely:
"As previous reviewers have mentioned, the lock system takes some getting used to, but the action on this knife is incredible! One handed opening and closing has a great fidget feel. The blade came sharp and ready to go. This baby is staying in my rotation."
Best Buck Knife Buyer's Guide
What is the Best Buck Knife for Me?
As always, this depends on what you're trying to do with your knives. This will dictate its shape, size, weight, carry options, and many more factors. To make things as easy as possible for you, I'll list some of the most common situations, so you can choose the best knives for you. .
Do Buck Knives Hold Their Edge?
ABSOLUTELY!
Buck is famous for its patented tempering process for each blade. All knives are heat-treated according to their intended use. This is why it's so important to pick the best Buck knives for you.
Buck also equips its knives with the renowned Edge2x technology. This allows their blades to be sharper than other knives and hold their edge longer. Also makes their knives much easier to re-sharpen.
Two of the best Buck knives were featured in Blade HQ's Top 10 knives a couple of years ago, see this video:
What Steel Do Buck Knives Use?
Many of Buck's knives are made from 420HC (high carbon stainless steel). This steel has excellent corrosion resistance. Wikipedia informs us:
"420HC ( 420C ) is a higher carbon content 420 stainless steel. The HC stands for "high carbon" and it can be brought to a higher hardness than regular 420 and should not be mistaken for it. Buck Knives and Gerber Knives use 420HC extensively."
One of the users on BladeForums.com mentions:
"It does not easily chip and is very easy to get shaving sharp. Yes, it does not hold an edge like some of the new "super steels" but it sure is a lot easier to get sharp and doesn't chip so you are not afraid to REALLY use it hard."
How to Sharpen My Buck Knife?
Here, you have two options.
You can sharpen your knives yourself, but I wouldn't recommend this unless you know exactly what you're doing. The official Buck website has an excellent sharpening guide that might help you with some of your doubts and questions.
Alternatively, Buck offers a sharpening service for just $6.95 per knife + return shipping. Note that this service is not available for knives with serrated edges.
Looking for a Great Knife With Gut Hook?
What is the Buck Forever Warranty?
Buck guarantees that every single one of their knives will be free of defects in material and craftsmanship for the life of the knife.
If your knives prove to be defective, the Buck knife company will give you the option to repair it or replace it with a new knife.
Note that this warranty doesn't cover normal wear, misuse, and modifications of your knives. The company also warns against using their knives as hammers, pry bars, screwdrivers, or chisels.
Can Buck Knives Survive in Extremely Cold Climates?
YES!
If you take good care of your Buck knives, they can survive even the harshest conditions. This includes keeping your knives dry, ice-free, and lubricating them regularly.
What's Your Best Buck Knife?
Finding the best Buck knife comes down to identifying your needs and meeting them with the right tool for the job. Whether you're looking for folding knives, a fixed blade knife, clip point blade or pocket knife, Buck is sure to have the right knife for you.
I outlined some of the most common cases and shared with you my list of favorite Buck knives. Among them, we covered hunting, everyday use, fine cutting, the perfect survival knife, perfect tactical knife, cutting in tight spaces, intentional puncturing…
All that's left for you to do is identify your needs and follow my roadmap. Then look at the price and decide the best knife for you.
Leave any tips and suggestions for your fellow knife lovers in the comments below. Also, feel free to let us know if this list helped you find your perfect blade.