Picking the best Swiss army knife has become more challenging than ever! Everyday use, survival, hunting, camping, handiwork… All these activities hinge on different sets of tools. And a different Victorinox Swiss army knife. (Although they're not all Victorinox, look at our amazingly cheap #7!)
That's why I made this Swiss army list to help you get the perfect pocket knife for your needs. Our favorite knife today is the Victorinox Swiss Army Fieldmaster. It's not the flashiest knife out there, but it is a well-rounded multi tool with tweezers, a screwdriver, bottle opener, reamer, even wire strippers. An everyday carry knife to be proud off.
[elementor-template id="5814″]
Our Best Swiss Army Knife Top 7
We have selected a list of 7 of the best Swiss army multi tool knives. Above, you'll find our favorites for different functions and scenarios. We'll list the features and benefits of each swiss army knife below that, so you can find the multi tool with all the tools you need.
1. Victorinox Fieldmaster (Best Everyday Carry Knife)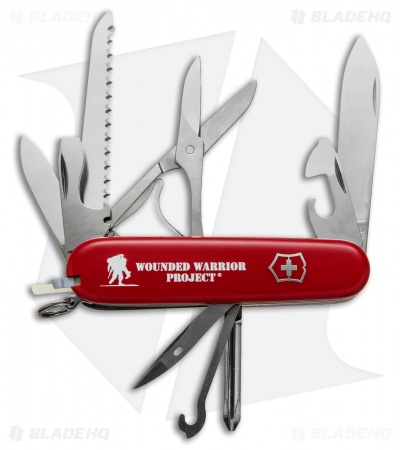 The Victorinox Swiss Army Fieldmaster is primarily designed as a multi tool for outdoor use, including camping, gardening, hiking, fishing, bushcraft… This makes it a perfect companion in any type of survival scenario.
It comes with 15 large and small stainless steel tools and signature Victorinox ABS/cellidor scales.
The Victorinox Swiss army Fieldmaster belongs to the "medium pocket knives" family. It's 3.6" long and weighs only 3.53 oz. You can throw it in your pocket or pouch and forget it's there until you need it. A great knife for everyday use.
The scales house a plastic toothpick and a handy pair of tweezers. In the middle, we have a Phillips screwdriver and a multipurpose hook.
The hook can do anything from carrying a bundle to tightening lashings. It's a pain to open though unless you have long nails. Make sure you consider this, especially if you want something that opens with one hand.
There's also a sharpened reamer, which I used to puncture wood and leather with ZERO problems.
The top of this knife features a flat-head screwdriver/bottle opener/wire stripper that locks in 90° and 180° positions. The bottom holds a can opener with a sharpened chisel edge and a smaller flat screwdriver.
Another great every day feature is a pair of high quality, super-sharp scissors that are big enough for outdoor use and not just clipping your nails. The lack of scissors is why I never bought the Swiss army Farmer model. Scissors really come in handy!
The small saw tool comes with extremely aggressive teeth. You won't fall any trees with it, but it'll saw through branches and make notches on wood like there's no tomorrow.
Finally, continuing on with all the amazing different functions of this Victorinox knife, we have a pair of viciously sharp plain-edge blades (small and main). I last used them to whittle wooden stakes in the woods, and they worked like a charm.
I don't really like "busy" Swiss army knives that charge me for a bunch of features I'll never use. That's why the Victorinox Fieldmaster knife will always be my favorite everyday carry and survival favorite.
It's a knife that's affordable, versatile, has all the right high quality tools. It's a great knife to buy because not only does it have all the multi purpose tools you need, it can also take a ton of abuse.
Knife PROs
Traditional SAK frame
15 functions and different tools
Extra slot for a sewing needle
Stainless steel tools + ABS/cellidor scales
Durable and lightweight
Versatile and compact size
Knife CONs
The multipurpose hook is difficult to open, especially with one hand.
2. Victorinox Swiss Champ Knife Reviews (Most Versatile)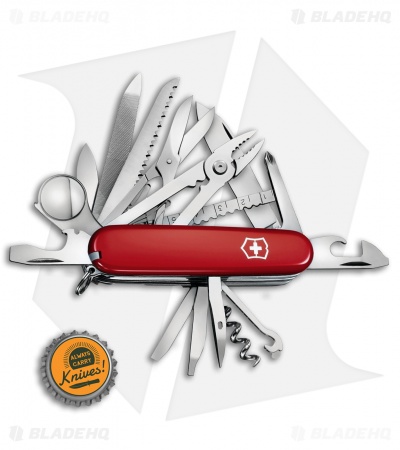 Victorinox SwissChamp – Swiss Army Knife from: Blade HQ 
The Swiss Champ is a Swiss army knife cranked up to 11. It has EVERYTHING and then some! Even a ballpoint pen!
It's a 7-layer monster pocket knife with 33 different tools. It's 3.6" long, 1.3" high, and weighs 6.5 oz. The Champ is by far the most versatile best Swiss army knife out there. It's so good, it's in BladeHQ's Top 5 Best Swiss Army Knives.
Naturally, when you pack that much stuff into a single knife, it tends to be on a bulkier side. So, I wouldn't recommend Swiss Champ as your everyday carry pocket knife of choice.
When it comes to tools and functions, we have a large/small blade, corkscrew, can opener with a small flat screwdriver, bottle opener with a large flat screwdriver and a wire stripper, reamer, toothpick, tweezers, scissors, multipurpose hook, key ring, wood saw, fish scaler, ruler, metal file, fine screwdriver, chisel, pliers with a wire cutter and crimper, Phillips screwdriver, magnifying glass, pressurized ballpoint pen, mini screwdriver, and a stainless steel pin.
Boy, was that a mouthful or what?! You won't be lacking in gear with this knife.
The magnifying glass might look useless, but it's a godsend when used with the tweezers. And it can also start a fire in a pinch.
The pliers are comparable to those found on the Leatherman Squirt. Not overly heavy-duty, but they'll get the job done. The scissors are similar to those on the Leatherman Surge but much sharper and more resistant to rust.
I never used the ruler cause I'm more of a survival guy, but it's definitely useful for small jobs around the house.
Swiss Champ is your go-to Jack-of-all-trades Victorinox knife and that's why it has a place on my list of the best Swiss army knives. It's the most eye-catching piece out there that'll chew through anything you throw at it. In a comparatively small package too.
Knife PROs
Traditional SAK frame
33 stainless steel tools
Top quality
Extremely versatile
Durable construction
Ideal for any task
CONs:
One of the bulkier knives of this brand
Expensive to buy
3. Victorinox Classic SD Swiss Army Knife (Best Budget)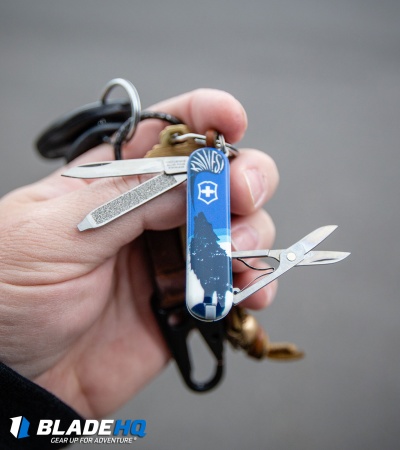 Victorinox Classic SD – Swiss Army Knife – Exclusive Blue Wolf from: Blade HQ 
I generally view the Victorinox Classic SD knife as the Leatherman Skeletool of Victorinox Swiss army knives. It's a perfect piece for your everyday needs as far as multi tools go, and one of my favorite EDC tools.
Admittedly, you'll have a tough time with it in a survival scenario or bushcrafting in the Brooks Range of Alaska. However, this knife should be more than enough for an average handyman, cyclist, or gardener.
The Victorinox Classic SD is a poster boy for super-versatile EDC key ring tools.
It's incredibly compact – 2.3" long and weighs only 0.7 oz. That's the weight of 3 quarters and a nickel. It's ridiculous! Definitely one of the more compact knives in this review.
It comes with 7 stainless steel tools and functions – all featuring the famous Victorinox snap-joint mechanism. The tools include the main blade, nail file with a 2.4 mm flat-head screwdriver, scissors, toothpick, and tweezers. This model also features a key ring for extra convenience.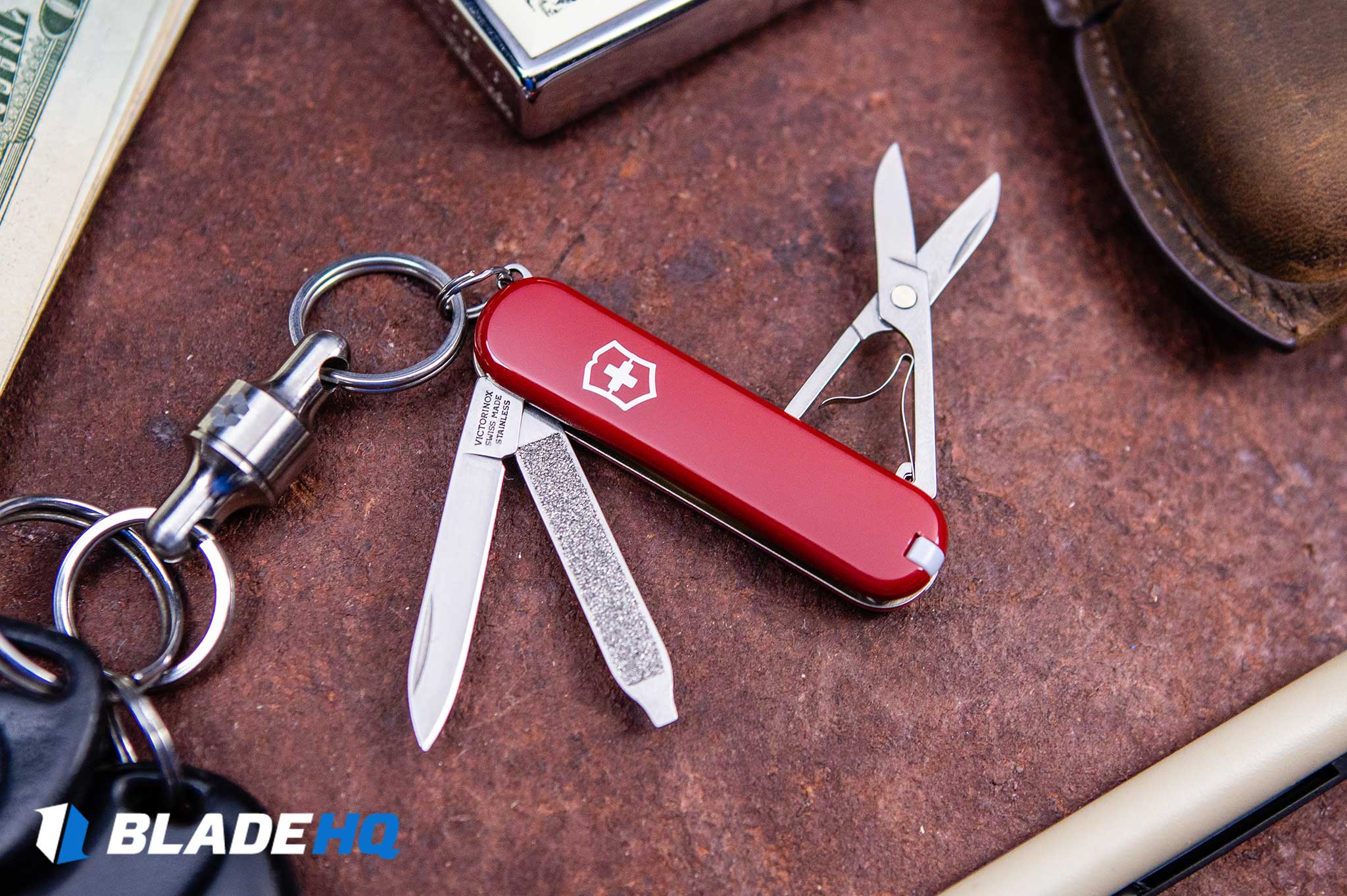 The scissors can be used for a lot of fine trimming, but are obviously not ideal for large-scale cutting.
The blade itself is rather modest and perfect for smaller everyday tasks. Cutting zip ties and cardboard, opening an envelope… The blade is very easy to sharpen and holds its edge rather nicely. Just don't expect the cutting power of a huge jackknife and you'll be fine.
Victorinox Classic SD sacrifices a bit of versatility for lighter weight and better carryability. It's not as vicious-looking as its big brothers, but it's irreplaceable for EDC.
It's also the cheapest piece to buy of the bunch in this review and comes in more color patterns than I can count.
Knife PROs
Traditional SAK frame
7 stainless steel tools
Compact & lightweight
Durable construction
The blade is very easy to sharpen
Knife CONs
Not the best Swiss army knife for heavy-duty tasks
Very modest blade, one of the multi tools for smaller tasks.
4. Victorinox Swiss Army Huntsman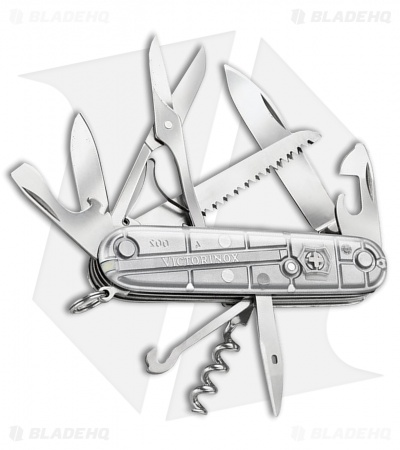 Victorinox Swiss Army Knife Huntsman Silver Tech from: Blade HQ 
The Victorinox Huntsman knife is extremely similar to the Victorinox Fieldmaster. Which explains why I put this pocket knife so highly on my best Swiss army knife review.
It features the same set of stainless steel tools and features but replaces the Phillips screwdriver with a corkscrew. Personally, I never saw much use in having a corkscrew in a survival scenario. Sure, it can untie difficult knots, but a bunch of other tools can do that. Though, if you take a bottle of wine with you, this is the knife to make sure you've got with you!
The Victorinox Fieldmaster Swiss army knife only comes in red, while the Huntsman features more color options. My favorite is regular green camo, but translucent sapphire looks awesome too.
Since I own both knives, there's a nifty thing I did with the toothpick slot. You can order a slim Ferro Rod and replace the second toothpick. Having the ability to start a fire adds a lot more versatility to your survival gear. Doing this makes it one of the best swiss army knives for the price.
I just use the back of the wood saw blade to create a spark and it got me out of some pretty tight jams in the woods.
The tweezers might look useless, but they're anything but. I've pulled out so many ticks and splinters with these bad boys, it's not even funny.
The reamer is probably one of the least understood tools on this Victorinox Swiss army knife. Some people still refer to it as "the awl", but it's basically the same thing. Sure, you can use it to punch holes in leather belts and canvas or drill through wood. But the extra hole actually serves as a sewing needle.
I've never used it for sewing that much, honestly. But, it did help me resaw the zipper on my backpack a couple of times. So, it's a nice thing to have in a pinch.
Bottom line, Victorinox Huntsman is a classic swiss army knife – a survival tool worthy of its name! Everything I said about the Victorinox Fieldmaster applies here as well. Another one of the great models to buy in this review.
Knife PROs
Traditional SAK frame
15 different tools including tweezers and toothpick
Extra slot for a sewing needle
Stainless steel tools + ABS/cellidor scales
Durable and light weight for everyday carry
Versatile and compact size
Knife CONs
The multipurpose hook is difficult to open
I never saw much use in having a corkscrew
5. Victorinox Swiss Army Tinker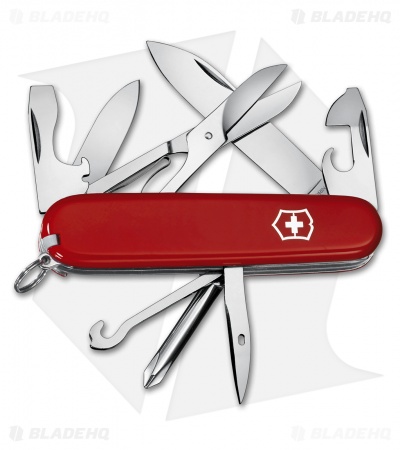 Victorinox Swiss Army Knife Super Tinker from: Blade HQ 
The Victorinox Tinker is one of the most popular best Swiss army knives out there. People often use it as their EDC knife and they generally like the balance between its toolset and carryability.
It's 3.6" long and weighs 2.2 oz. Its toolset features 12 stainless steel pieces, including a large/small stainless steel blade, Phillips screwdriver, can opener with a small flat screwdriver, bottle opener with a large flat screwdriver & wire stripper, reamer, tweezers, toothpick, and a key ring.
The tools are packed into 2 layers, which gives it a slimmer appearance. The scales are standard ABS/cellidor.
Personally, I like my everyday carry knives a bit more "bare bones." That's why the Fieldmaster is my favorite. However, if you need a bit more versatility, Tinker is the perfect EDC knife to buy.
Knife PROs
One of the most popular Victorinox EDC knives models
Traditional SAK frame
12 stainless steel tools
High versatility
Durable construction
Knife CONs
Not suitable for larger heavy-duty tasks
6. Victorinox Hiker Best Knife Reviews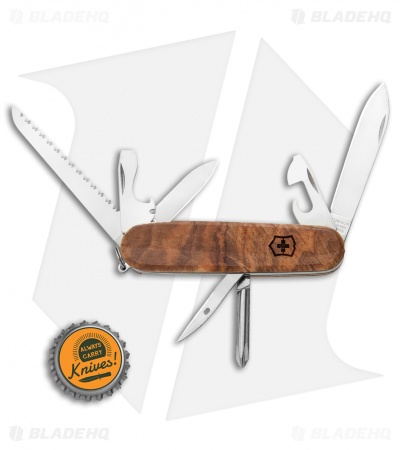 Victorinox Hiker – Swiss Army Knife | Walnut Wood from: Blade HQ
The Victorinox Hiker is yet another member of the "medium pocket knife" family, gear primarily designed for hiking & trekking enthusiasts.
I call it "the Tinker with an extra saw." Apart from the small saw, this top quality piece is identical to the Victorinox Tinker. However, an aggressive double-tooth serrated edge saw blade is a must-have in the great outdoors.
You can cut branches to hold up your tent, fashion a neat walking stick, build a shelter in a pinch… You name it. You might not use it every single time, but you'll be glad you have it on those "day gone wrong" hiking trips.
Contrary to popular belief, I've never used the saw for firewood. I can usually break the branches I need by hand. And if I can't, they're probably not dry enough anyway.
The saw is housed in an extra layer. So, the Victorinox Hiker has 3 layers of tools, while the Victorinox Tinker has only 2. Just some food for thought regarding a slimmer profile and its effect on the overall carryability.
Bottom line, you won't be doing any heavy trail maintenance with Victorinox Swiss army Tinker. But, you'll find all your basic hiking needs met, and then some!
Knife PROs
Best pocket knife tool for hikers
Traditional SAK frame
13 stainless steel tools
High versatility
Durable construction
Knife CONs
Not suitable for larger heavy-duty tasks
7. Switchedge Crimson Model
The Switchedge Crimson pocket knife is an affordable decent-quality alternative to Victorinox brand knives. It hits a fine balance between fine craftsmanship and good utility.
This Swiss army pocket knife features 14 stainless steel tools packed into a texturized aluminum frame. Every tool opens without a hitch and stays firmly locked in place. The piece is 3'5" long and weighs around 4 oz.
It's a bit on a bulkier side, though (with 4 layers) so I wouldn't recommend it as one of your EDC knives. However, it should be a perfect companion for hunting and fishing.
The toolset includes a large blade, scissors, can opener, wood saw, bottle opener, fish scaler, slotted remover, thread loop, Phillips screwdriver, corkscrew, nail file/cleaner, reamer, and a key ring.
Apart from the corkscrew and the nail file/cleaner, I like what I see. It's more than enough utility to justify its low price tag.
So, if you're looking for one of those budget-friendly hunting and fishing companion knives, Switchedge Crimson is the tool for you.
Knife PROs
Budget-friendly when compared with Victorinox Swiss army knives.
14 stainless steel tools
Texturized aluminum frame
Durable construction
High versatility
Knife CONs
Bulky design as far as Swiss army pocket knives go
Best Swiss Army Knife Buyers Guide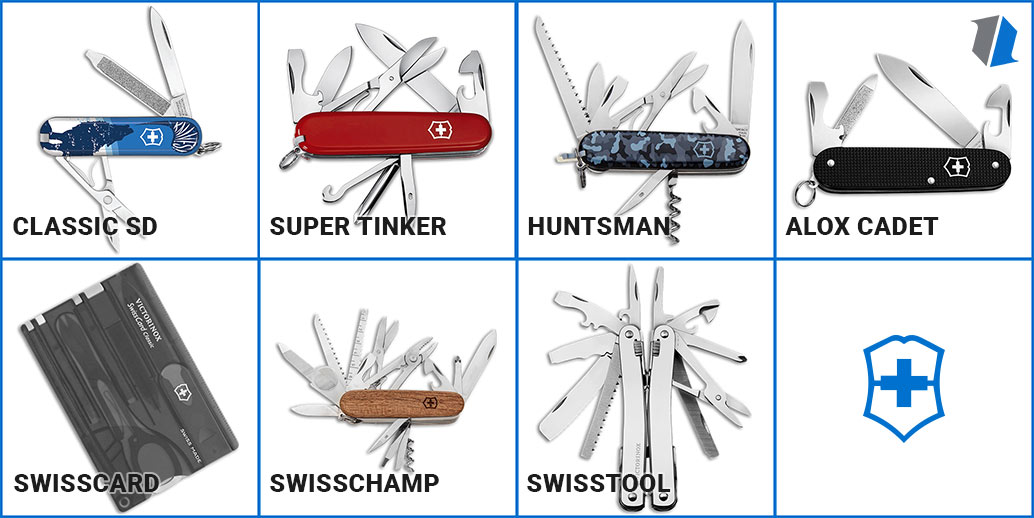 For EDC purposes, I'm looking for gear that is slim, compact, and has all the right tools, all for the right price. I want a piece that is the right size so I can throw in my pocket and forget it's even there until I need it. But when I do, I want to be able to get the job done.
And I want it to be as cheap as possible.
I'm not looking for much when I choose my EDC knives. I want to open a cardboard box, cut a cable, do a quick repair, strip a wire… Or just cut my seatbelt in an emergency.
That's why I prefer knives with fewer tools. Simply because you shouldn't expect much out of your EDC.
With all that in mind, my best Swiss army knife for EDC will always be Victorinox Fieldmaster. But I'm a minority on this one. People (and many other knives reviews) generally go for Victorinox Tinker, which is also an amazing piece.
I see where they're coming from, it's just not my personal preference.
What is the Best Swiss Army Knife For Camping
Camping knife reviews are a more demanding category than EDC, so I'm looking for something more feature-rich here.
I want to be able to open a can or a bottle, saw through a branch, drill a hole through a piece of wood, start a fire… Regular camping stuff.  My gear needs to be able to handle all that, for the right price.
Here, I allow a bit more weight and bulk since we're not talking about a survival scenario per se.
As I already mentioned, when it comes to classic Swiss army knives for any outdoor activity, my favorite is Victorinox swiss army Fieldmaster. If you want to open a bottle of wine, you can go for the Huntsman, for the extra corkscrew.
There's really no limit here, except your personal needs and imagination. Theoretically, you can even carry a Victorinox Swiss Champ, if you really want to go overboard.
Camping is generally a more forgiving activity than actual survival situations. So, you can go wild with your knives as much as you like.
What Is the Best Swiss Army Knife For Survival
Survival is by far the most demanding knives category and I would make no compromises here!
One of the trickiest things here is striking that fine balance between weight and utility. You don't want your Swiss army knife slowing you down. But missing a crucial tool spells disaster.
Apart from regular outdoor stuff, your knives also need to handle potential wounds, punctures, gashes… A slot for a sewing needle, a good pair of scissors, tweezers, a reliable blade… This is all a MUST-HAVE!
I remember having to cut my friend out of his jeans after getting impaled on a large branch. The blade on my trusty Victorinox Fieldmaster did it in seconds. You never realize how important a blade, scissors, and a sewing needle can be until you're faced with that kind of situation.
When it comes to survival, your Swiss army knife CANNOT FAIL YOU!
That's why Victorinox Swiss Army Fieldmaster will always be my champion Swiss army knife for survival. The Victorinox Huntsman is an excellent alternative.
There's No Such Thing as the Best Swiss Army Knife…
There's no such thing as the best Swiss army knife. There are only the best model knives for specific activities.
In this Swiss army knives list, I've outlined what to look for based on your personal needs and preferences. I covered EDC, hunting & fishing, survival, hiking, camping, first aid…
All you have to do is identify your needs and follow this guide until you meet them.
If this list helped you find your perfect tool, let us know in the comments below. Also, feel free to share any useful tips and experiences with our homesteading community.
Last update on 2021-11-13 / Affiliate links / Images from Amazon Product Advertising API