The Husqvarna 440 is more lightweight than the Husqvarna 455, but what else is different between the 2 chainsaws? Which of these is the better buy? We'll review the Husqvarna 440 in detail and compare it with the 455 to see which chainsaw is best for the money.
What You Need to Know Before Buying a Husqvarna 440
Before buying any chainsaw you have to consider all of its surrounding factors. These include:
The chainsaw's weight
Power to do what you want it to do
How well it cuts, if it's easy to start, and how easy it is to maintain
As opposed to the larger design of the Husqvarna 455 chainsaw, which is most likely too big and heavy for pruning high tree branches, the 440 model is more lightweight. If you need a chainsaw only for some seasonal tree pruning and light sawing, the 440 model is easier to handle. This saw is also suitable for your yard if you have dead trees that need to be taken down.
Husqvarna 440 Chainsaw Details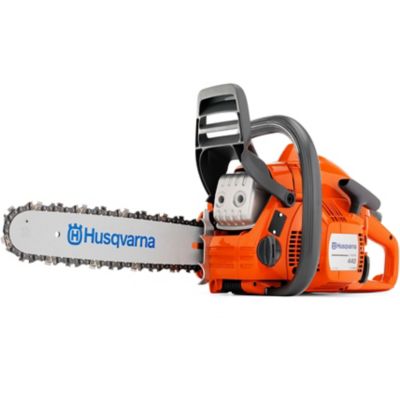 The Husqvarna 440 chainsaw is a 40.9cc, 2.4 HP gas-powered chainsaw. This chainsaw is ideal for those who need something that is very easy to start and operate. It has a built-in fuel pump, auto-return stop switch, and is super easy to start due to its Smart Start starter.
It weighs 9.7lb which is not bad for a chainsaw. It's certainly lighter than the 455, which is around 16lb. But, you are getting a fair bit more power with the 455 at 3.5 HP and 55.4cc. Other than the power, these chainsaws share the same features with Smart Start, tensioning system, etc.
One other difference is the snap-lock cylinder cover. The 455 has it, the 440 doesn't. This cover helps you save time when you have to clean or change spark plugs.
You can buy the Husqvarna 440 at Tractor Supply and Amazon:
Husqvarna 16 Inch 440e II Gas Chainsaw
440E II chainsaw with the new x-cut chain and x-force chainsaw Bar is a lightweight and...
40. 9cc 16 inch gas chainsaw with guide bar and chain; Idling speed: 2900 rpm
2 cycle engine with inertia activated chain brake for safety while operating
Orange Husqvarna chainsaw Bar cover and 2. 6 ounce 2 cycle fuel Included, Bar and chain...
Automatic chain oiler delivers a steady supply of bar and chain oil for safe and effective...
Simple, side-mounted chain tensioning system allows for quick chain adjustments while...
Amazon
We may earn a commission if you make a purchase, at no additional cost to you.
The 440 is comparable with Stihl's 271 Farm Boss. The 440 is a few pounds lighter than the Farm Boss, and the bar sizes are different. The 440 has a 16-inch bar and the Farm Boss has a 20-inch bar.
Pros of the Husqvarna 440
40.9cc, 2.4 HP engine that is easy to start, adjust and maintain
2.6-ounce 2-cycle fuel is included with the chainsaw
Automatic chain oiler
Very lightweight at 9.8 lb, so it is easy to carry around
Cons of the Husqvarna 440
Struggles to idle properly out of the box – many users report having to adjust it before it would idle properly
Needs to warm up before it runs nicely at high RPM, and can struggle a bit to idle properly after running at top speed.
Some 440s have a starting issue out of the box. If it's hard to start – it's not you, it's the saw. A few users took their chainsaw back because of this issue and their saw was replaced – which then started easily.
Features and Benefits of the Husqvarna 440
Chain Tension System
The unique perks you will get from the Husqvarna 440 Chainsaw are plenty. For starters, it has a simple, side-mounted chain tension system that allows you to make quick adjustments while you work. If you are getting the 440e chainsaw you will get this feature. If you are getting a regular 440 you won't get this feature, but it's hard to get the 440 these days.
If you notice your saw's chain is loosening, you can quickly stop sawing and adjust the fit of the chain without taking the whole thing apart. There is a single screw located below the two bolts that keep the saw in place. Tighten all these with a screwdriver and a socket wrench, and your chainsaw is good to go.
Low Vibe System
One thing when I'm sawing a lot is a chainsaw that vibrates non-stop. The 440 addresses that issue with the Low Vibe System.
This system is designed to reduce vibration levels to the user. This means that you won't suffer as much fatigue when handling this chainsaw, which also means you can get more work done.
Smart Start
The 440 has a cool way of starting up. Combining various engine and starting technologies, Smart Start involves you pressing against an air bulb to give the chainsaw the power it needs. The Easy Pull Starting System helps reduce the required pull force you need to start the engine. What all this means is it will take less effort from you to get the chainsaw started.
Air Filter
Don't you just hate it when you have to constantly fix your power tools?
The air filter inside the 440 is a quick-release air filter that prevents debris from clogging it after cutting through wood. Located on the side of the chainsaw, this filter is supported by an air-injection cleaning system. This system removes dust before it reaches the air filter. The end result is less time for maintenance on your part. I consider this to be a sweet deal!
Lightweight
There is one thing many of us can agree on. If you can buy an effective power tool that is also lightweight, you are doing yourself a ton of favors. The Husqvarna 440 chainsaw weighs only 9.8 pounds, so it is easy for you to lug around.
Outer Clutch
There is an externally mounted clutch on the 440, which is designed to keep the saw fluent and balanced while you use it. You take off the side-mounted attachments to view this clutch if you need to make any repairs. Chainsaws that don't have the proper balance both internally and externally are not reliable ones.
You can make sure your chainsaw has a clutch like the one described like this:
Detachable Engine Mount
With the 440 you have more freedom than just taking off the side-mounted attachments to view the outer clutch. There are plastic latches located on the upper half of the chainsaw that you can easily detach.
All it takes is either you manually taking the latches off or getting a small screwdriver to do the job. Once this is done the engine mount comes right off. You can then check on your chainsaw's engine to see if it or any surrounding parts need fixing. It is really that simple.
Automatic Oiler
The 440 also features an oiler that is automatically driven. Though it is not an adjustable oiler, it delivers a steady dose of bar and chain oil whenever the chainsaw needs it. I have had some days of yard work ruined because my tools ran out of gas or oil. Consider it a bonus to have a chainsaw that has an automatic oiler.
Choke Run
By now you are probably asking if the 440 has safety features. This chainsaw is definitely about safety. The 440 has a one-stop Choke Run, which is a kill switch you can activate if anything goes wrong.
This kill switch is very much straightforward. You can press down and hold it in that position to kill the engine. You release the switch to return the engine to the running position. You pull the switch up to choke the engine.
Carburetor
Another good thing about Husqvarna chainsaws is that it is easy to take off their external plastic parts. The 440 is no exception. All you need is a standard star-pointed screwdriver to remove the screws that keep the plastic parts attached.
If you are having trouble getting the chainsaw's engine to rev up after starting it, there may be an internal issue with its carburetor. What is good about this carburetor is that it is easy to access if you need to fix it. With other chainsaw brands, it can be a pain to get to the carburetor.
Trustworthiness
Not yet convinced to give the Husqy 440 a chance? Don't just take my word for it! I have scoured the internet and found some great user reviews that will set you at ease.
Alternatives for the Husqvarna 440
Still not convinced? Then I highly encourage you to consider these alternatives! Remember the Husqvarna 455 chainsaw, the 440's big brother?
It turns out the 440 has a big Husqvarna family. (Chainsaw family reunions are certainly memorable!) The 440 has another big brother named the 455 Rancher, which does pretty much everything the 440 does. There are key differences, however.
The 455 has 3.49 HP, and has a bar length of 20″, as opposed to the 440's 2.4 HP and 16-inch bar. The 455 is heavier at just over 16lb. The 455 can run at a maximum power speed of 9000 RPM, which can't be ignored if you value power. The 440 and the 455 both have X-Torque which lowers fuel consumption and reduces emissions. This feature keeps money in your pocket!
You can see more details of the 455 at Tractor Supply and Amazon:
Husqvarna 20 Inch 455 Rancher Gas Chainsaw
455 Rancher chainsaw is an ideal saw for landowners or homeowners who require a high...
55. 5cc 20 inch gas chainsaw with guide bar and chain
2 cycle engine with Intertie activated chain brake for safety while operating
Comes with Husqvarna chainsaw Bar cover and 2. 6 ounce bottle of pre-mix fuel Included,...
Automatic chain oiler delivers a steady supply of bar and chain oil for safe and effective...
Simple, side-mounted chain tensioning system allows for quick chain adjustments while...
Amazon
We may earn a commission if you make a purchase, at no additional cost to you.
09/26/2023 07:44 pm GMT
Now, you want something outside the Husqvarna family? If you are a fan of battery-powered tools, then the Makita XCU03PT1 chainsaw is possibly more your style. The Makita runs on two 18-volt LXT Lithium-Ion batteries, which deliver a similar performance to smaller gas-powered chainsaws.
Makita XCU03PT1 18V X2 (36V) LXT Lithium-Ion Brushless Cordless 14" Chain Saw Kit with, 4 Batteries (5.0Ah)
Makita-built outer rotor BL Brushless motor direct-drive system provides high power...
Variable speed trigger and high chain speed (0-3, 940 FPM) For improved cutting...
"Tool-less" chain adjustment for convenient operation and maintenance. Chain pitch: 3/8...
Built-in lock-off lever helps prevent the chain from accidentally engaging. Large oil...
Built-in L. E. D. On/off switch with auto power-off function; automatically shuts the saw...
Two 18V LXT Lithium-Ion batteries deliver power and performance without leaving the 18V...
Amazon
We may earn a commission if you make a purchase, at no additional cost to you.
This alone will spare you from messing with sticky fuel and oil mixtures! The Makita has a variable speed trigger that allows you to adjust the chain speed, and chain adjustment on this thing is tool-less. No messing around with tools either!
What makes this chainsaw stand out to me is its built-in LED On/Off Switch that has an automatic power-off function. This means whenever there is too long a delay in use, the Makita will shut off on its own. The one downside of the Makita is its bar length, which is only 14 inches. The 440 fares better in bar length.
I have a confession to make. (Cue the drum roll sound.) I don't mind attaching cords to my power tools. If you don't mind plugging in a long extension cord from your garage to a chainsaw, then take a look at the Oregon CS1500 Electric Chainsaw.
Oregon CS1500 18 in. 15 Amp Self-Sharpening Corded Electric Chainsaw
Powerful performance: 15A electric chainsaw with integrated PowerSharp self-sharpening...
Built-in PowerSharp self-sharpening system minimizes downtime by sharpening your chain in...
Tensioning without tools: Allows you to adjust your chain quickly and easily so that you...
Automatic lubrication: Automatic oiling system provides continuous lubrication to the bar...
Instant startup: Corded electric chainsaw gets to work immediately. Low noise: makes less...
Amazon
We may earn a commission if you make a purchase, at no additional cost to you.
09/27/2023 03:34 am GMT
Slightly heavier at 12.6 pounds, this chainsaw gives you a better reach with its 18-inch guide bar. The Oregon CS1500 is a corded electric chainsaw, so you also won't need to mess around with fuel and oil mixtures to start this chainsaw. This saw's chain is no ordinary chain. It's a PowerSharp Chain designed to sharpen itself in between sessions! Now that's top-notch quality!
Should You Buy the Husqvarna 440 or 455?
The Husqvarna 440 is a handy chainsaw overall, and it gives you enough power to take on any job outside. If you prefer lightweight tools, then the 440 has your name written all over it. You can carry this chainsaw wherever you want without getting exhausted.
However…
If you need to cut lots of firewood, for example, hardwood, of just lots of wood in general – the Husqvarna 455 will serve you better. When the going gets tough, power is all-important and even though this saw is $150 more, it won't let you down and you can cut for hours on end.
The 455 has better reviews overall, and doesn't have the weird "my saw won't start properly" and "my saw won't idle" issues mentioned with the 440.
Overall, the 440 is a great saw. The 455 is better. If you've got more to spend, get the 455. If not, the 440 will do the job.
Feature image: "Husqvarna Product Tour" by Charles & Hudson is licensed with CC BY-SA 2.0. To view a copy of this license, visit https://creativecommons.org/licenses/by-sa/2.0/