Comparing Stihl vs Husqvarna chainsaws is like comparing Ford with Chev. Wherever you look, there are passionate proponents of either one. The battle between Stihl MS 291 vs Husqvarna 455 Rancher doesn't truly have a winner. They're both awesome chainsaws, built tough and built to last.
I mean, just look at the Stihl ms291 vs Husqvarna 455 specs.
They have the same displacement, similar HP, and they're comparable in weight. One huge difference between the two is the max speed.
Stihl rates their "maximum permissible speed with cutting attachment" as 13,000 rpm. I take that as "do not exceed this rpm limit or risk potential damage".
Husqvarna rates their "maximum power speed" as 9,000 rpm. I take that as "this is the peak power and torque point for maximum load cutting".
Even though Stihl says their maximum rpm is 13,000, the maximum power point might be lower and comparable to Husqvarna's.
And Husqvarna's maximum might be a lot more before it blows up. You can probably run both of them at 10,000 rpm which is a sweet spot. Then again, without a tacho, it's near impossible to tell what rpm you're running at.
| | | |
| --- | --- | --- |
| | Stihl MS291 Farm Boss | Husqvarna 455 Rancher |
| Features | 20% more fuel-efficient and 50% less polluting than previous chainsaws | Cuts fuel consumption by 20% and emissions by 75%. CARB compliant. 40% less starter-cord resistance. |
| Engine | 2-Mix. 55.5 cm3 / 3.76 HP gas | X-Torq. 55.5 cm3 / 3.49 HP 2-stroke gas motor |
| Power output | 2.8 kW / 3.8 HP | 2.6kW / 3.5 HP |
| Max speed | | 9000 RMP |
| Weight empty | 12.35 lbs / 5.6kg | 13.2 lbs/6 kg |
| Bars | 16 to 20 inches | 18 to 20 inches |
| Fuel capacity | 16.9 oz (0.5 l) | 10.8 oz (0.32 l) |
| Operation | Four overflow channels mix fuel with air to improve combustion and efficiency. Compensator | Smart Start. Combined choke/stop control, prevents flooding |
| Air filter | Air routing with pre-separation. Optional HD2-Filter. | Centrifugal air filter system. Quick-release system |
| Chain tensioner | Side-mounted tensioning screw | Mounted on the side |
| Vibration | Anti-vibration system | LowVib dampeners |
| Chain brake | Quick stop chain brake | Yes, activated by inertia. |
| Cutting features | | Felling marks |
| Buy | Stihl dealers only | Amazon (about $500 for 20″), Tractor Supply (about $500) |
Stihl ms 291 vs Husqvarna 455 are both in the "farm and ranch chainsaws" category. Not pro saws, but not gutless little saws either. You'd take them out on the farm for regular property maintenance and cutting your firewood.
You probably won't use them for commercial purposes or to cut hardwood all day, although both saws come with a warranty for pro and commercial use. Stihl offers 3 months and Husqvarna 90 days. Comparable, again.
Stihl MS 291 vs Husqvarna 455 Rancher
Today, I've picked the two top chainsaws that inevitably appear on top of all the "best chainsaw" lists – the Stihl MS 291 and Husqvarna 455.
Both unquestionably dominate the market as being perfect for homeowners and DIY enthusiasts working in their backyard or at a ranch. That said, if you run a professional lumber business, you might want to look at something more powerful.
So, let's get to the core of what makes these chainsaws so appealing and how to choose the best of Stihl ms 291 vs Husqvarna 455 that's most suited to your needs.
Don't miss: The Basics of Using a Chainsaw for Beginners
Husqvarna 455 Rancher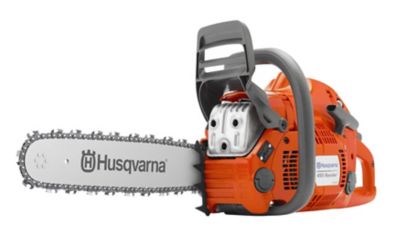 Running toe to toe with its competitor STIHL for the leadership of the market, Sweden-born Husqvarna is a powerful and reliable chainsaw for landowners and occasional DIYers dealing with challenging cutting tasks.
It's powered by a 55.5 cm3 / 3.49 hp 2-stroke gas motor, capable of reaching a maximum speed of 9000 RMP.
The power output of the tool is 2.6kW/3.5 hp.
It weighs 13.2 lbs (6kg) unarmed and on an empty stomach, so add one of the bars available – from 18 to 20 inches – and the fuel tank of 0.32l to work out its true weight.
Husqvarna takes a lot of pride in the engine of this chainsaw that not only cuts fuel consumption and emissions (20% and 75% respectively) but also smashes the standards for CARB compliant regulations.
Ideal for trimming, cross-cutting, and felling small trees, the Rancher is a heavy-duty chainsaw not for the faint-hearted. It's capable of easily cutting through any type of wood, so keep a steady grip and a safe distance!
So, let's take a look at the specific features and usage of Husqvarna 455.
Smart Start
This Husqvarna technology minimizes the time it takes for the engine to get ready for work with little effort. Starter cord resistance in this model has been reduced by 40%.
Easier starting is also guaranteed by the combined choke/stop control, which also prevents the risk of the engine becoming flooded.
In general, this model is quite focused on saving you valuable time when you're hitting the yard with a task in mind, so even the fuel pump is advertised by Husqvarna as "designed for easy starting".
Filter
The air cleaning system inside the tool is centrifugal and has been designed to make the filter last longer without getting clogged.
What you need to remember with chainsaws is that the air intake valve sits right beside the guide rail and chain.
Imagine trying to breathe while somebody sprays a hose at you; when a chainsaw is spinning and spitting wood chippings, it's essentially the same thing. This filter includes a quick-release system to facilitate air filter cleaning and replacement.
Chain Tensioner
As we've touched on above, the chain is often too tight right off the production line, so you're going to want to look at that before you go hacking away at your trees.
Husqvarna has totally got the idea that tensioning the chain is easier if the mechanism is mounted on the side and that's exactly where you'll find it on the Rancher, making the process quick and easy.
Engine
The Rancher's engine has not only a name, but a trademark too, and is very valued by the manufacturer.
The reason for that is something called X-Torq (the engine), which has lowered fuel consumption so much that it meets the world's strictest carb emissions regulations, helping to preserve the environment.
This is a pretty impressive claim that I believe puts the Rancher ahead of the Stihl if environmental responsibility is something you're passionate about. I've added a video about how X-Torq works below.
Low Vibration Levels
This model is equipped with special LowVib dampeners aiming to spare you the aches and pains that come with wielding a high-speed chainsaw for long periods.
The front handle with an ergonomic grip is angled in a way that makes your working position as comfortable as possible. Remember, most tasks are going to have you contorting your wrists and arms into various positions, so you want something that offers you a firm, comfortable, and safe grip.
Oil Pump
In this case, you will be able to adjust the pump and set lubrication yourself for what you need, which is a good way of avoiding oil waste.
Again, there's no easy way to dispose of oil, so if you care about the environment, it's good to avoid wastage in this regard.
Chain brake
The chain brake built into the Husqvarna 455 is activated by inertia. How does that work?
So, the saw analyses the movement of the chain, and if it becomes rapid or sudden, like a kickback, the brake will automatically stop the machine using the force of inertia.
Kickback is a serious thing when you're using a chainsaw – it's the one biggest risk that can see a chainsaw suddenly leap back at the operator. If you value your head and neck, you'll value this feature.
Felling marks
Falling marks help you with lining up the cuts you need to make, ensuring the tree, or whatever you are planning on cutting, falls where you need it to. Felling marks on this model are easily noticeable and precise, which is a very practical feature.
Where to buy
Unlike Stihl, getting hold of a Husqvarna chainsaw is much easier; they stock their products at most retailers. The Husqvarna 455 Rancher can thus be picked up on sites like Amazon or Tractor Supply.
The cost of adding this chainsaw to your line-up of yard tools is typically around the $450 to $500 mark.
Stihl MS 291 Yard Boss
Historically famous for being the world's bestselling brand of chainsaws, Stihl is believed to be unique when it comes to guide bars and saw chains.
This specific new model is advertised by the German manufacturer as 20% more fuel-efficient and 50% less polluting by comparison to their previous chainsaws. The Stihl MS 291 is equally powerful as its predecessors and easy to maintain, and above all that, it will help you save money and protect the environment.
It's recommended for cross-cutting, trimming, pruning, and small tree felling. In my experience of using this chainsaw, it's probably more beginner-oriented than the Husqvarna 455.
The core of this tool is the 55.5 cu 3.76 hp gas motor with a 2.8 kW/3.8bhp power output. The tank can fit 16.9 oz (half a liter) of gas, bringing the weight of the whole tool to 12.35 lbs (5.6kg) without the fuel, bar, and chain.
The distance between the drive links of the Stihl Oilomatic saw chain (chain pitch) is .325" with 4.5 vibration level left/right m/s2 2.
It is available with a bar from 16 to 20 inches long. Rounding up the technical data with the 2 power-to-weight ratio kg/kW, I suggest we take a look at some of the more specific and innovative features of this product.
2-MIX engine
Unlike the previous models from Stihl, which weren't packing this kind of engine, the 2-Mix is what guarantees 20% less fuel consumption and a reduction in emissions of 50%. To find out how the process works, you can check out this awesome explanation by Stihl.
Air Filtration System
To make it simple, the air filter system of this saw actually works like two separate filters. It's equipped with air routing that pre-separates the bigger bits of dirt, which means the filter itself has less work to do and lasts longer without cleaning.
Additionally, there's an option to get the HD2-Filter as an accessory, which keeps even the tiniest particles of dust from the engine. You can also clean this one with water, so there are no fancy tools or cleaning fluids to bump up the price.
Combustion Technology
Instead of starting the engine with fuel alone, the MS 291 has four overflow channels that mix fuel with air to improve combustion and efficiency of the chainsaw. That's how they reduced the consumption of fuel and reached a high torque across a broad speed (RPM) range.
Anti-Vibration System
We all know that handling intensely vibrating power tools can be seriously bad for the blood flow in your hands and arms over long periods.
To keep their customers – you and I – safe and satisfied, STIHL has chosen to install a very effective anti-vibration system in this new chainsaw model, which significantly minimizes the oscillations of the engine by the time they reach the handles.
In layman's terms, that means the saw bucks in your hands a whole lot less than those that came before it.
Compensator
The combustion technology in MS 291 means a lot less fuel, but it also means the risk of imbalanced fuel/air ratio as the air filter gets blocked.
Here's where the compensator kicks in, correcting the amount of fuel actually getting into the carburetor judging by the quantity of air going through the filter. This helps to keep the proportion of air and fuel constant as well as the engine power.
Safety Measures
The more dangerous the tool you're handling, the more you want to be sure the mechanism itself knows how to recognize a hazard.
The quick stop chain brake built into the MS 291 is capable of stopping the chain fairly instantly and is controlled through the front handguard.
If the surface recoils strongly enough, the brake is automatically released, allowing you to get back to work without too much interruption. And let's face it, it's better to lose a few seconds of work than to lose a hand.
Control Lever
The single-lever master control is a very handy feature meaning that all commands from start to finish are in the same place and within the reach of your hand. Literally.
Chain Tensioning
If you feel the chain is becoming a little loose, look for the side-mounted tensioning screw allowing easy and safe access without the need to touch the sharp parts to re-tension the chain.
A quick note here: it's pretty common to see chainsaws come out of the box with an overly tight chain. Always check your new chainsaw before you get to work.
Automatic Lubrication
Your chainsaw needs lubrication to work at its optimum. This mechanism ensures that lubrication gets exactly where it has to be – the guide bar rails and the chainsaw links, locally and precisely.
The manufacturer suggests using the Oilomatic saw chain, which helps reduces oil consumption and the need for other types of lubrication by 50%.
Tool-Free Caps
Another fundamental process of refilling the fuel and oil tanks is made easier for you. You won't need any specific tools to open or close the caps; they're hands only, with no hidden tricks, pricey tools, or fiddly mechanisms.
Where to buy
Probably one of the worst drawbacks of the Stihl MS 291 is that you can only buy it from the official dealer, and it is difficult to get if you live far from one of their network stores.
The same applies to any replacement parts you might need in the future, although some parts are available on Amazon, like the Oilomatic chain.
Really, this was one of the major points that put me off the Stihl when I was comparing the two. The prices on their website start from just over $1000 for the version with the 18-inch bar.
So, Which Chainsaw to Buy?
Now that we have sifted through the options, it's time to get back to our main question: Stihl MS 291 vs Husqvarna 455 Rancher.
Comparison: Overall Features
There's no denying that both these saws are good; both are durable and long-lasting, pro-quality, and at the top end of the market.
Both of them also have pretty stellar reviews and are undoubtedly suitable for most homeowners and mid-level professionals working on a farm, running a small firewood business, and so on.
The models are as well similar in design and are both examples of the latest cutting-edge sawing technology in their niche.
Winner: TIE
Comparison: Power Output
After having taken a look at the characteristics, you might have noticed that these two models offer quite the same power output of 55.5cm3 and the bar length is similar, too (Husqvarna 18-20 inches, Stihl 16-20 inches). So, we'll look at the other points further.
Winner: TIE
Comparison: Operation and Weight
Despite the fact that the weight of the Stihl MS 291 is less than Husqvarna 455 without the bar, some users claim the latter feels lighter in operation.
What's more, according to a whole bunch of reviews – and personally, my own experience is similar – the Rancher will make cutting wood a quicker process, while the Yard Boss is best for dealing with rough wood thanks to the low-end torque.
Winner: Husqvarna 455 Rancher
Comparison: Safety
Both companies paid a lot of attention to safety (emergency brake), health (anti-vibration system), and preserving the environment (less fuel and emissions) while designing their new models.
However, I saw an edge in the Rancher here, with chain brake and LowVib dampeners that just seemed to give me a more reassuring and more comfortable ride.
Winner: Husqvarna 455 Rancher
The simple truth is – they are almost identical in design, with very few negligible differences. I did prefer the Rancher but choosing a power tool is a pretty personal decision.
So, unless you have been specifically looking for a particular feature, you will probably make a decision that also factors in price and availability.
Comparison: Price and Availability
The verdict here is pretty similar too. The Rancher and Yard Boss aren't far apart in price; however, a critical factor here is the availability.
I've already made clear the fact that I don't want to worry about visiting an official Stihl retailer any time I need support or space parts. I checked – the nearest official store is miles away!
The Rancher, on the other hand, is available online, and this not only makes the purchase easier, but also means the price at a local store will be lower compared to the Stihl MS 291.
The same applies to all the accessories you might ever need or want for the tool; with Husqvarna, you won't need to worry about the availability and prices.
Winner: Husqvarna
Conclusion
To sum it up, the main questions you should ask yourself when buying one of these chainsaws are:
What exactly will you be using it for?

Are you willing to travel some distance every time you need help or accessories?

How price-sensitive are you?
I opted for the Rancher, but the choice is yours.
Features Compared – Stihl MS 291 vs Husqvarna 455
When I'm picking out a new chainsaw, there are three things that I keep at the forefront of my mind:
1. Guide bar
The longer the bar, the bigger trees it cuts. Of course, guide bars are typically made from hardened steel, so the extra length will add weight and make the chainsaw more difficult to handle.
Home-use-sized bars are normally no bigger than 12 inches, while professionals will be looking for 18 inches and above.
2. Safety
It's clear as day that a chainsaw is an extremely dangerous instrument. After all, you're spinning a toothed chain around a bar at an average of 88 to 96 kph. And even professionals aren't safe from accidents.
The most important feature you are looking for is a chain brake, which immediately halts the chain when it senses a hazard.
Also, you're going to want to remember that holding this kind of weight over long periods is tiring, and tiredness can lead to an increased risk of accidents. So, choose a chainsaw with a low vibration mechanism that isn't too heavy.
3. Comfort
Let's face it, cutting wood is not something that will take you five minutes. It's a proper workout with heavy and dangerous equipment, where you need to think of precision as well, so the least you can do is to buy a chainsaw that is easy to maneuver.
Consider the weight and ideally an ergonomic handle. Try to get your hands on a demo model if possible, like at an outdoor show or in-store. See what works for you before you take the plunge.
Just don't be tempted to shell out cash if you do test one of these chainsaws at a retailer; online prices are almost always more competitive.