When you're preparing for severe weather, especially hurricanes, it is always a good idea to stock up your pantry with foods that don't need to be refrigerated. This article outlines hurricane food ideas that will provide lots of energy to last you throughout the day and night.
In addition to the foods you should stock up on, it is also important to stock up on kitchen supplies that do not require electricity so that you can open your foods and cook them. With this information in mind, let's look at some good hurricane food ideas.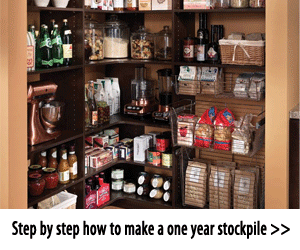 Hurricane Food Ideas
If you are preparing for a natural disaster such as a hurricane or typhoon, you can expect that the power will go out for some time. It might go out for a few hours or a few days. It might even be out for weeks, which is what we experienced during the floods!
When this happens, you need to have a supply of food on hand that either doesn't require cooking or requires minimal preparation on a gas or propane powered cooktop if you don't have a generator.
Ready-to-Eat Hurricane Food Ideas

Beef Jerky
The first thing that comes to mind for some great hurricane food ideas are things such as:
Foods that do not require any preparation and provide a good amount of energy.
The Basics
There are more foods you can stockpile for an emergency. Some of the most basic food items you should get are:
ReadyWise Long Term Emergency Food Supply, Breakfast and Entree Variety (3 Buckets- Total of 360 Servings)
EMERGENCY SURVIVAL FOOD: Be prepared for the unexpected with the ReadyWise emergency food...
GREAT TASTE: Our emergency-food survival kit contains breakfast, lunch, and dinner meal...
DELICIOUS VARIETY: This food kit is made to last and can stay fresh for up to 25 years. It...
EASY TO PREPARE: Each food item is packed into a durable long-lasting pouch that will keep...
BE READY: From emergency food to hiking and camping, ReadyWise shelf-stable food is there...
Amazon
We may earn a commission if you make a purchase, at no additional cost to you.
09/22/2023 03:05 pm GMT
These are good foods to round out your stockpile for a hurricane or other natural disaster.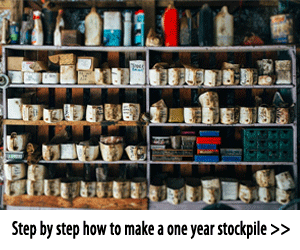 High Protein Hurricane Food Ideas
Good high-protein food ideas that will keep without refrigeration are:
S.O.S. Rations Emergency 3600 Calorie Food Bar (Cinnamon + Coconut, 2 Pack)
Each Packet Contains 9 Fortified Food Bars Providing 3682 Kcal (15, 460 Kj)
Us Coast Guard Approved For 5 Year Shelf Life Under All Climatic Conditions
Country Of Origin : United States
Designed To Sustain Life Until Rescue Or Additional Food Is Available
Amazon
We may earn a commission if you make a purchase, at no additional cost to you.
09/21/2023 06:54 pm GMT
Hurricane Food Ideas for Babies and Kids
If you have babies or small kids, there are some additional things you should keep in stock in case of emergency or natural disaster.
Water
One item that is a must to get when you are stocking up on hurricane foods is clean drinking water. The general rule for stocking up on water is to make sure you have one gallon of water per person per day.
Remember water for your pets too!
Blue Can 50 Year Shelf Life Water
50 YEAR SHELF LIFE - Stores Safely in Heat: won't affect taste
32 oz of water per can - 9 cans per case - 2.25 gallons of water per case
Pure Fresh Taste
Hermetically sealed, purified with 12 step filtration, reverse osmosis, UV light treatment
Eco Friendly Packaging, Tested BPA Free, No Chlorine or Flouride
Amazon
We may earn a commission if you make a purchase, at no additional cost to you.
09/22/2023 01:11 am GMT
You can look at buying a non-electric water distiller to make sure you've always got clean drinking water available, such as this one from Lehman's:
For pets, you should keep on hand several days' worth of your pet's food, treats, and any medicine they will need.
Hurricane Meal Ideas
Now that you have stocked up on foods that will get you through a hurricane, let's look at some meals that you can make from your hurricane foods stockpile.
Some of the simplest foods to have are ready-made foods such as energy bars, granola, or jerky. Since these food items are already put together, you don't have to do anything with them other than eat them for a quick bite or a wholesome snack to keep your energy up.
Amazon product
When you have more time, you can start making simple meals, such as sandwiches with the peanut butter, trail mix with some of the granola, nuts, and dried fruits, and other such quick and easy meals.
Related: How to Make Amazing Beef Jerky at Home
After the storm dies down and cleanup has gotten underway, there might be a time when you are out of power or the grocery stores can't get supplies in very quickly. You will probably be looking for some good recipes to make with the foods you stocked up on when getting your hurricane supplies.
Augason Farms Buttermilk Pancake Mix 3 lbs 4 oz No. 10 Can
Classic, easy-to-make buttermilk pancakes and waffles
Also great for waffles, biscuits, muffins, banana bread, and scones
Just add water!
Keep on hand for everyday use and camping
Use for long-term food storage, emergency preparedness, and survival food
Shelf life up to 10 years*
Amazon
We may earn a commission if you make a purchase, at no additional cost to you.
09/23/2023 04:14 am GMT
Let's start with some simple recipes that can be made in almost a flash before looking at some of the more complex recipes.
MREs
The easiest recipes to prepare will be any meals ready to eat, or MRE. These are meals that are already put together and sealed up in a tin or bag, and waiting to be heated up.
Far removed from their early days as military rations, there are now some gourmet rations to be had that will make a nice, simple, and easy to prepare addition to your hurricane food supplies.
All these meals require is a heat source, whether it is a stovetop, propane stove, or even a good sunny day, and can be as simple or as gourmet as your budget requires. There are also dried meals, such as soups, similar to the MRE that only require some added water and heating up in order to eat.
Related: Best Outdoor Propane Burners
Now, let's move onto some more meal ideas.
For breakfast food ideas, usually the simplest meal of the day, some of the best meals are ones that use up your cereal stores, oats, or granolas and fruits.
Some of the simpler meal ideas for the rest of the day that are a step up from the MRE's and other meals in a box are meals that are based upon grains such as rice, barley, or polenta.
Some good examples of simple meals that can be made with a base of grains are red beans and rice, curries, and gumbo.
Any sort of meats or vegetables can be paired well with polenta, such as bacon, shrimp, mushrooms, spinach, sausage, or even cheese and fish.
Peak Refuel Variety Meal Kit | Pack of 6 | 12 Total Servings | Freeze Dried Backpacking and Camping Food | Amazing Taste | Quick Prep
AMAZING TASTE & QUALITY – If you wouldn't eat it at home, why take it into nature?...
100% REAL MEAT & 2X THE PROTEIN – Peak Refuel will never use TVP or any other filler in...
PREMIUM FREEZE-DRIED INGREDIENTS – Our meals are premium freeze-dried which locks in...
LIGHT WEIGHT & EASY PREP – We understand that time and weight on the trail is valuable....
MADE IN THE USA – All Peak Refuel meals are freeze-dried and packaged in the USA. If you...
PACK SPECS: 12 total servings. 4920 Calories. 239 Grams of protein. 6 total pouches....
Amazon
We may earn a commission if you make a purchase, at no additional cost to you.
09/22/2023 03:09 am GMT
Pastas of different types also make a great base for meat, cheese, or vegetable sauces, or even great meals on their own with some spices and seasonings. Adding canned fish such as anchovies or sardines to pasta dishes or to pizza is a great way to get some much-needed proteins into your post-hurricane diet, and there are many Sicilian or other Italian dishes that incorporate these and are simple to make.
Pizza is also a great way to make a meal, and your topping choices are not limited to cheese or pepperoni. Nowadays, pizzas can incorporate almost any topping that you can think of, which makes it the perfect meal to make with your hurricane foods that you stocked away.
The best part of pizza is that in case of power outage, it does not require an oven in your house to cook, but can be cooked in an outdoors brick oven if you have this, or can be put onto the grill until it is done to make an excellent meal.
Related: Pit Boss vs Traeger Pellet Grill
If your power outages or store shortages last for a bit longer or you prefer to make some of your foods such as bread from scratch, then you may need to start digging into your stores of flour, salt, sugar, baking soda, or other baking supplies that you picked up when stocking up before a hurricane.
There are many types of bread that can be made, depending on if you prefer to use yeast or baking soda. From Irish soda bread to Challah and regular white bread, there are many recipe options to choose from if you need to make your own bread due to supply shortages because of a hurricane or other natural disaster.
The nice thing about baking bread is that while it is easiest to make it in the oven with its carefully controlled environment, it can be just as easily baked in a Dutch oven or something like it, over a campfire or on the grill or barbecue pit.
If you want to get even fancier with making meals and use up some of those shelf-stable fruits and vegetables before they start to turn bad, there are some wonderfully hearty and filling recipes that you can use that are also wonderfully simple and mostly easy to make.
The best example of such easy recipes are pies. For meals, there are savory pies such as shepherd's pie, meat pie, or pot pies that can include meats and vegetables or just vegetables depending on your preference. If you need to use up fruits, then you can make up some dessert pies using the fruit, tarts, or crisps.
There may have been a few specific foods left off this list of hurricane food ideas, but hopefully, this list has covered the basics of what you might need to stock up on.
I hope some of the recipe ideas will also help you if and when the time comes that you might need to whip up some meals during and after a hurricane, especially if your power goes out or there are some shortages at your local grocery stores for a while.