Chances are that if you're reading this article, you're looking for the best pole saws of 2020. I'm going to be honest with you upfront; most of these pole saws are older than that, but that doesn't mean that they aren't the best. I've taken a pretty thorough approach to this review, given the sheer number of pole saws available, so trust me when I say that you can rely on the information here to form an opinion before you shell out any cash.
A lot of the reviews that you'll find online are just trying to flog their products and will review a product as 'the best' even when it's plagued by terrible reviews. And this is true for most products, not just pole saws. I've done something different here. Below, I'll highlight the methodology I used to form this list of the best pole saws and I hope you'll agree that it's a thorough approach.
Best Pole Saws Winners
[lwptoc]
Best Pole Saws – How Do We Know?
If you run a search query in Google these days for 'the best X product', you'll probably be used to seeing an endless array of results, spread across multiple pages, each touting the best-in-class product for that category. How on Earth do you know which ones you can trust and which are just trying to sell their product to you? At least, that was my gut feeling when I set out to buy a new pole saw for my unwieldy apple tree out in the backyard.
Outdoor Happens is reader-supported. When you buy through links on our site, we may earn an affiliate commission. Click to learn more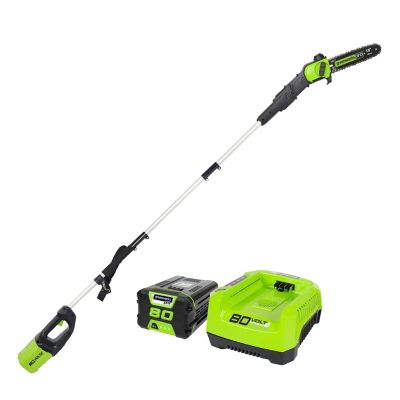 Greenworks Pro 80V 10 in. DigiProTM Pole S…
Greenworks Pro 80V 10 in. DigiProTM Pole Saw with 2Ah Battery & Charger, 1400202 [More]
Price: $299.99
Sale: $269.99
I decided that I needed to take matters into my own hands. I needed to work out exactly which was the best pole saw, and to do so, I figured the most effective way was to just collate every pole saw I could find from these search listings and whack it into a spreadsheet (spoiler: I love spreadsheets). Then, I applied a little magic:
First, I took the top links from the first and second page of Google and listed those across the top;

Next, I extracted every single pole saw mentioned in each of those lists and dropped them into the spreadsheet down the left-hand side;

Finally, I scored each pole saw with a number ranging from 1 to 10, depending on whether the list in question had named it their top product (1) or whether it was a product that made their list but came in last (e.g. 10).
As soon as I had that data, I tallied how often the product appeared across all of the lists cumulatively – the 'Mentions' – and the combined value of the product's ranking from all the lists – the 'Score' – before ordering them by size. The score helped to further refine those that received the same number of mentions. But that's enough words; I can probably highlight this best with a screenshot – here's a quick snapshot of the finished master list:
You don't need to be able to read this in detail or follow the links to understand the numbers. The important point to note here is that many of the pole saws I could find were only mentioned once on a single list across multiple sources. However, others, like the BLACK+DECKER LPP120B, popped up repeatedly wherever I went. So, by the time I finished this list, I was sure that I was onto something to find the best pole saws.
Of course, I didn't stop there. What you can't see in the above image is the final columns in which I recorded the overall score awarded to these products on popular retail websites, as well as the number of people who left a review for the product.
I'm glad I applied this final sense-check because it only cemented my belief that I'd found the best pole saws on the web. It also meant ditching the Poulan Pro PR25PS Pole Saw from the list – a tool that only garnered around 3.5/5 stars from just 53 reviews – in favor of the Silky HAYAUCHI 3-Ext. Pole Saw 6.3m (21′) 179-39 Telescopic, which saw our highest rating of 4.7 stars from more than 400 reviews.
Now, I was fortunate in that many of these pole saws were already being used by friends or family, plus I have a few contacts that work in landscape gardening. This meant that I was able to get my hands on these products to put them to the test.
I've taken the top 10 best pole saws and narrowed them down to the 5 best pole saws of the bunch – in my opinion – after personal use. And honestly, between the shoutouts on the web and the way that they handled, they really are the best pole saws around.
Best Pole Saws for Backyard Maintenance
Here's the important stuff, the bit where I tell you why you're going to want the best pole saw for your backyard maintenance, as well as a little about how pole saws work. Because the truth is that although some trees can look absolutely stunning when they start to really grow and overhang your garden, they need the occasional pruning to take away broken branches and thin out the more dense limbs.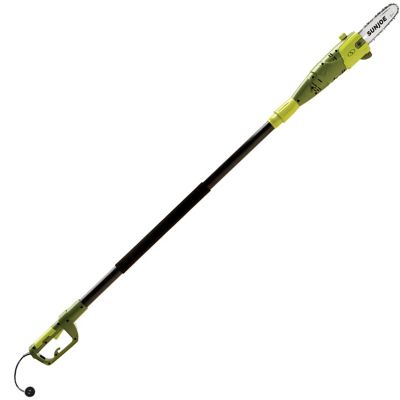 Sun Joe SWJ800E Electric Pole Chain Saw, 8…
Sun Joe SWJ800E Electric Pole Chain Saw, 8 in., 6.5A [More]
Price: $79.99
Doing so encourages strong, controlled growth, increases the production of fruits and flowers, and improves the tree's overall health. While trees are robust, even they can become sick and eventually die if not looked after properly.
The reason we favor pole saws for this task over at Outdoor Happens is because it beats the alternatives by a mile. How would you rather handle this task – by standing safely on the ground with an extendable pole saw, or by climbing a ladder – or God forbid, the tree itself – with a handheld power saw? I like my limbs attached to my body thank you very much.
What to Consider When Buying the Best Pole Saw
As with any power tool, you should look closely at the specifications and functionality of the pole saw. Work out what you need and make sure that your chosen tool suits the task at hand.
Length of Cutting Bar
Your cutting bar will determine the maximum diameter of the wood that your saw can tackle. Typically, they'll run anywhere from 6 to 12-inches, though most models you find will be 8-inches. As a general rule, aim for a saw that has a cutting bar at least 2-inches longer than the diameter of the tree branch you want to cut.
Working Height
Pole saws are saws attached to poles — duh! — so the working height refers to how high you can reach with the saw. You'll normally see a couple of numbers mentioned for most pole saws. One will be the minimum height, or the height when the telescopic pole is retracted, and the second number will be the maximum height that it can reach when the pole is extended. Make sure the pole you purchase can actually reach the trees that you need to cut!
Tool Weight
With pole saws, weight is a serious factor to consider. You're going to be holding this thing above your shoulders, so you want a manageable weight that won't tire you too quickly. Some pole saws can weigh up to 20 lbs, with others commonly ranging from around 7 lbs to 16 lbs. Remember, gas-powered pole saws almost always weigh more than corded pole saws or cordless-electric pole saws.
Detachable Pole or Saw
With some pole saws, you'll be able to remove the cutting head from the pole, so that you can use the tool as a handheld chainsaw.
For example, the Remington Maverick 8" 25cc 2-Cycle Gas Pole Saw is capable of this – as well as a whole lot more, check out our review below – and it's useful for cutting up a felled branch into smaller pieces for firewood or transport.
Other "Bonus" Features
Anything beyond the above considerations is generally a "bonus" feature in my book. For example, you might find self-oiling chains, trigger lock mechanisms, cord hooks, and so on. While I don't feel that these are essential features, they can tip the scales in one direction if you're comparing two similar products.
Best Pole Saws Review
Honestly, I wasn't surprised to see BLACK+DECKER at the top of the list; this brand just seems to take the top spot on a lot of lists, whether it's pole saws, lawnmowers (check out our best self-propelled lawn mowers under $300!), or string trimmers (don't miss our best corded string trimmers review either!).
And from the top product, you couldn't really expect anything less than an unrestricted battery-powered model. This design really does alleviate a lot of stress; I no longer had to worry about sawing through the power cable.
I'm 6-foot-4, so I can practically reach most low-hanging branches with secateurs, but secateurs aren't going to cut through a tree branch. What I really liked about this pole saw is that you're not obligated to use its full length – a whopping 14-feet of reach – as you can use just 2 of the 3 components to shorten its reach to 6.5-feet. This greatly improves stability, as well as reducing the weight so you can go for longer.
Of course, with any battery-powered model, there are typically complaints about battery life. Some users have said that the battery conked out on them after about 30 minutes. According to the manufacturer, you should get "Up to 100 cuts of 1 1/2 inch pine branches per charge". Now, I don't want to do the math here for wood of varying thickness, but make what you will out of that information. Otherwise, I would have also liked to have seen a rotatable saw head.
Pros
Reaches up to 14-feet, or half that if the length isn't required;

An internal battery removes the need for a limiting power cord;

The saw breaks down into 3 separate pieces, which makes storage easy;
Cons
Some users have reported fairly limiting battery life (sub-30 minutes);

You can't rotate the saw head relative to the handle, a feature that even the cheapest pole saws seem to have;

This pole saw seems to lack the power of comparable corded-electric pole saws – likely due to running on battery rather than mains power.
It's unsurprising that Sun Joe managed to snag three spots on our top-10 list. These guys are a regular fixture on most of our garden power tool lists. Typically, they're much cheaper than the 'big brand' names but you don't really sacrifice on quality. Instead, I tend to find that they perform well on all but the toughest tasks. This one even has 15-feet of reach, more than the BLACK+DECKER we've listed above!
A cord lock built into the unit prevents you from accidentally unplugging the saw while it's operational. I wasn't a huge fan of the trigger lock, as while I appreciate this on lawn mowers, I don't really like giving up full control over something as powerful as a chainsaw. However, some users do love this feature and it does help alleviate hand strain over time.
One thing I love about this power saw is that even when you're using it at full extension – which practically puts me in the clouds – it's super steady. Some saws suffer with sway at such heights, but I had no such problems here. That said, some users have said that it feels heavier than others they've used when operating at 15-feet. I didn't personally note this, but everybody is different, so bear it in mind.
Also, the motor powering this saw is 6.5-amp, a little weaker than some of the others we've looked at; it can handle branches up to 7.5-inches in thickness.
Pros
Simple to assemble and even easier to adjust for height;

Very stable, even when operating at full reach – I felt no unsteadiness;

Features a cord lock that prevents you from pulling the plug unintentionally.
Cons
6.5-amp motor means this pole saw can't cut quite as thick as some competitors;

The trigger lock can take some getting used to – honestly, I don't love this feature;

Some users have reported the tool as being top-heavy when fully extended.
The Greenworks Cordless Pole Saw 20672 is another cordless-electric saw that runs on an internal battery. The manufacturer specifies up to 65 cuts per charge, but unlike BLACK+DECKER they do not specify how thick those cuts are, so it's difficult to work out the comparative battery life. Still, that should be enough to get you through most tasks providing you aren't a landscape gardener using it all throughout the day.
Watch out when this first turns up on your doorstep. Before firing it up, you're supposed to add bar and chain lube to the oil tank. This really wasn't highlighted well – actually, not at all – on the box and is only buried deep in the manual.
However, once lubed up, it does have an automatic oil-feeding system. While we're on the subject of the manual, I did see one user have trouble when the chain jumped off its track. It took some serious Google-based research just to understand how to fix the problem, due to complex diagrams and documentation.
In terms of using the pole saw, I had no trouble. The weight is well-distributed and the lack of a power cord allows you much more freedom. I just wish that it wasn't so expensive – it's around double the price of most of the other pole saws that came in the top 10 I've listed.
Pros
Features an automatic oil-feeding system;

The weight is well-distributed throughout the saw;

Battery-powered device, promising up to 65 cuts per charge without a cord.
Cons
Requires bar and chain lube before operation – this could be clearer;

Diagrams and instructions within the manual are supposedly pretty confusing;

Runs at around twice the price of many other pole saws I researched.
Have you ever seen Top Gun? Most movie listings describe that Maverick character as being cocky and reckless, which seems like a fitting description for this beast of a gas-powered pole saw. It's hugely-versatile, in that you can disconnect the telescopic pole entirely and use the saw at arm's length for smaller, close-up tasks.
The versatility doesn't end there either. Its gas-powered engine can be disconnected from the unit and affixed to a bunch of other power tools from the Remington range, turning it into a leaf blower, edger, hedge trimmer, brush cutter, even a cultivator!
If you're starting to build a power tool collection for your backyard, I would strongly consider this pole saw if only for the fact that it wouldn't look out of place in a Transformers movie (that's the last movie reference, promise).
Just bear in mind that there are some drawbacks with using a gas-powered pole saw vs a corded pole saw or cordless-electric pole saw. First, you're going to have the increased cost of gasoline alongside the required oil.
Second, you're going to find that it's heavier than an electric pole saw. And finally, it goes without saying that you're going to have to deal with the fumes and slightly increased noise produced while it's operational.
Pros
Attachments, attachments, and even more attachments!

Telescopic pole is crafted from steel, reducing the sway at taller heights;

The pole can be disconnected from the saw so that you can use it at arm's length.
Cons
Gasoline can get pricey if you're using this regularly, but it

is

convenient;

Reaches up to 12-feet. If you're regularly dealing with taller trees, this could be an issue;

The inclusion of a gas-powered engine results in a heavier saw.
This comment is going to sound a little strange, but have any of your kids (or you, maybe?) gotten onto this Fortnite trend? Because this pole saw honestly looks like a weapon that's been pulled straight out of the video game. I can't say that I dislike the color scheme, but you might feel like you're participating in a battle royale rather than trimming trees or hedges – at least, I did.
As far as garden power tools go, this is really inexpensive; it's one of the cheapest pole saws I saw (pun intended) while I was researching. It's also really lightweight, which is a huge plus when you're having to reach overhead for long periods of time. The telescoping pole saw can reach as far as 7.2-foot, meaning up to 14-feet of reach when tackling higher branches.
Under the hood is a powerful 8-amp motor that can handle anything up to 9.5-inches in thickness, according to Sun Joe. It's also got a multi-angle head that you can adjust up to 30-degrees. But for the thickest branches, you're honestly going to want something a little more powerful. I found smaller trees and thinner branches or bushes easy with the 10″ blade, but I doubt it would stand up to tree trunks or similar.
Pros
Considerably lighter than gas-powered alternatives;

A strong budget option at typically less than $100 from most retailers;

Adjustable angled rotator helps to reach trickier branches.
Cons
This is a corded electric saw, requiring a power outlet;

The guard can come loose due to vibration, so make sure those screws are tight;

The 10" saw is best-suited to smaller trees and bushes. Watch out for cumbersome trees that might be too much for this pole saw.
Which Pole Saw to Buy?
Dare I say it, but I agree with the outcome of this research. After using the BLACK+DECKER LPP120B, it's easy to see why this product has come out on top so consistently. Sure, it's not perfect, but every product has its flaws. With up to 14-feet of reach, a cordless design that does away with cumbersome cables, and a compact storage mechanism, it's the best pole saw that I've been able to find.