Here's one of the best giveaways for container vegetable growers! Garden Tower Project is giving away 12 of their Garden Tower 2 vertical container gardening systems. The Garden Tower 2 is valued at $359 (on special at the time of writing, RRP $489). A pretty awesome price to win! Let me introduce you to the Garden Tower 2:
Garden Tower 2 – What Is It?
Below is a video that shows the Garden Tower 2 and explains its features. It's a vertical vegetable garden, but not just any vertical vegetable garden. It's a container, worm farm, and composter in one.
You can grow 50 different plants in this tower. It fits pretty much anywhere; your balcony, patio, on the doorstep… Anywhere where there's a little bit of space (min. 4 square feet). It is a raised vegetable garden revamped; 50 vegetable plants in 4 square feet! Or flowers. Or herbs. Whatever you'd like to grow, really. The Garden Tower looks truly stunning filled with flowers too.
The thing that's truly revolutionary about the Garden Tower 2 is its vermicompost tube. There's a tube that goes right through the center of the tower. You fill this tube with your kitchen scraps or other plant nutrients, which is why it's called a "composting container garden". You then add composting worms. The worms will break down the kitchen scraps, crawl throughout the Garden Tower 2 and leave their droppings as fertilizer, which your plants then use for nutrient.
This is not just a container for growing your vegetables. It's a plant container, worm farm, and composter in one.
What Can You Win?
First Place (2 winners)
Second Place (10 winners)
Third Place (250 winners)
With the third price, I assume you only get the free seeds and seed saving kit when you actually buy the Garden Tower 2 with your $100 discount.
Here's an example layout for your vegetable/salad garden in a Garden Tower 2!
How to Win a Garden Tower 2
The important part, how do we actually win a Garden Tower 2? Preferably the first prize, with the caster wheels and seeds, but the second prize would be very nice too.
Entering is very simple.
Enter your details in the "sign up" box.
You'll get a confirmation email. You need to open this to confirm your email address. If you don't confirm it, you won't be entered into the competition so don't skip this step!
Once you click the "confirm my email" button in the confirmation email, you'll arrive at a page that says "Your email is confirmed".
Garden Tower Project mentioned that "A tracked bonus entry is available by following us on Instagram, see emails for instructions." I didn't get any instructions for getting a bonus entry, but I'll keep an eye out for any emails and will update accordingly.
Winners are announced on June 2, 2020, via email, Facebook, and their website. Garden Tower Project reserves the right to end it early if the rate of sign-ups is very high, so don't wait, sign up now.
How Does the Garden Tower 2 Work?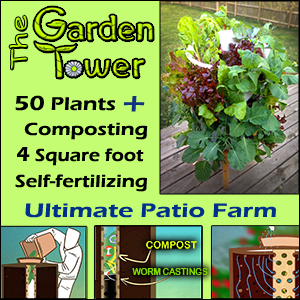 The Garden Tower 2 is a little ecosystem in its own right. You fill it with soil. Plant your vegetable, herbs, or flower seedlings or seeds in the holes. There are 50 spaces for plants in the Garden Tower 2.
There's a hollow tube in the middle of the Garden Tower. Add all your organic kitchen scraps in the tube. Add composting worms. This is a vermicomposting system, basically a worm farm. Have a look at what's suitable for adding to a worm farm, this will tell you what you can and cannot add to your Garden Tower's vermicompost tube. Don't add meat, dairy, or bones. The site linked above mentions "when in doubt, leave it out". A good rule.
The soil that surrounds the vermicompost tube keeps the kitchen scraps and worms are a steady temperature and moisture for perfect composting conditions.
As the scraps break down and the worms do their thing, your potting soil gets richer in nutrient. After about 3 weeks, your plants will have their roots firmly planted in this nutrient-haven and you'll see some great growth! Nutrients are moved around the Garden Tower 2 in 3 ways:
The worms. Worms travel throughout the tower and leave their droppings everywhere.
Water. When you water your plants, the nutrients drizzle down and around.
Nutrient tea. Also called "leachate". At the base of the Garden Tower is a 2-gallon container that collects nutrient tea. It contains your worms' pee, for example. You can reuse this leachate as a fantastic fertilizer! Dilute it in a watering can and apply it from above!
The vermicompost tube has 100s of tiny holes for the worms to move around and for roots to grow through. The holes are small enough so your soil doesn't come through.
Once your harvest is finished, you can reuse the composted scraps from the vermicompost tube as potting mix. And start the cycle over again.
The Garden Tower 2 is a great way of growing a healthy vegetable supply in a tiny space. Do you have a Garden Tower? Did you enter the competition?