After a long and dreadful winter for many homesteading friends all over the world, everyone's happy and excited to get back outside and start enjoying the beautiful weather!
That's why Mother's Day 2021 is the perfect chance for a marvelous outdoor gift for mom.
I searched every corner of the internet to find the best gift ideas for Mother's Day – or for any occasion, even if you're on a tiny budget.
I can't wait to show you what I've found!
This article was originally published on 2019/10/17 and revamped on 2021/04/28.
[lwptoc]
My Favorite Gift Idea for Moms Everywhere – Revealed!
I'm a mom, and for me, there's no better gift than something to do with gardening!
Plants are my favorite gift idea that any mom on the planet will love.
Why a plant?
A plant is something that will be in mom's garden forever – or for a long time anyway.
Also, think about what the plants provide to your mom. I'm talking about roses, apples, lavender – and all of nature's good stuff!
Here are my favorite gardening gifts for mom – no matter your budget or your mom's personality.
We'll also talk about some excellent gift ideas other than plants! (Including a cool dragon statue that you won't believe.)
# 1 – Plants and Flowers as a Gift for Mom
Plants are one of the best gift ideas for your mom!
The best part is that buying the perfect plant has never been easier.
Many plant nurseries are online these days, so you don't have to visit a plant nursery if you don't want to face the hectic rush that's sure to accompany the soon-to-come beautiful weather.
Not sure where to start? Then don't worry!
Have a look at the following plants for inspiration. Your mom can grow nearly any plant she likes using our recommended peasant-style/grove garden – we've managed to grow everything – including tropical bananas in frost!
Gardenia
Gardenias are one of my favorite gift ideas for moms everywhere. There are two popular varieties of gardenia that you need to know about and consider.
Traditional gardenias are finicky and hard to grow. That's why I love the frost-proof gardenia. The frost-proof gardenia is an excellent choice if you live in a colder New England climate.
Fragrant and cold hardy, the frost-proof gardenia is also low maintenance and looks beautiful. The frost-proof gardenia fits anywhere – as a hedge, inside a pot, or as a charming patio plant.
Dwarf Gardenia
These gardenias are an evergreen flowering shrub – and they look excellent along your front yard, within a perennial bed, or even inside your favorite containers or clay pots.
Gardenias come in a dwarf variety too! The dwarf gardenias look spectacularly planted in groups or as a border along pathways.
Gardenias also smell fabulous, so you can transplant them where you relax outdoors or where you stretch your legs in your backyard or garden.
Sweetspire
Another fragrant plant gift is Little Henry Virginia Sweetspire, a small bush stuffed with summer flowers and magnificent fall color tones.
Did someone mention beautiful fall colors? The Little Henry Virginia sweetspire is one of my favorite dwarf ornamental shrubs. You can plant these in groups for a naturally vibrant look to help immediately brighten up any side yard – and they also make perfect foundations for your patio or garden.
Buddleia
Maybe mom adores butterflies? This Buddleia has lovely and vibrant purple flowers that attract boatloads of butterflies when flowering!
Plant the Buddleia in a place where you'll appreciate the view to its full potential and get ready to enjoy a delightful hedge crowded with butterflies!
If you're planning to build a hedge for your mom's yard, then the Nanho Purple Butterfly Bush is one of my top choices. The beautiful lilac tone of this butterfly bush lasts from June to the fall and can add a breathtaking infusion of color onto any backyard garden, walkway, or terrace.
Hydrangea
The last (but not least) plant gift I want to show you is this Hydrangea, Little Lime. This little tank engine of a plant keeps on flowering! If you've grown Hydrangeas before, you know how the flowers are massive and spectacular.
The following hydrangea is a show-stopper that will leave your mom and all her friends mesmerized – for months on end!
In the world of hydrangeas, good things sometimes come in (very) small packages. The Little Lime Hydrangea is a gorgeous yet tiny dwarf-sized flower capable of blooming for months.
Not only is this one of the most beautiful hydrangeas, but it's also hardy and can tolerate heat and cold without stress – so no matter where mom lives, the Little Lime Hydrangea is an attractive choice.
# 2 – Garden Ornaments as a Gift for Mom
Garden ornaments are the most stylish gifts to help complement a plant or two for your mom.
Ornaments have come a long way from the old-school garden gnomes, as you'll see below.
This beautiful moon is solar-powered. It charges during the day and gives you 6 hours of light during the night (when fully charged).
The outdoor moon, made from stainless steel and glass, looks gorgeous! Plus, it's weather-resistant, so you don't have to worry about the warm spring and summer rain tarnishing your moon.

Groovy Glove Stake – Pink from Nature Hills Nursery, Inc.
Does your mom love surprises? Then wait until you see the look in her eyes as you present her with this groovy glove stake for the flower garden or veggie patch!
The glove looks awesome when nestled inside of a garden! The glove itself is made from powder-coated metal and is also weather resistant. The glove ornament looks impressive and stands over 3 feet tall.
The glove stake makes for a fun talking point for your mom, and the pink glove has a dating companion as well – please allow me to introduce Mr. Blue!
CT DISCOUNT STORE Adorable Mythical Creature Baby Sleeping Dragon (Dragon Facing Right)
Feature - Mythical and cute sleeping dragon addition to your garden with intricate details...
Quality - Baby dragon is and indoor and outdoor decoration. It is weather resistant and...
Size - Perfect size for your decoration 8-3/4"W x 5-3/8"D x 3-3/4"H
Gift - This is the perfect gift for family and friends who love nature and garden with...
MONEY BACK GUARANTEE: You have nothing to worry about because we have got you covered for...
Amazon
We may earn a commission if you make a purchase, at no additional cost to you.
06/08/2023 11:50 pm GMT
Shhhh! You don't want to wake the dragon and risk its fiery wrath!
Here's a gift for the moms out there who love fantasy, Game of Thrones, and Lord of the Rings.
This small, adorable dragon looks stunning in any garden, whether it's a flower garden, fairy garden, elven garden, or rockery. The dragon's made from resin and not too heavy, so if mom wants to take him inside, she can without straining her back.
As far as gardening gifts for mom go, this little dragon would be on the top of my list – after the plants, of course.
This beautiful teal glass bird adds lovely color to mom's garden, yard, or patio. Here's a charming and rare gift that will make the eyes of your mom sparkle as much as the gift itself.
You'll also notice the bird sits atop a stake so mom can position her anywhere in the garden or yard. If you want a handcrafted gift made of handblown glass, and if your mom loves birds as much as I do, then this gift idea rocks!
The bright LED solar lights also tuck neatly and conveniently inside the bird. With plenty of sun during the day, it'll give you hours of illumination to keep your nights lit up.
The bird's also weather-resistant and built to withstand all types of weather year-round.
Behold this regal peacock that loves living outside or indoors – and features detailed carving. The statue itself is of durable and sturdy material. It's hand-painted and straightforward to put together – no extra materials needed.
This unique statue stands 35″ tall and is guaranteed to stand out in any garden!
The peacock is also waterproof, so the beautiful colors won't fade and will stand out in your mom's garden for quite some time!
# 3 – Garden Structures as a Gift for Mom
If you want to sprinkle your mom's garden with a mound of fantastic structures, then here's the best place to start!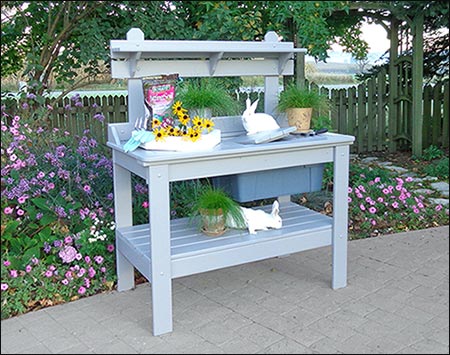 One of the most annoying things is when you want to play with your new garden toys and ornaments, but you don't have a proper workspace!
That's why I'm madly in love with this cypress potting table – you can give your mom the perfect environment to utilize her new garden gifts.
This Cypress potting table, made from southern cypress with stainless steel hardware, makes potting plants straightforward, fun, and stylish.
The table features two removable inserts – one flat and one slotted. You also get a removable plastic bin for storing up to 14 gallons of potting mix. Perfect for storing your mom's new garden goodies!
The table also has shelves on top and below for storing fertilizers, pots, or other gardening tools and plants.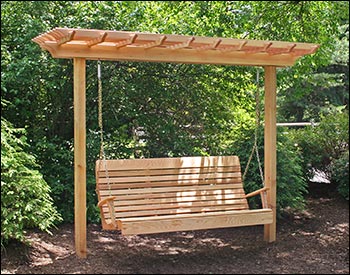 There's nothing better than a hard day gardening and then relaxing on a cozy garden seat with a cold drink and a book in hand.
This red cedar marquis arbor is the perfect place to relax and will make your mom smile every time she enjoys a peaceful afternoon in the seat's rustic embrace.
Not only is the swing built to last, but it also features a borderline-genius compartment so mom can grow a beautiful plant!
Choose a fragrant climbing plant to complete this divine garden swing and give your mom a magical gift that she'll cherish for many seasons.
Do you want to transform your mom's drab garden into a majestic paradise? Then look at this epic garden bridge!
This garden bridge with a wisteria canopy is made from western red cedar and built to last a lifetime. It also looks stunning for nearly any garden.
For bonus points?
You can plant blue and white wisteria next to the bridge and (optionally) along the top! That way, your bridge can emulate Claude Monet's legendary Japanese Foot Bridge of 1899.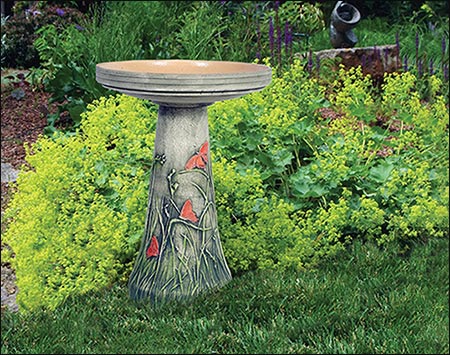 I love this ceramic butterfly birdbath!
It stands 23″ high and features elegant flower detail, growing up the base of the birdbath.
It has a lock-on top, so no more top falling off when the dogs decide to have a drink.
A spectacular gardening gift for mom! If she wants to give local songbirds room to splash, bathe, and catch a cool drink when the warm weather comes to town, then you can't go wrong.
# 4 – Gardening Towers as a Gift for Mom
Plant towers are an excellent gardening gift for mom – especially if her garden is small. If she needs to maximize space, then these towers rock. The towers offered by the Garden Tower Project are award winners and some of my favorite gift ideas – period!
Mom can now grow 50 plants and vegetables in only 4 square feet for some ridiculously super-efficient gardening.
These towers have two components. The first component is a garden – the second component is a composter.
You can put your garden scraps to good use, so your mom never has to waste anything. The towers also rotate so your mom can access all sides without stress. Not much weeding required!
You can put these towers anywhere and out of reach of your furry and feathered friends who would love to snack on your delicious garden! (Like rabbits and chickens.)
The starter pack would be my pick for a gardening gift for mom because it's unique, provides excellent gardening potential in a small package, and it's a ton of fun.
Waiting inside the kit, you'll find the Garden Tower, Dr. Earth Plant Food, 50 plant labels, a greenhouse seed starting kit, seed starting soil, a $20 Baker Creek seed gift certificate, and discounted shipping.
Watch the video below to see how and why gardening towers work and why they're such an efficient way of gardening.
Mom could put this tower anywhere, even on the smallest patio or next to a favorite outdoor chair!
Or on the veranda next to the kitchen door with lots of different herbs in it, basil, mint, oregano, parsley – everything she needs for enjoying a savory and delicious meal.
If you want to read more of our best herb-growing guides, here are some of our favorites!
We even wrote an epic guide that talks about seven herbs to get rid of bruises! If you're clumsy around the garden like I am, then I invite you to check out this fascinating and rejuvenating read!
# 5 – Gardening Tools as a Gift for Mom
Giving gardening tools as a gift for mom might sound a bit boring, but to me, there's nothing better than a high-quality garden tool that I'll use over and over again.
I might not spend the money myself, but if someone is willing to gift me a great tool, they make me incredibly happy!
On my birthday a few years ago, my husband bought me a great set of wire cutters. We're not talking about your average, work-hard-at-it wire cutters! Instead, we're talking about an $80 pair of German-made wire cutters.
The wire cutters cut through almost any wire just like a hot mora knife through butter! I love them, and they were the best gift ever!
However, I would've never bought them for myself.
In other words…
Sometimes, it's a smart move to get something for mom that she would not buy for herself.
Spoil your mom now and then!
We've done quite a few garden tool reviews too, be sure to check them out before buying any string trimmers, hedge trimmers, or self-propelled lawnmowers!

Hoss Pruning Shears | Built to Last a Lifetime
These are the best pruning shears I've used, and although they may be pricier than other pruning shears (around $30), they work excellently and come with a lifetime guarantee!
The blades are super strong and sharp out of the box – no sharpening required. The shears open wide compared to most other secateurs/pruners I've used, which is excellent for bigger branches.
The prunes use a simple lock-nut design for the two shear pieces, making them easy to take apart for sharpening. It's also done away with the clips and slides that lock shears – instead, it uses a simple leather strap – brilliant!
The design is straightforward, with no ratchets or other fancy accessories! Instead, your mom gets a plain, old-fashioned, yet a high-quality working tool that's a pleasure to use.

Loppers | Commercial Grade Pruning Tools | USA Made from Hoss Tools
A high-quality lopper is a key for any mom gardener!
There are always dead branches needing pruning or fruit trees to maintain. Loppers also rock for high tree branches that you can't reach with standard pruning shears and bigger tree branches, so you can use the extra leverage to cut through!
These loppers are the best I've come across.
Made in the USA, you'll find these loppers across farms and homesteads throughout the country. They come in two distinctive models, a 32″ and 36″.
The lopper's blades are made from top-grade alloy steel and are strongly curved to slice through branches without much force.
They're designed for daily use and feel very light – which is perfect for older moms.
A good clean cut is critical for your trees and plants. That way, no disease or rot takes hold on a branch that's badly ripped to pieces. These loppers slice through evenly, leaving a clean-cut and tidy surface that helps to keep your trees healthy.

Garden Trowel | Hand-forged and Hand-sharpened from Hoss Tools
Here's a beautiful shovel made in the USA that comes with a lifetime warranty.
The trowel has a deep blade for maximum digging power. They're hand-forged and shaped by hand by a 4th generation blacksmith in Missouri to ensure each hand trowel is of the highest quality.
If mom likes to plant plants and play in her raised garden bed, she needs the perfect shovel that offers the right amount of leverage.
# 6 – Our Favorite Gifts for Mom that Don't Fit Elsewhere!
Since 2020 was one of the worst years on record for moms everywhere, we decided to make this one of the most epic mom gift guides ever published!
That's why we found an abundant trove of gift ideas that don't quite fit in other categories.
Let's take a look!
120 Days. Wolf pumpkin produces the most incredible handle you have ever seen. Its 15 … [More] Price: $12.67 – Buy Now
Seeds are one of the best gifts you can give to your mom when the nice weather finally arrives.
Not only can seeds provide food or flowers – but it also provides a fun outdoor activity that moms everywhere love.
What types of seeds could you offer your mom? The ideas are endless!
The best types of seeds as a gift for mom:
Zucchini seeds
Cucumber seeds
Squash seeds
Pea seeds
Pumpkin seeds (Super easy and fun to grow!)
Pepper seeds
Wildflower mix
Sunflower seeds
The list above barely scratches the surface! Your options are nearly infinite. Try to match a plant with your mom's personality. What would she like more? Beautiful flowers or delicious savory vegetables? Food for thought!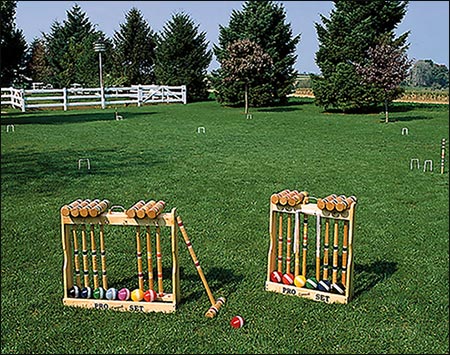 6 Player Croquet Set from Fifthroom.com
Do your mom a favor and put away the tablet and smartphone for just one afternoon!
Yard games and croquet sets used to be all the rage when I was a kid – but now it seems like an entire generation finds solace in a digital world.
Help bring back the old-school backyard magic that your mom's sure to remember with these fun yard games!
Croquet is my favorite and can bring your mom oodles of fun each time you and the grandkids stop by for a visit.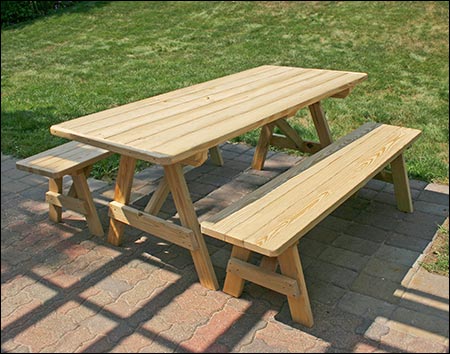 Whether your mom is hosting her next birthday party outdoors or if she's famous for lighting up the Weber grill and throwing epic BBQ parties, a picnic table is almost always a clever gift for moms everywhere.
I just HAD to show you this stunning heartback glider chair as well – how perfect is this to show your love for your mom!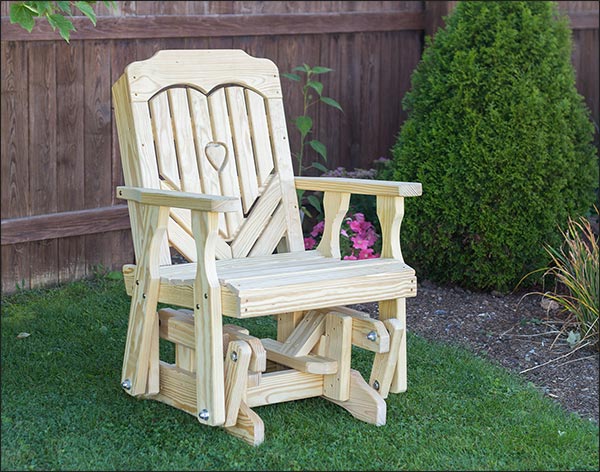 Treated Pine Heartback Glider Chair from Fifthroom.com
A Greenhouse for Seed Propagation or Plant Growing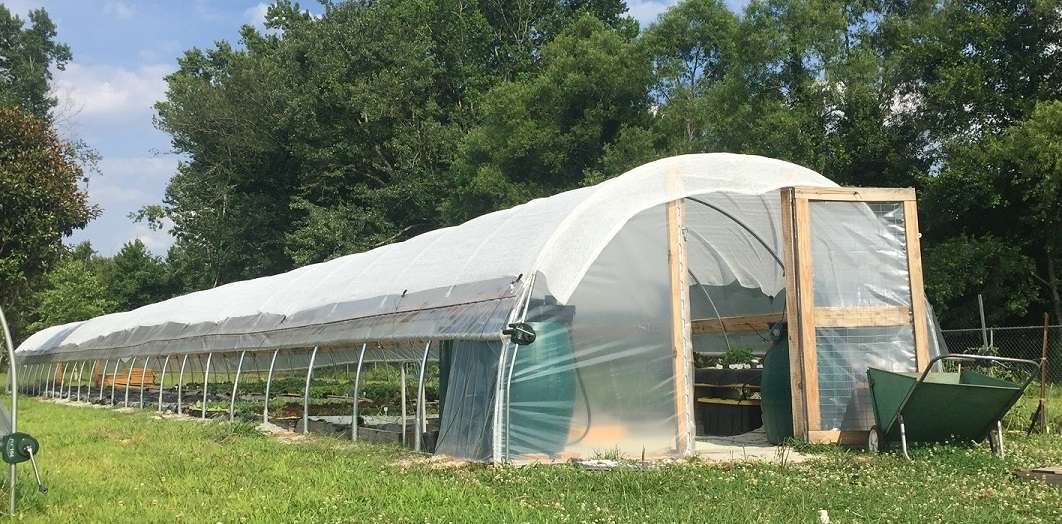 DIY Greenhouse Kits from Bootstrap Farmer
If mom lives in a colder New England climate or the northern hemisphere, then you know how tough it is to time your garden.
If you're off by a few weeks or months – then you risk wasting the entire growing season!
That's why a greenhouse makes for the perfect gift for your green thumb mom.
Even if you live in a warmer climate, this greenhouse can help your mom get a leg up for the next growing season – so she can hopefully spend more time outdoors and enjoy a more successful yield.

Outdoor Planters | Outdoor Decor from Frontera Furniture Company
Here's something you should consider if you buy your mom some new plants – because one of the saddest things in the world is when you have an elegant plant inside of a cheap plastic pot!
The good news is that a classic clay pot won't break the bank – and can make almost any plant look better.
The right plant pot or planter can take even a drab plant and help turn it into a beautiful centerpiece worthy enough for nearly any backyard ensemble – and they make a genius gift for mom!

Birdfeeders and Birdhouses from Frontera Furniture Company
Have you ever spent an entire afternoon looking at the beautiful robins, titmice, chickadees, and woodpeckers snacking eagerly on your bird feeder?
It's one of the most relaxing sights in the world of backyard homesteading!
That's why a quality bird feeder is one of the most practical and most thoughtful gifts you can bestow to your mom – especially if she loves to spend time on the front porch, back patio, or garden hammock while listening to the birds sing her a tune.

Garden Beds from Frontera Furniture Company
Many of my best homesteading friends say that raised garden beds aren't that great – but I've had some tremendously successful yields from tiny little garden beds.
Raised garden beds are the ideal gift if your mom loves to garden – but doesn't have much fresh soil around her yard.
Garden beds are doubly effective if your mom doesn't like to bend over as much when removing weeds, plucking garden pests off her asparagus, or transferring her new tomato plants from the greenhouse to the garden!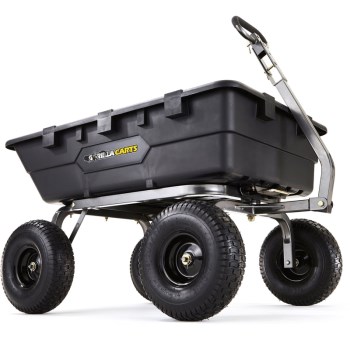 Tricam GOR10-16 Heavy Duty Poly Dump Cart, 1500lb from Hardware World
We saved one of the best gift ideas for last. A garden cart makes the perfect gift if your mom transitions from one backyard project to another with a blazing speed.
Maybe one minute she's concocting a wall of climbing plants, and the next minute she's launching a lucrative side hustle for homesteaders.
If you can relate, then give your mom everything she needs to win her next homesteading project in style – and without straining herself! This garden cart is an excellent starting point and can make her everyday gardening and homesteading efforts much less arduous and grueling.

Gardening Gloves from Hardware World
Whether your mom is a grizzled gardening veteran – or if she's trying something new this summer, she could always use a new pair of garden gloves.
Look for a pair from a reputable brand and with a material that's soft enough to protect your mom's soft hands and also durable enough so that it won't break the first time she handles a thorny garden vine!
One Final Tip for Finding the Best Gift for Mom!
What mom wants more than anything is to hear from you – and to see you!
No matter what gift you bring your mom this summer, make sure to make plans to spend time with her!
Because sometimes, letting your mom know that you care – and spending quality time with the family? That's the best gift that you can ever offer.
Please reply in the comments below and let me know what gift is the BEST gift for moms in 2021?
Thanks for reading, and have a great day!