Milwaukee vs DeWalt vs Makita – Which Power Tool Company Deserves the Crown?
When it comes to the best power tool equipment to help tackle the next project around your homestead, you have three popular choices. Milwaukee vs DeWalt vs Makita.
But how do these three epic power tool brands match up when going head-to-head – and bit-to-bit? I've researched the entire internet archive (almost) to find out and give you the best research and answers.
The short answer?
Milwaukee comes out on top. Neither DeWalt nor Makita can beat the toughness and durability of these tools.
I know, some of you have mentioned that we're not taking Makita's pro range into account. And, yes, that may be so, but some of my workmates are using the Makita pro range and they're just not as good.
Sorry, Makita fans – they just don't cut the mustard for us…
We've really put our Milwaukee tools through the ringer and not one of them has failed so far – and that's after 7 years of ridiculously hard work in a coal mine!
I mean, check out the reviews on this Milwaukee impact wrench – over 5,300 with an almost 5-star rating. We actually compared this impact wrench with its brother, the 2763, in this Milwaukee 2767 vs 2763 comparison. 
Check out Milwaukee's awesome range on Amazon!
Milwaukee vs DeWalt vs Makita Reviewed Side by Side
We're about to analyze Milwaukee, DeWalt, and Makita's company history, range of warranties, and branded technologies.
We'll even examine some of the most popular power tool combo packs from each power tool brand and grade them according to their versatility, value, battery life, and more.
We already reviewed Makita vs Milwaukee once before. But due to popular demand, we decided to add DeWalt into the mix and deepen our analysis.
Ready for our report? Let's proceed!
[lwptoc]
Milwaukee – Best Power Tool Company Overall
When it comes to reliable power tools for homesteading and DIYers, Milwaukee is our favorite – they're one of the few power tool brands that I'll buy and expect the tools to work after years of use.
I also love Milwaukee's customer support and reputation. Milwaukee has service centers all over the world – including the USA and Australia. You're never stuck if one of your tools needs warranty repair or if you have questions.
Our preference for Milwaukee may hurt the feelings of many DeWalt and Makita enthusiasts.
But don't fret!
We think all three brands rock – especially for use around the homestead – and your preference often comes down to taste.
Let's now take a closer look at Milwaukee vs DeWalt vs Makita so you can get a better idea of their backgrounds, warranty information, branded technologies, and more.
Milwaukee Company History and Reputation
Milwaukee's reputation for durable cordless power tools stretches from the Australian outback to the small cozy towns of New England.
Milwaukee (a subsidiary of Techtronic Industries) has been around for as long as I can remember – in fact, much longer! Since 1924, Milwaukee has crafted elite power tools for backyard and job site applications.
Milwaukee doesn't just make power impact drivers and circular saws, you know.
Milwaukee also offers an extensive collection of beautiful hand tools, robust lighting options, and heaps of accessories for your backyard or construction projects.
Milwaukee also has some legendary inventions under their belt, like the Sawzall, one of the world's most iconic power equipment tools.
As constant innovators, Milwaukee also invented the technology required for power tools to use lithium-ion. The introduction of lithium-ion was instrumental for trades workers and DIY enthusiasts alike and empowered the portability of power tools everywhere!
If you hate lugging around a hefty compressor to get work done, then you probably agree that Milwaukee deserves significant credit for helping to innovate portable power tools.
When it comes to top-of-the-line innovative tools, and if I were to place a bet on which power tool company has the best grounding for the technologies of tomorrow – Milwaukee is my favorite choice.
Milwaukee Warranty
When you purchase a Milwaukee tool, you get an automatic warranty – you don't need to register your equipment. However, Milwaukee advises that you hold on to your receipt so you can prove warranty status.
Milwaukee has a generous limited lifetime warranty on most of their hand tools sold in the USA and Canada. Many Milwaukee power tools also have a 5-year limited warranty.
Please note that many Milwaukee warranties only protect against craftsmanship or material defects – warranties typically do not cover wear and tear damage inflicted during the everyday use or misuse of your tools.
When under warranty, you can contact Milwaukee, and they'll repair your tool – free of charge. Milwaukee promises to fix your faulty equipment within 7-10 business days.
Here's the fastest link to help you find the closest Milwaukee service center near you so you can let your tools rip into your latest onsite or backyard project without hesitation.
Milwaukee Key Features and Branded Technologies
Milwaukee has some of the niftiest technology as far as power tool equipment is concerned. But who needs tech features when you're trying to build a fence, manage power equipment on site, or drill a bit into a piece of wood?
The benefits might surprise you!
One-Key
One-Key is a digitized system that empowers select Milwaukee tools with special powers.
What powers, you ask?
One-Key allows you to track, optimize, manage, and tag your equipment remotely with your smartphone.
You can also track stolen tools using One-Key, which is gold if an unscrupulous neighbor or coworker snatches your power tool without permission – or innocently forgets to return your gear.
If you're interested in optimizing your tool's performance, or if you like to keep tabs on all power tools in your garage – then One-Key makes the process straightforward and easy – even if you hate the tech side of things.
Redlink Plus
Redlink Plus is Milwaukee's electronic hardware and software system that helps to monitor your power tools from overloading and overheating. Redlink Plus works by connecting your batteries, power tools, and chargers for full-circle communication.
Even if your power tool has the smartest heat dissipation on the planet – if you're working a tight job and working your miter saw over extended periods – then your saw's engine might overheat! That's why I like Redlink Plus.
Do you abuse your tools and push them to the max? It's okay. I'm not judging! If you want to protect your tool's motor and help lengthen the lifetime of your power equipment, then Redlink Plus can hopefully save you some cash over the long haul.
RedLithium
Are you a rugged worker who everyone calls for the tough jobs around the worksite, campsite, or homestead? Then I suggest durable battery packs that won't bust the first time you drop them on the pavement.
Milwaukee's RedLithium batteries look slick, the construction feels thick and heavy, and they also have respectable battery life.
Most importantly, RedLithium batteries are durable, so your tools can withstand harsh environments, vibrations, impacts, drops, heat, and water.
PowerState
PowerState is Milwaukee's proprietary brushless motor technology with rare Earth magnets that help increase torque, power, and efficiency.
PowerState tools also feel smooth to use – and they're strong, compact, yet capable when in the field.
Want more of our best power tool comparisons and reviews?
DeWalt – Best Economy Power Tool Option for Home Use
When talking about DeWalt – I hate to say that their only advantage is a lower price tag.
The truth is that DeWalt has a stellar reputation among expert DIYers and hobbyists alike for low-cost tools.
If you treat your DeWalt power tools right – I promise they can last an extended period and get most jobs done around your home and farm.
Even though DeWalt power tools perform excellently, and even though their reputation is rock-solid – it's also true that their prices tend to be a tad lighter than Milwaukee and Makita tools.
If you're a homesteader on a budget, if you want simplicity, or if you love the colors black and yellow (I'm only half-joking), then DeWalt rocks, and I recommend them without hesitation.
DeWalt Company History and Reputation
DeWalt (a subsidiary of Stanley Black & Decker) has a fascinating history that Americans might love to hear!
You'll have to go back to 1924 if you want to learn about how DeWalt started their legendary Wonder-Worker woodworking machine from their Leola, PA, USA headquarters.
Years later, DeWalt experiences rapid expansion in 1941 due to wartime efforts and material orders from the US government.
If you fast forward years later to 1955, DeWalt celebrated their continued growth by adding 40,000 square feet to their manufacturing plant to help keep up with increased demand.
The DeWalt brand then grew at a break-neck speed that helped them progress for many decades as a trusted household name for tools.
In 1994, DeWalt launched a massive and innovative line of cordless power tools, including power drills/drivers, flashlights, screwdrivers, and saws.
2010 and 2011 saw the introduction and expansion of DeWalt's line of lithium-ion tools – including the 12V MAX and 20V MAX systems.
During 2013 and 2015, DeWalt added manufacturing facilities in Jackson, TN, Charlotte, NC, Cheraw, SC, Greenfield, IN, Shelbyville, KY, New Britain, CT, and Hampstead, MD. 2015 also saw the birth of Tool Connect.
Since 2015, DeWalt has launched a host of innovative technologies and initiatives such as Guaranteed Tough, XP Tape Measure, an expanded 20V Max system, and the legendary DeWalt Breakaway reciprocating saw blade system.
DeWalt Warranty
Like Milwaukee Electric Tool Corporation, DeWalt offers commendable repair options for its tools.
Most DeWalt tools come with a 3-year limited warranty. During your warranty coverage, DeWalt promises to repair defects caused by faulty craftsmanship or materials.
However, the three-year warranty from DeWalt does not cover wear and tear damage due to everyday tool usage.
In addition to your 3-year warranty, you also get a one-year contract of free service. During the first year, DeWalt will replace parts damaged by everyday use.
You can also return your DeWalt product without fuss with their 90-day guarantee. If you don't like your power tool, you get a full refund with no questions asked.
For more questions about DeWalt service and warranty, please contact an official DeWalt service center for 24/7 assistance.
DeWalt Key Features and Branded Technologies
Some of my friends ask me how DeWalt vs Milwaukee stack up as far as their power tool tech is concerned. I think when Milwaukee streamlined the use of lithium-ion, they had a leading edge. I also bet on Milwaukee to have a brighter future.
However, DeWalt has remained in the game with some genius-level innovations. Let's take a look at DeWalt's most innovative tech!
Tool Connect
Are you an equipment custodian, or do you manage a tool crib?
Then you know that lost tools cost money!
You waste money from downtime and hunting down your lost equipment.
Enter DeWalt Tool Connect. Tool Connect is DeWalt's answer to Milwaukee's One-Key. Tool Connect lets you track your power tools and company assets across the job site from anywhere in the world with the mobile app.
You can track more than just power tools using Tool Connect Tag. You can attach your Tag tracking device (with built-in LED light) to any job site inventory, equipment, tools, products, materials, or job site assets.
Tool Connect also lets you view power tool optimization settings and real-time diagnostics so you can see the status of your tools – even at a distance.
FlexVolt
In 2016, DeWalt launched the first battery that could change voltage when you're changing tools.
In other words, FlexVolt batteries can help to optimize your power tool's use, accommodate different devices, and help improve runtime. FlexVolt might not seem like a big deal – unless you know the hassle of lugging multiple battery packs (and chargers) around unnecessarily.
DeWalt E-Clutch System
DeWalt E-Clutch system works by detecting the direction of your drill and quickly reducing torque if required to help prevent seizing.
I value the DeWalt E-Clutch System because it helps prevent your motor from grinding itself into an early grave!
DeWalt Breakaway
Here's another way that DeWalt can potentially save you money.
DeWalt's reciprocating saw blade system allows you to break away the used portion of your blade and use the piece that remains.
DeWalt Breakaway won a Power Tool Innovation Award, and the new technology was a huge deal during the 2017 launch.
Breakaway is yet another reason I recommend DeWalt for carpenters and woodworkers – especially if you love to save a few bucks and squeeze every inch of use out of your saw blades.
Makita – Not a Bad Choice for Cordless Power Equipment
I haven't had much success with the longevity of Makita power tools.
However, I respect the brand, and they have many rave reviews. Makita also has a legendary reputation for power tools that withstand stress and often meet and beat the test of time – so maybe you will have better luck than us.
Makita Company History and Reputation
Unlike DeWalt and Milwaukee, Makita Corporation doesn't have any parent companies.
Makita is one of Japan's most famous tool brands with ten manufacturing plants that span eight countries.
But Makita wasn't always a world-renowned brand in the world of power tools. In 1915, Makita started and sold electric motors and repairs.
In 1958, the destiny of Makita changed forever as they launched their electric planer – Makita's first power tool.
Soon after the electric planer creation, Makita began specializing in electric power tools and developed a portable groove cutter.
Years later, in 1962, Makita launched an electric drill – and an electric circular saw. Their reputation began to catch hold as a heavy hitter in the world of electric power tools.
The following decades would include prominence and popularity.
The Makita brand established itself as a household name in the power tool lineup world with undeniable customer reviews and a wide range of cordless tools that function optimally in tight spaces.
In 2015, Makita reached 100 LXT tools with an impressive range of batteries (18V) and etched itself into the tool totes of history with a now-famous power tool lineup.
Makita has a US-based office headquarters in La Mirada, CA.
Makita also manages a distribution network throughout the United States, including facilities and warehouses in La Mirada, CA, Buford, GA, Mt. Prospect, IL, and Wilmer, TX.
Makita Warranty
I appreciate the simplicity of Makita's range of warranties.
All Makita lithium-ion tools, pneumatic nailers, batteries, and battery chargers have a 3-year limited warranty.
The warranty covers faulty craftsmanship and material defects. Makita promises to repair or replace any problems during the first three years. Makita asks that you return (or ship) the item to a Makita factory or authorized Makita service center when seeking a repair.
Makita also offers a 1-year limited warranty on their general line of products.
Some Makita products have extended warranties – so make sure to double-check Makita's warranty information before you buy.
Makita Key Features and Branded Technologies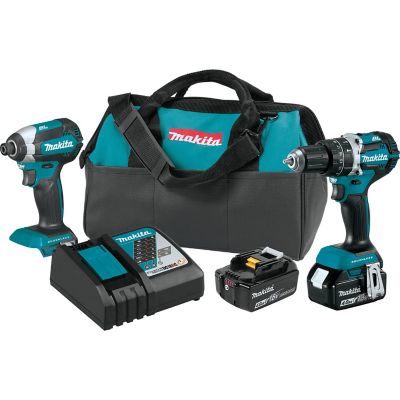 Makita 18V LXT Lithium-Ion Brushless Cordless 2-Pc. Combo Kit (4.0Ah), XT269M [More] Price: $279.00 – Buy Now
Makita invests heavily in the world of cordless tech equipment. Let's take a quick look at some of their most popular innovations.
Star Protection
Star protection is a communications technology that monitors the working conditions of your tools during use. Your battery communicates with your power tool, and they work together to prevent overheating and overloading.
At the first sign of danger, the tool shuts off – allowing you to take a pause, switch batteries, or restart the device.
Look for the star symbol on your Makita range of batteries (plus the star or a yellow terminal on the tool) to ensure that your Makita device has star protection!
Active 3 Controls
Active 3 allows your battery charger and battery to regulate the voltage, temperature, and current for improved battery charging efficiency.
Active 3 controls help to charge your batteries quicker – so you can get to work doing what you love – DIY projects.
Extreme Protection Technology (XPT)
XPT helps to protect your power equipment by blocking water and dust with integrated seals.
Do you work outside in the rain with dirt and grime?
XPT is a dream come true if you take your tools to the limit under the harshest conditions.
Automatic Speed Change
Automatic speed change works by detecting heavy loads and increasing torque and speed if necessary.
If you're grueling on the job and pushing your tools to the max, then automatic speed change can help your equipment achieve optimal performance.
The Ultimate Milwaukee vs DeWalt vs Makita Power Tool Combo Kit Show-Down!
Are you sick of spending a fortune on power tools only to watch your battery gage turn red after 5 minutes of work when operating your jigsaw without relent?
Or maybe you want some new toys for the garage without going broke?
Then let's look at three of the most economical and popular power tool combo kits that can help with chores around the homestead and job site – even if you're a heavy-duty contractor pushing your max strokes per minute!
Milwaukee 2695-24 M18 18V Cordless Power Tool Combo Kit with Hammer Drill, Impact Driver, Reciprocating Saw, and Work Light (2 Batteries, Charger, and Tool Case Included)
2607-20 HAMMER DRILL / DRIVER: This cordless hammer drill / driver is specially suited for...
2625-20 HACKZALL RECIPROCATING SAW: Use this saw to tear through branches, lumber, PVC...
2656-20 1/4 INCH HEX IMPACT DRIVER: Driving lag bolts through porches and thick lumber...
2735-20 WORK LIGHT: With an adjustable head that's made of sealed aluminum, you can take...
48-11-1828 BATTERIES AND 48-59-1812 CHARGER: 2 extended capacity, 3 amp hour batteries are...
Amazon
We may earn a commission if you make a purchase, at no additional cost to you.
12/01/2023 02:37 pm GMT
I love the Milwaukee combo kit for anyone who wants to fill their toolbox with a stunning array of tools without breaking the bank.
With a hammer drill, reciprocating saw, impact hammer, and adjustable work light, this kit makes for an excellent gift for any DIY enthusiast.
The two batteries feature Redlink intelligence, so you can hopefully get more battery life and an excellent runtime from your power tools.
Overall, Milwaukee's cordless tool kits are my preferred way to quickly fill your garage with reliable (and fun to use) tools.
Milwaukee M18 18V Combo Kit Contents:
2607-20 – Driver/hammer drill
2625-20 – Hackzall – reciprocating saw
2656-20 – Impact Driver – 1/4-Inch hex
2735-20 – Milwaukee work light with adjustable head
48-11-1828 – 2 batteries (3-amp hours)
48-59-1812 – battery charger
The main thing I love about this Milwaukee combo kit is that it can help you handle a massive variety of jobs – even if you're on a tiny budget.
It doesn't matter if you work construction, automotive, plumbing, or homesteading – even if you need to tear through branches, drive fasteners, or keep your job site lit up like a firework show, I highly recommend this kit.
DEWALT 20V Max Cordless Drill Combo Kit, 10-Tool (DCK1020D2)
DCD771 in the cordless drill combo kit has a high speed transmission that delivers two...
DCF885 in the cordless tools combo kit offers 1-handed loading for its 1/4-inch hex chuck...
DCS381 with keyless blade clamp as one of the essential construction tools allows for...
DCL040 is a bright flashlight to illuminate your work area with LED output of 110 lumens.
DCE100 has Max Air Flow of 100CFM
DCS393 with 6-1/2-inch carbide blade can cut 2x4's at a 45-degree angle in a single pass
Amazon
We may earn a commission if you make a purchase, at no additional cost to you.
12/03/2023 12:59 am GMT
If you want to turn your sparse-looking garage into a bustling
tool-heaven
ready to tackle heavy-hitting tasks around your homestead, then you'll love the DeWalt 20V combo kit.
Inside, you get everything you need for your next project. Whether you want to erect a watermelon trellis or build an unbelievable chicken and goat palace – the DeWalt bundle can help.
What amazed me about this DeWalt bundle is that you get so much for so little!
I'm sure a few of the diehard Milwaukee and Makita fans will say DeWalt isn't as good as the others. But when you take a peek at the equipment crammed inside of this impressive tool tote – it's tough to balk.
DeWalt 20V Max Combo Kit Contents:
DCS355B – 20V XR Oscillating Multi-Tool MAX
DCE100 – 20V Compact Jobsite Blower MAX
DCF885 – 20V 1/4-Inch Impact Driver MAX
DCD771 – 20V 1/2-Inch Compact Drill Driver MAX
DCG412B – 20V 4-1/2-Inch Grinder MAX
DCS381B – 20V Reciprocating Saw MAX
DCS393B – 20V Circular Saw MAX
DCV517B – Wet and Dry Vacuum
DCR006 – Jobsite Bluetooth Speaker
DCL040 – Bright LED flashlight (110 lumens)
Two batteries (Two-amp hours)
The most notable downside to the DeWalt bundle is that the batteries are only two-amp hours.
If you're a heavy-duty craftsman who needs more runtime and battery life – then you may want to consider the Milwaukee bundle or pick up some beefier 5-amp hour 20V DeWalt batteries.
Makita XT505 18V LXT Lithium-Ion Cordless 5-Pc. Combo Kit (3.0Ah)
Variable 2-speed 1/2" Hammer Driver-Drill (0-600 & 0-1,900 RPM) with Makita-built 4-pole...
Variable speed Impact Driver (0-2,900 RPM & 0-3,500 IPM) provides 1,460 in.lbs. of Max...
Variable speed Recipro Saw delivers 0-2,800 strokes per minute with a 1-1/4" stroke;...
Variable speed Recipro Saw delivers 0-2,800 strokes per minute with a 1-1/4" stroke;...
Makita XT505 18V LXT Lithium-Ion Cordless 5-Pc. Combo Kit (3.0Ah)
Amazon
We may earn a commission if you make a purchase, at no additional cost to you.
12/02/2023 10:49 pm GMT
When browsing all of these combo kits – I felt like a kid at a candy store. I love the variable speed settings and max strokes per minute of the hammer drill and impact drivers in this reciprocating saw combo kit from Makita.
Each of these lithium-ion tools undergoes testing before leaving the Makita factory.
That way – you know for a fact that your equipment is going to work when it arrives at your door.
Makita 18V LXT Combo Kit Contents:
XPH10Z – 18V 1/2-Inch Hammer Drill/Driver LXT
XDT11Z – 18V Impact Driver LXT
XRJ04Z – 18V Recipro Saw LXT
XSS02Z – 18V 6-1/2-inch Circular Saw LXT
DML185 – 18V Xenon Flashlight LXT
BL1830B – 2 18V Lithium-Ion Batteries LXT (3-amp hours)
DC18RC – 18V Lithium-Ion Optimum Charger
Makita tool bag! (Keep your tools secure!)
I didn't get a chance to talk about the Makita impact driver with 1,460 of maximum torque that only weighs roughly 2.8 lbs. with battery.
Overall, Makita has their compact design down to a science, and I think you'll love using the tools bundled herein – especially for casual use around the homestead.
Milwaukee vs DeWalt vs Makita Review Conclusion – What's Your Favorite Choice?
Do you want to start a brawl the next time you're visiting a machine shop or construction site?
Doing so is easy – all you have to do is ask a group of trades workers which tool brand is the best – Milwaukee vs DeWalt vs Makita.
You're sure to have a mixed response – and many of your colleagues might take offense at your answer!
I think all three produce beautiful tools that perform great. I'd proudly use and recommend any of the three for projects around the home or job site. We have the best luck with Milwaukee – but your mileage may vary.
I've had the privilege of using tools and appliances from all three brands throughout my life. No power tool brand is superior to another.
Here's why.
Milwaukee, DeWalt, and Makita all have their advantages and stand-out power tools.
Milwaukee Advantages
Promising technology, reliability, and future
Excellent M18 18V battery runtime
Smart choice for residential contractors and professional contractors
DeWalt Advantages
Great carpentry tools for professional woodworkers
Excellent performance and versatility for home projects
Usually less expensive than Milwaukee and Makita tools
Makita Advantages
Some of the most compact power tools
Respectable versatility and technology for the price
Surprisingly-good reputation among diehard tool geeks
Which Power Tool Brand Do You Prefer? Please Let Me Know!
Now's the best time of year to kickstart outdoor projects, construct your raised garden bed, spruce up your chicken coop, and build a primitive outdoor fire pit that will last a generation.
But first, we all need the right power tools – that's why I'm curious to see how you think DeWalt vs Milwaukee vs Makita match up?
Please reply and leave me your experience! Which brand do you think offers the best performance and value? I'd love to have your thoughts, experiences, and reviews!