Unless you're dead set on buying a riding lawn mower, you'll likely have to choose between standard push mowers vs. self-propelled mowers.
While these may sound like they're the same thing, there are some little-known yet impactful differences between the two.
True, both of these mowers are mowers that you stand behind and push forward to cut your grass, but in many ways, this is where the similarities end.
Push mowers tend to require a little more work on the user's part to work satisfactorily. But that doesn't mean push mowers should be avoided by everyone! Let's take a look at some of the nuanced differences between these two lawn mower types.
Which is Better: Push Mowers vs. Self-Propelled Mowers?
In some ways, walk-behind lawn mowers are alike. They require the user to walk behind the mower and push it forward to cut the grass.
There's one main difference between a push mower and self-propelled lawn mowers. With self-propelled mowers – the motor does most of the work for you! So, all you have to do is guide the mower where it needs to go.
With a push mower, the motor spins the cutting blade – and that's it.
Self-propelled mowers are different. Self-propelled mowers have a gearbox connected to the wheels in the front or the back of the mower. This gearbox configuration helps the mower push forward mechanically by itself
If you have a small lawn to mow, it likely won't make much of a difference if you're trying to decide between a self-propelled vs. push mower. But – with lawns and yards that are an acre or more in size, the distinction between mowers makes a big difference.
On a practical level, self-propelled lawn mowers result in much less back-breaking work, so the more significant your lawn is, the more you will appreciate this type of mower.
Self-propelled lawn mowers practically cut your grass on their own, whereas you have to work harder and make a conscientious effort to get the job done with a standard push mower.
Read More – Best Mowers Made in America – Push Mowers vs. Riding Mowers!
The Advantages of a Push Lawn Mower
In deciding the best type of lawn mower, you should know that even a standard push mower has advantages. For one thing, push mowers tend to be very lightweight – often 20 pounds or lighter – so they're very straightforward to maneuver.
Their light size is a tremendous advantage when it's extra hot outside, and you don't want to be out in your yard any longer than necessary!
In addition to a light size that makes mowing easy – working with a push mower is excellent exercise, so if you like to get a good workout and sweat a little bit while you're cutting your grass, a high-quality push mower is perfect for you.
A manual push lawn mower is quiet and low-maintenance, not to mention a lot less expensive than a typical self-propelled lawn mower.
Push mowers can be manual or have a motor, but with both of these types, you get a lightweight, easy-to-maneuver lawn mower that doesn't take up much room and allows for many years of faithful and reliable service.
Push mowers are often the perfect choice for homesteaders with small yards or those on a budget.
Read More – Here's How to Start Your Mower After It's Been Idling for Months!
The Advantages of Self-Propelled Lawn Mowers
If you don't like the idea of breaking a sweat when you're mowing your lawn – then self-propelled mowers are superior!
Self-propelled lawn mowers also offer many advantages, starting with the most obvious: self-propelled mowers are (ridiculously) easy to use!
If you've never used self-propelled mowers before, they might get away from you while you're operating and mowing your lawn! So – don't get carried away, and pay attention!
All you have to do to operate your self-propelled lawn mower is guide the direction where you need it to go. No worries – you can learn self-propelled mower operation quickly, even if you don't have much experience. (Within reason!)
Because of the ease of use, self-propelled lawn mowers are great for people with hilly yards or yards with difficult-to-navigate terrain.
Mowing a hilly or uneven lawn can be cruelly challenging with a push mower! But with self-propelled mowers, – even hilly mows are a piece of cake.
Self-propelled mowers also tend to have more mowing options than regular push mowers, including bagging or mulching your grass. And sometimes, both!
Many self-propelled mowers also include various safety features. One popular safety feature that you'll probably find is blade override, which allows you to stop the blades while the engine is still running.
For the above reasons (and many other reasons,) self-propelled lawn mowers are now wildly popular with homeowners and business owners alike.
How Long Do Self-Propelled Mowers Last?
Naturally, the length of time any lawn mower lasts will depend on numerous factors, including the brand, how well you take care of your motor, and your yard condition. Nevertheless, the typical self-propelled lawn mower may last 8 to 10 years if you treat it right.
(You'll also have to consider whether the mower uses gas or electricity!)
When you purchase self-propelled lawn mowers, you can sometimes find hints regarding the mower's expected longevity by reading the user manual and routine maintenance instructions.
Or, you could check the manufacturer's website for an estimated shelflife. Sometimes, the manufacturer lists how long your self-propelled mower might last – sometimes, the answer is disappointingly vague.
I would say that the 8- to 10-year figure is a reliable general number for most lawn mowers.
When all else fails – contact support! If the lawnmower manufacturer you choose is halfway decent – they'll respond to you in a timely fashion with reliable information regarding how long your lawn mower might last.
Read More – EGO Lawn Mowers vs. Greenworks. Which Mower Wins?
What Is the Best Self-Propelled Lawn Mower to Buy?
The word best is subjective, but there are still certain self-propelled lawn mowers whose names pop up regularly on most lists that discuss which of them are the best. These include the following lawn mowers:
# 1 – EGO Power + LM2133 (Self-Propelled)
The Ego Power + LM2133 is perfect for larger yards and has a fuel-gauged Arc lithium battery. The lithium battery helps make the mower more reliable – overall, an excellent electric-powered mower.
The Arc Lithium batteries also power over 50+ lawn tools – so if you want to add to your homesteading power tool collection, the EGO batteries have multiple uses.
LM2133 Mower Features:
Multi-blade lawn cutting system offers a premium cut
Run time of up to 45 minutes per charge! (Needs 56V, 5.0 Ah, ARC lithium battery)
Brushless motor gives excellent efficiency
Cutting height ranges from 7 cutting heights – from 1.5-inches to 4-inches
Bagging, side-discharge, and mulching function
Bright LED lights and a quick-start button
Charge time of only 50 minutes when using 5.0 Ah, ARC charger
Battery powered
Learn More – Read More About the Ego Power LM2133 Mower on Amazon!
# 2 – RYOBI Lithium-Ion Self-Propelled Mower
The RYOBI self-propelled mower rocks a nifty lithium-ion battery with a built-in bag to make the mulching process a little easier. However, you must purchase the side-discharge unit separately. Bummer!
The RYOBI mower isn't the most popular model. However, I encourage you to read their reviews because they're surprisingly positive – considering the mower's low cost and all.
RYOBI Mower Features:
Gas-like performance without oil, gas, or maintenance
Instant power-on switch – no hassle required
Mulching, bagging, or (sold separately) side-discharge
Seven different grass-cutting heights
Super-bright LED headlights (high intensity)
Easy-lift unlocks your bagger – no strength required
Easy telescoping handles so you can fold and tuck when finished
90-day no-risk guarantee
Learn More – Read More About the RYOBI Mower on Amazon!
# 3 – Snapper 48V HD Self-Propelled Lawn Mower
With the Snapper 48V HD mower, you get up to 60 minutes of battery time when it's fully charged, and it even has vertical storage capacity, so it tucks inside your garage or shed without fuss.
The reviews for the Snapper 48V mower are relatively decent. However, I've noticed that some of the reviewers cite battery performance issues. Consider picking up an extra battery – or choosing a larger model if you have a large lawn to mow.
Snapper 48V Mower Features:
Sixty minutes of run time with a hefty Stratton (48V) lithium battery
Massive steel deck (20-inches) with three in one design for mulching, side-discharging – and bagging
Load-sending technology so you can optimize power levels when mowing
7-position cut options to help cut your lawn to your desire
Stores vertically so you can tuck in your garage without fuss
Learn More – Read More About the Snapper 48V Mower on Amazon!
# 4 – Toro 223cc TimeMaster Mower (Self-Propelled)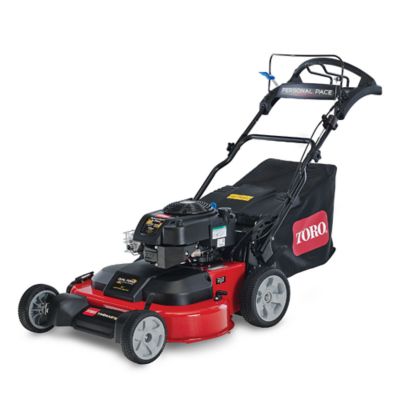 The Toro's perfect for smaller yards and is compact! The Toro also mows wonderfully even in small or hard-to-reach spaces.
I also think Toro has one of the best reputations for self-propelling mowers. If you want a mower with a premium cut and access to over 3,000 Toro service centers across North America – then consider the Toro TimeMaster.
Toro 223cc Mower Features:
Sturdily designed deck with mega-durable steel (13-gauge)
30-inch wide deck that squeezes between tight spaces surprisingly-well
Spin-stop system so you can step away from your mower without restarting the motor
Propelling system helps automatically adjust the mower to your walking pace
Beefy 223cc Stratton engine
Mean dual-force cut system with Toro Atomic blades slice your grass into nutrient-rich mulch
Bag up your clippings easily and without hassle
Side Discharge Comes Standard: The side discharge function can help you tackle tall, thick grass no problem
Deck washout port helps to clean your mower in seconds
Traction-assist feature helps the mower compensate for hills
Mower moves quickly – up to 4.5 miles per hour
Learn More – Read More About the Toro 223cc Mower on Tractor Supply!
# 5 – Troy-Bilt TB270 XP Self-Propelled Walking Mower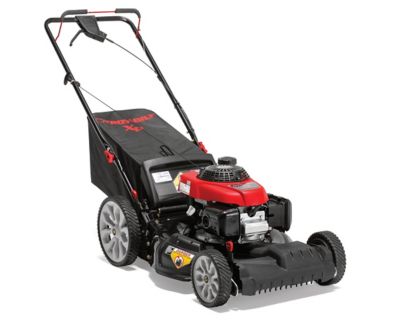 This self-propelled mower from Troy-Bilt is easy to start, affordable, and has a high-quality, reliable Honda engine.
Want one of the most affordable push mowers from the USA? Look no further! Considering how the reviews cite that the mower is easy to use, light, and economical – how can you lose?
(Troy-Bilt also offers a limited warranty of three years.)
Troy-Bilt TB270 XP Mower Features:
Powerful Honda Auto Choke engine – no manual choke!
Made in America with Global parts
Limited warranty of three years
Oversized 11-inch rear wheels help you navigate hills and spotty terrain
Choose from six cutting heights between 1.25-inches to 3.75-inches
Learn More – Read More About the Troy-Bilt TB270 XP Mower on Tractor Supply!
The bottom line is this: unless your yard is smaller than a half-acre, or you use your lawn-mowing time as a workout, you'll likely prefer self-propelled mowers because they are easier to use, able to cut large tracts of land, and are built to last for a very long time.
Also – while the list of self-propelled mowers above is a great place to start, the list is by no means exhaustive.
Is it Acceptable to Pull a Lawn Mower Backward?
I think the best solution is to consult the manufacturer of your mower! They know your mower best – and I urge you to read the owner's manual. That way, you understand your mower's function.
That said, and by most accounts, pulling a lawn mower backward shouldn't be attempted, whether you're using a standard push mower or self-propelled.
Simply put, lawn mowers shouldn't operate backward!
While doing so occasionally or by accident hopefully won't damage the mower, doing so routinely may cause significant problems. Pulling a lawn mower backward, especially self-propelled lawn mowers designed to go forward, may damage the motor if done regularly.
But, once again, I want to urge you to consult the instructions of the mower's make and model. All mowers are different – and technology changes fast!
To keep your lawn mower as long as possible, you have to pay attention to the manufacturer's instructions, and this feels like one of the main no-nos when it comes to the care of your mower!
Thank you for reading – and please let us know your experience with automowers vs push mowers.
Which do you like best?
Read More – These Are the Best Lawn Mowers for 5 Acres