Winter is just around the corner and that means snow. A lot of snow! Carving your way through heaps of wet snow puts a huge strain on your arms and back. If you're sick of the hard work shoveling snow, give the best electric snow shovel a try – these machines make snow removal a breeze!
My personal best electric snow shovel will always be the Snow Joe iON 13SS. I love the freedom I get with this battery-operated power shovel.
And it reaches the spots corded models simply cannot. I don't have to worry about any cables or power sockets; just press the button, and you're good to go.
Let's take a look at my top 5 best electric snow shovels for this winter.
Snow Be-Gone With Our 5 Best Electric Snow Shovel Review
1. Snow Joe iON 13SS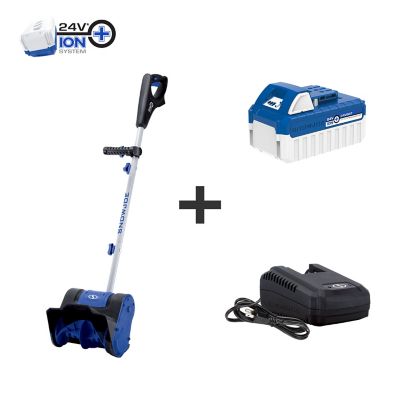 Snow Joe 24V 4Ah 10 In. Cordless Snow Shovel, 24V-SS10 [More] – Price: $179.99 – Sale: $143.99 – Buy at Tractor Supply
In my experience, the Snow Joe iON 13SS is the most versatile electric snow shovel out there.
Why, you ask?
Well, for starters, it's cordless and can squeeze into any difficult-to-reach spot. The 24V 4.0 Ah Lithium-ion battery allows it to plow through 1620 lb of snow on a single charge.
The crazy-powerful 400W motor paired with a dual-blade high-impact paddle auger throws snow up to 20 feet. It's also whisper-quiet and super-easy to store.
For even more power or serious snow, check out its bigger, brushless brother as well: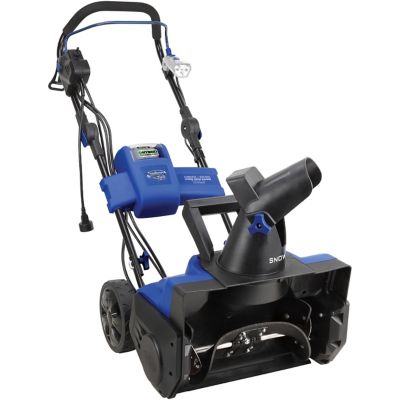 Snow Joe iON18SB-HYB Hybrid Single Stage Snow Blower, 18 in., 40V 13.5A, Brushless [More] Price: $349.99 – Sale: $314.99 – Buy Now
I use it for quick snow pickups on my driveway, deck, sidewalks, and in my backyard. It takes everything I throw at it like a champ and keeps asking for more. It's also lightweight, considering the power (only 15 lb), so you don't have to be a muscle freak to use it effectively.
And it's so easy to use. Just push the start button and you're in business.
PROs:
Cordless

Powerful 400W motor

Rechargeable Lithium-ion battery

13" clearing width

Whisper-quiet operation

Lightweight (15 lb)

No maintenance
CONs:
It might not just throw snow –

it can also throw rocks

!
Snow Joe 24V-SS13 24-Volt iON+ 13-Inch 4-Ah Cordless Snow Shovel, Kit (w/4-Ah Battery + Quick Charger)
[VERSATILE]: Ideal for quick, easy and CORD-FREE snow pickups on decks, steps, patios and...
[ION PLUS 24-VOLT BATTERY SYSTEM COMPATIBLE]: Includes 24V ion plus 4.0 Ah rechargeable...
[POWERFUL]: 400 W motor moves up to 1,620 lbs. of snow per charge.
[WE'VE GOT YOU COVERED!]: Your new snow blower is backed by the Snow Joe + Sun Joe...
Amazon
We may earn a commission if you make a purchase, at no additional cost to you.
05/28/2023 04:55 am GMT
2. Earthwise SN70016 Electric Snow Shovel
I like this model because it has the widest clearing path out of all the best electric snow shovels in this review. It covers 16″ at a time with an 8-inch cutting depth.
Huge coverage comes with some extra weight, though – the Earthwise SN70016 weighs 16 lb flat. Talking about power, the 12-amp motor can move 430 lb of snow per minute with a throwing distance of 30 feet. NOW THAT'S IMPRESSIVE!
It features the same dual-blade auger, but also comes with super-reliable thermal protection. The 6" wheels allow you to tip it over and go over larger obstacles.
This is the most powerful electric snow thrower on the market – a step behind snow blower-sized machinery.
PROs:
16" clearing path

12-amp motor

Extremely powerful

Dual-blade auger

Reliable thermal protection

Cordless version available
CONs:
Heavier than other models (16 lb)
Earthwise SN70016 Electric Corded 12Amp Snow Shovel, 16" Width, 430lbs/Minute
Powerful electric snow shovel with a 12-amp motor that can move up to 430 lbs of snow in...
An electric snow blower with 16" snow clearing width, 8" snow cleaning depth, and 30' snow...
Snow clean machine for efficient snow removal
Earthwise Power Tools by ALM snow shovel with 6" rear wheels to make it easy to use and...
Corded snow shovel key features; Auxiliary handle, cord retention hook, rear wheels,...
Amazon
We may earn a commission if you make a purchase, at no additional cost to you.
05/27/2023 09:38 pm GMT
3. Greenworks Corded Snow Shovel 2600802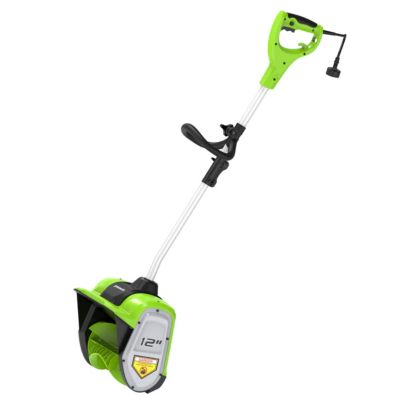 GreenWorks 8A 12 in. Single-Stage Snow Shovel [More at Tractor Supply] – Price: $99.99 – Sale: $79.99 – Buy at Tractor Supply
I look at the Greenworks 2600802 as the "Snow Joe iON 13SS lite". It costs a bit less and provides similar performance, but with a few cutbacks.
The amperage of Snow Joe is 12.5 and for Greenworks, it's 8. It also cuts a smaller path by an inch. And doesn't come with a rechargeable battery, which is a huge limitation.
It weighs 14 lb with a discharge distance of 20 feet. It's also somewhat louder than Snow Joe. Lastly, the ease of use mimics that of Snow Joe – just push the ignition button, and you're in business.
All in all, Greenworks 2600802 lets you save around 40 bucks if you're ready to make a few compromises. It's the best budget electric snow shovel out there.
PROs:
Powerful motor

12" clearing width

Lightweight (14 lb)

Easy to use

Budget-friendly
CONs:
Greenworks 8 Amp 12 inch Electric Snow Shovel
8 Amp electric motor offers ease of use
Hassle free push button electric start
Light weight and compact for quick clearing in tight spaces
Clearing width of 12-inch makes it easy to manuever. Adjustable auxiliary handle adds...
Clears up to 300 lbs. of snow per minute. Discharge Distance: Up to 20-ft.
Power source type: Corded Electric
Amazon
We may earn a commission if you make a purchase, at no additional cost to you.
05/28/2023 02:25 am GMT
4. Snow Joe 323E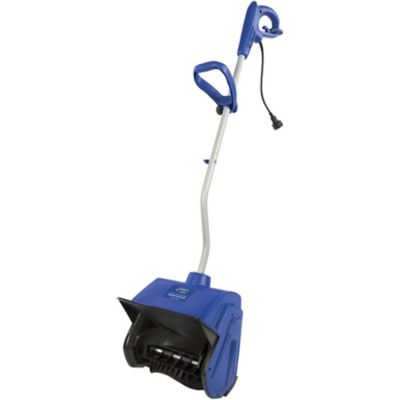 Snow Joe 323E Electric Snow Shovel, 13 in., 10A Motor [More] – Price: $89.99 – Buy Now
The 323E model comes with a powerful 10-amp motor that can throw up to 400 lb of snow per minute at a distance of 20 ft. The double-blade paddle auger cuts 13" wide and 6" deep.
It weighs a bit under 14 lb and comes with a user-friendly ergonomic design. The adjustable handle is perfect for users of various heights and body types.
Some other useful features include the safety switch, cord lock, and instant start. Everything you need to get rid of snow in a safe and efficient manner.
323E is a more powerful (and corded) version of iON 13SS. If you're dead set on Snow Joe but you need it to do a bit more heavy-duty stuff, this is the model for you. If you need MORE power still, check out its bigger brother: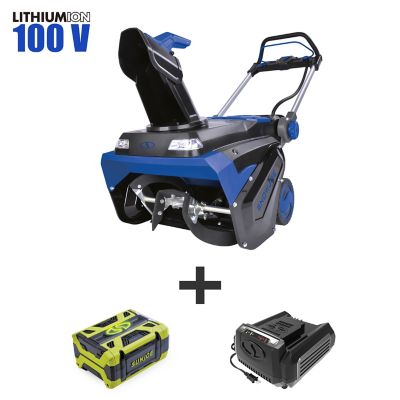 Snow Joe 100V iONPRO 5Ah 21 in. Cordless Snowblower Kit, ION100V-21SB [More] – Price: $829.99 – Sale: $746.99 – Buy Now
PROs:
13" clearing path

10-amp motor

Dual-blade paddle auger

Very powerful

Ergonomic design

Adjustable handle
CONs:
Snow Joe 323E 13-Inch 10-Amp Electric Snow Shovel
[ERGONOMIC DESIGN]: Adjustable handle to minimize user strain
[NIMBLE]: Ideal for quick snow pickups on decks, steps, patios and sidewalks
[POWERFUL]: 10-Amp motor moves up to 400 lbs. of snow per minute
[PADDLE AUGER]: 2-blade paddle auger cuts 13 in. Wide and 6 in. Deep with each pass
Amazon
We may earn a commission if you make a purchase, at no additional cost to you.
05/27/2023 05:45 pm GMT
5. Toro 38361 Corded Electric Snow Shovel
The Toro 38361 is one of the best corded electric snow shovels on the market. Toro is also the #1 brand of electric snow throwers in the US.
This device covers the same clearing width as Greenworks 2600802 (12") and comes with a similar dual-blade mechanism. What makes it different is its curved rotor paired with an inverted funnel housing that reduces clogging.
The amperage is 7.5 and it can throw 300 lb of snow per minute up to 20 feet. It's also one of the lightest electric snow shovels on the market, sitting at only 12.5 lb.
The telescopic handle combined with small weight makes it much easier to use in tight spaces and narrow paths.
For more grunt, check out its bigger gas brother, the Snowmaster: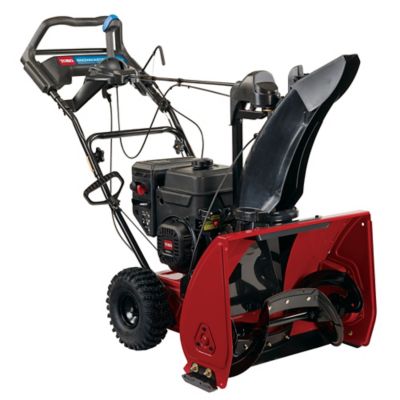 Toro SnowMaster 824 QXE 24 in. Single-Stage Gas Snow Blower with Electric Start, 36003 [More] – Price: $799.99 – Buy Now
PROs:
Powerful motor

Designed to reduce clogging

Extremely lightweight (12.5 lb)

Dual-blade auger

Adjustable handle

Easy to use
CONs:
Corded only – no battery

Cord not included
Amazon product
Best Electric Snow Shovel Buyer's Guide
What Is an Electric Snow Shovel?
Electric snow shovels (or power shovels) are simple devices that utilize a rotating auger to throw snow out of the way. They can either be powered by a cord or a small battery pack (like the Snow Joe iON 13SS).
They are lightweight, easy to maneuver, and extremely popular. People all over the world are using them to clear their stairs, decks, patios, driveways, sidewalks… Anywhere a large snowblower can't go. Although small, they are quite powerful and can deal with a lot of snow in just a couple of minutes.
Electric snow shovels sit somewhere between regular shovels and large snow blowers. But they're better than both!
With regular shovels, you have to lift and throw the snow, which causes a lot of strain on your arms, back, and heart. It's also painfully slow.
Larger snow blowers are heavy, require regular maintenance, and need a ton of space to maneuver.
Electric snow shovels do the work on their own with ZERO stress for you. They are lightweight, small, and pretty powerful. They'll do the work much quicker than a regular snow shovel and reach the spots snow blowers can only dream of.
Do Electric Snow Shovels Really Work?
ABSOLUTELY!
I've been using my battery-powered Snow Joe for about 2 winters now, and it really makes a huge difference.
Having said that, we need to be aware of certain limitations. You should look at a power shovel as an upgrade to the traditional snow shovel.
In other words, they are not suited for extremely heavy-duty tasks and super-deep snow. Everything higher than 8" is going to be a problem.
In those situations, a dedicated snow blower is definitely the way to go.
Different Types of Electric Snow Shovels
If you're spending a lot of time shoveling snow from your driveway, patio, and porch steps, you definitely need an electric snow shovel. This machine can save you hours every single day throughout the winter months.
However, you need to identify your personal needs before reaching out for your wallet. That's why we'll go over two major divisions when it comes to the best electric snow shovels out there.
Decision 1: Corded vs. Cordless Snow Blowers
If you opt for a corded model, you'll have to keep in mind the limitations of the extension cable. You'll also need an outside power outlet and you'll have to keep the cord away from the auger at all times. On the other hand, you're not limited by battery life.
The battery-powered models give you a lot more freedom and maneuverability. The downside here is the limited battery life. With most electric snow shovels, it's around 45 minutes of operation.
Decision 2: Manual vs. Self-Propelled Snow Blowers
When it comes to manual electric snow shovels, you need to push them using your own strength. The electric models do all the "walking" for you.
The manual shovels are ideal if you're young and in excellent physical condition. The self-propelled devices are perfect for seniors, people with heart problems, and generally people out of shape or those who like to make life a bit easier for themselves – like me…
How to Choose the Best Electric Snow Shovel for You?
As I already mentioned, it all comes down to your personal needs and preferences. This will decide the ideal type of electric snow shovel for you as well as some additional features.
If you're a senior and experience difficulties with manual labor, a self-propelled power shovel is just what the doctor ordered. If you're experiencing any back pain or problems in that area, make sure you get one with an adjustable handle that will suit your height.
If you live in the northern regions where light fades quickly, you can also find a model with an LED headlight.
If you have a large backyard or generally need to clear larger surfaces, battery-powered models are not ideal for you. You should go for a corded electric snow shovel.
Just keep your extension lead length in mind – if you have 10 acres of snow to clear, a corded model is not going to cut it. Look at the bigger, more powerful snow shovels in that case. I've mentioned the "bigger brothers" above.
If you have a huge area to clear or need more power than you get from an electric snow shovel, consider investing in a gas model, like the Briggs and Stratton or Powersmart models below.
Yes, they'll need maintenance and gas, but you can take it wherever you want, they're grunty, and they'll go for ages on a tank of gas.
Amazon product
On the other hand, if you just need to clear your driveway or porch steps, a battery-powered electric shovel will get the job done and then some.
Conclusion
Electric snow shovels are very flexible machines that can be as delicate or powerful as you need them to be.
In this guide, I outlined all the main types, extra features, and listed the top models currently on the market. I also provided you with some common examples of how to get the best electric snow shovel for you.
All you have to do now is identify your personal needs and get the right machine for the job.
If this guide helped you get your perfect power shovel, leave a comment below and share your experiences with our community.