Homemade Christmas gifts are the perfect, thoughtful gift for your friends, family, teachers, neighbors, and other special people in your life.
Whether you're looking for a last-minute gift to whip up or a great craft project to do with the kids, we've got your back with these 17 super simple DIY Christmas gifts!
1. Boozy Bourbon Cherries
These infused boozy bourbon cherries are a sweet, syrupy, and decadent addition to your favorite cocktail or dessert.
Amazing served over ice cream!
Get the recipe at Aubrey's Kitchen.
2. DIY Snowman Mason Jar Hot Chocolate
Who wouldn't love receiving this adorable DIY Snowman Mason Jar Hot Chocolate gift idea?
This mason jar Christmas gift is perfect to give to a mailman, a teacher, and more!
Full instructions over at Mason Jar Breakfast.
3. White Chocolate Rocky Road
It takes just minutes to make this easy White Chocolate Rocky Road. This simple no-bake slice is popular with adults and children alike. It is ideal for a fun, edible gift.
Filled with dried fruit, marshmallows, and coconut, this delicious Rocky Road will be a favorite!
Instructions over at It's Not Complicated.
4. Gingerbread Caramel Corn
Delicious Homemade Caramel Corn Recipe made with warming gingerbread spices and sweet buttery caramel sauce.
Enjoy this perfectly sweet and crunchy snack-time favorite all holiday season and share your very own gingerbread caramel corn with family and friends for an easy, homemade, edible gift.
Instructions over at The Forked Spoon.
5. Christmas Crack
Christmas Crack is a fun name given to a classic holiday treat that is completely addicting and kind of magic.
Saltine crackers are turned into a crispy, buttery toffee, topped with chocolate and nuts, and broken into bite-size pieces for snacking.
Details over at Little Sunny Kitchen.
6. Christmas Spiced Chocolate Salami
This eye-catching spiced chocolate salami is extra Christmasy thanks to cranberries, pistachios, orange zest, Schwartz ground cinnamon, and whole cloves.
Full details by Emily Leary.
7. Reindeer Pretzels
These four-ingredient Reindeer Pretzels are a fun holiday dessert that you can make with the kids!
Make an extra batch as they make a great edible holiday gift everyone will love.
Check them out at Budget Delicious.
8. Crockpot Christmas Candy
Crockpot Christmas Candy is festive, fun, and so easy to make!
All that's needed are four simple ingredients and a few minutes of hands-on time and a crockpot to whip up these delectable candy clusters.
Check them out at Recipes From a Pantry.
9. DIY Dandelion Lotion Bars
Transferring the power of dandelions in natural and easy-to-make lotion bars is a smart way to alleviate dry cracked or chapped hands from heavy gardening or other manual labor.
They make a great Christmas gift for your favorite homesteader, too!
See the recipe at Simply Beyond Herbs.
10. DIY Marbled Nail Polish Mugs
Easy DIY marbled nail polish mugs make the perfect homemade gift! A simple craft done in a few minutes that looks like it took hours of work!
Instructions over at Strength and Sunshine.
11. DIY Christmas Pine Candle
Homemade pine candles have a clean and festive forest scent that will make your home feel extra cozy.
The candles come with printable labels and make lovely holiday gifts!
How-to over at Country Hill Cottage.
12. M&M Christmas Cookies In a Jar
Your friends and family will love these gorgeous Christmas cookies in a jar! The recipe includes free printable tags and detailed instructions on how to layer your mason jars.
Full details over at Hunny I'm Home.
13. Sweet and Salty Pretzels In a Jar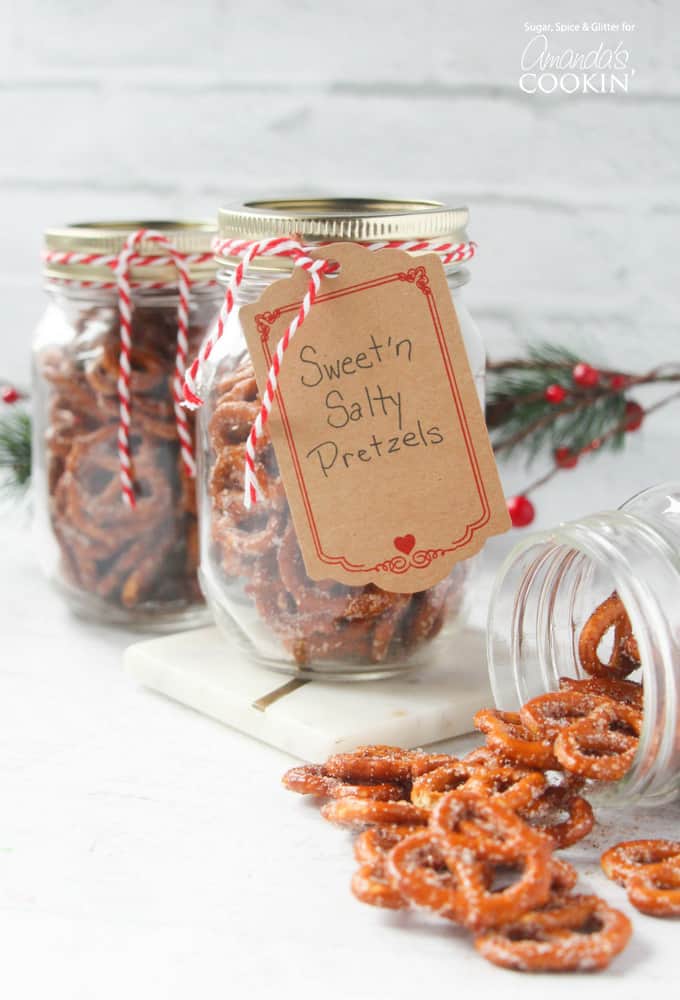 Mason jar gifts are the perfect gift for just about anyone – family, friends, teachers, the neighbors…
These sweet and salty pretzels are delicious and incredibly easy to make.
Find out how at Amanda's Cookin.
14. Homemade Candy Cane Soap
Everyone on your list would enjoy this peppermint-scented candy cane soap; the best part is that it's all natural!
Full instructions at Learning and Yearning.
15. Easy Homemade Cranberry Sauce
This condiment recipe is a must-have for Thanksgiving or Christmas dinner.
With no fancy ingredients, this is an easy recipe to make ahead in preparation for a big dinner and makes a fabulous gift for your friends and family!
More details over at She's Not Cookin.
16. Individual Santa Hot Cocoa Bags
Okay, talk about cute! Check out this lovely Christmas gift idea – individual Santa Hot Cocoa bags.
I can see myself giving out bunches of these to teachers, aides, babysitters, girlfriends, co-workers, kids gifts, and more.
Instructions over at More With Less Today.
17. Super Easy DIY Mason Jar Christmas Candle
This Super Easy Mason Jar Christmas Candle craft makes for an easy way to add to your holiday decor.
It comes together easily, making it ideal for a quick and last-minute homemade gift on a budget.
Learn how to make it at Ottowa Mommy Club.
What will you make this Christmas? Let us know in the comments below!