Learn how to create an edible landscape for people, pollinators, and birds with Nancy Hayden from The Farm Between in Jeffersonville, VT.
In this one-hour video, Nancy shares a bucket load of fantastic tips with us, from turning your lawns into pretty, functional orchards to deer control and alley cropping. She firmly believes we can all make a difference for birds, pollinators, and people, right in our own backyard
If you think you're too small to make a difference, you've never slept with a mosquito in the room.–Dalai Lama
The video is completely free to watch. If you like what you see, Nancy has compiled even more information in her book, "Farming on the Wild Side". I'll share some info about it underneath the video.
Nancy is a former environmental engineering professor with degrees in biology and ecology, as well as running her own farm with her husband. She knows what she's talking about!
Outdoor Happens is reader-supported. When you buy through links on our site, we may earn an affiliate commission. Click to learn more
Nancy and John grow over 30 different varieties of fruit trees. From common apples, cherries, and blueberries to less common edibles like currants, aronia, and elderberry. They sell fruit trees and pollinating plants from their nursery. The video above shows how they transformed their lawn into a beautiful, productive orchard space.
Nancy recommends focussing on disease-resistant varieties of apple trees so you can focus on organic gardening. They do not use sprays of any kind on their property.
Fruit trees are managed organically with regular pruning, rich, well-drained soil, and good moisture. One variety of fruit tree that is particularly popular at the moment is Elderberry, which has natural anti-viral properties. Elderberry is pollinated by the wind, and you'll need at least 2. Elderberry ripens from August to September and it's beautiful when in flower.
Here's Nancy's book, Farming on the Wild Side. Click on the image for more info and an excerpt.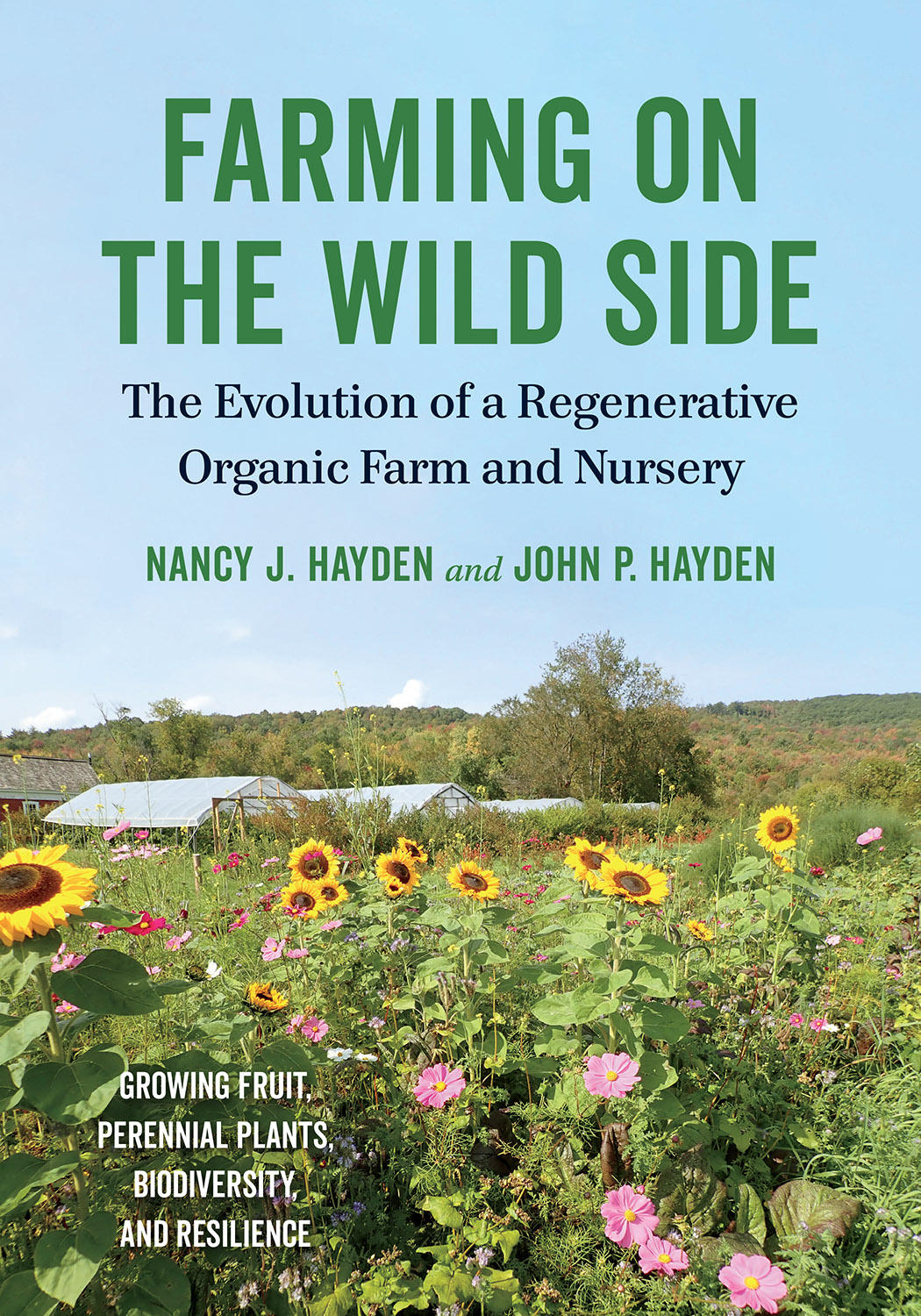 One farm's decades-long journey into regenerative agriculture—and how these methods enhance biodiversity, pollinators, and soil health
Farming on the Wild Side talks about the journey from a sheep and potato farm to a semi-wild farm with apples, pears, stone fruits, and uncommon berry crops.
Farming on the Wild Side tells a story about new ways to manage small farms and homesteads, about nurturing land, about ecology, about economics, and about things that we can all do to heal both the land and ourselves.
Enjoy!